Sunset Pier
Sunset Pier part of Ocean Key Resort in Key West
This is the colorful sign that greets you as you arrive at Sunset Pier from the foot of Duval Street.
It is actually purchased as the top sign on one of those mile post markers that give distances to other cities.
Direction Post on Sunset Pier at Ocean Key Resort in Key West

This is the direction at Sunset Pier. Note the picture on top of this mile post it the sign in the picture above.
Each fish on this direction post is giving the mileage to another city and the approximate direction of that city.
Sunset Pier in the afternoon before the sunset crowd arrives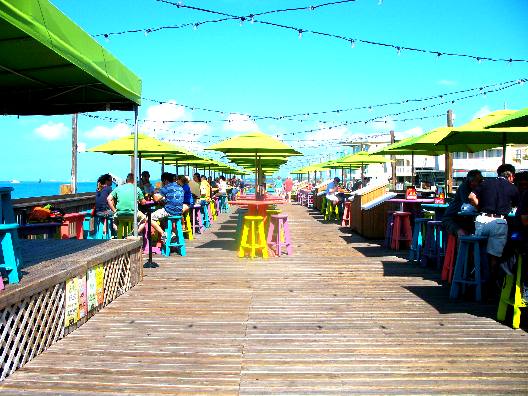 Earlybirds at Sunset Pier are choosing the best seats.
As you can see the outside seats are being filled first.
In actuality all of the seats are good but is seems that the "closer" you get to the water is the preferred seat.
Some folks want to be close to the live music performed on the stage to the left.
As soon as tourist realize there is going to be live music those tables in the middle fill up.
Small protected harbor next to Sunset Pier with Sunset Pier in background
This is the small harbor at the foot of Duval Street and next to Sunset Pier. Sunset Pier is that long finger pier with the brightly colored umbrellas. This is around noon and there does not appear to be many people under those umbrellas at Sunset Pier.
Around 5pm this will be a different scene as hoards of tourist will gravitate to Sunset Pier and Mallory Square to watch the sunset.
Joyce is picking out the table of her choice at Sunset Pier.
That is Sunset Key in the background and a sport fishing boat returning to the docks at Key West Bight Marina.
One of the things you will want to do when in Key West is to visit Key West Bight Marina in Old Town. Walk Harbor Walk (the boardwalk) that circles Key West Bight Marina. Check out the parasail boats, the sunset cruise boats and jet skis for rent.
You will also enjoy checking out the myriad seafood restaurants that line Harbor Walk. Some will be drawn to the gift shops while others will want to keep an eye on the water in the marina looking for the huge tarpon that hang out in Key West Bight Marina.
A fleet of boats, operating out of Key West Bight Marina, offer sunset cruises.
There is a sunset cruise that will fit your fancy, but it is best to stroll around Key West Bight Marina on "Harbor Walk" and scope out all the different options available.