January 19th through 21st, 2009
This travellog covers the first part of our stay in Key West.
We are dry camping on the Navy Base at Trumbo Point in Key West. I am a retired DOD civilian and the Navy allows retired DOD civilians to camp in the Navy facilities as long as there is space available. We are paying $12 a night to dry camp on a grass field along with over 600 other RV's. All I can say is: It is wonderful.
Watching the daily sunset from Mallory Square in "Old Town" Key West is an obligatory activity that we participated in whenever we got a chance. Sailing vessels like the one in this picture load up a bunch of tourist for a sunset cruise and parade around so that everyone watching the sunset can see them. It is not only good for business they make for good picture subjects.
No matter how many times we see chickens in Key West we have to stop and gawk and sometimes take a picture. Feral chickens are everywhere, seriously, they are everywhere, even on the Navy Base. We see several every time we pass the the security gate on base. The vehicle in the picture is a rental. There are a lot of similar vehicles on the island. However, walking and bicycles are the preferred transportation.
Someone in line took our picture at the southernmost point in the continental United States. This is another of those obligatory photo ops.
Joyce took this because of the "island-colors". It is just one of the myriad juke joints on Dual Street in Old Town Key West.
Sloppy Joe's is one of the old time bars in Key West. We rate it as just OK for the first time tourist. After you know your way around Sloppy Joe's falls down on the list of juke joints to visit, especially more than once. VBG
Another evening spent watching the sunset from Mallory Square as one of the numerous chartered sail boats passes in review.
Hogs Breath Saloon seemed to have decent entertainment every time we stopped in.
Joyce standing beside one of the Hog's Breath Saloon signs. It was always so crowded inside that we enjoyed listening to the live music from the parking lot. The parking lot was OK since the band was playing outside under a tent. We were as close to the band as anyone in the seating area.
Look closely at this picture. That is a woman (mannequin) with a spy glass on the top. She is looking for her sailor husband. This old sea captains turn of the century mansion has been restored and is now a bed and breakfast.
Key West is noted for eccentricity as much as for their sunsets. We saw this character all over Key West. That is a bicycle that is built to sit in a comfortable seat with your legs in front of you instead of below your body. Then he had encased it in a canvas body. The door snaps open to let him get inside. The fellow paints pictures and sells them on the sidewalk and at Mallory Square for the sunset viewing ritual. This fellow is just one of the host of characters that give Key West its "character".
And it is only fitting to end this travel log with a sunset picture taken from Mallory Square.
And with the sun going down thus begins another glorious, exciting, fun-filled night carousing on Dual Street.
Until next time remember how good life is.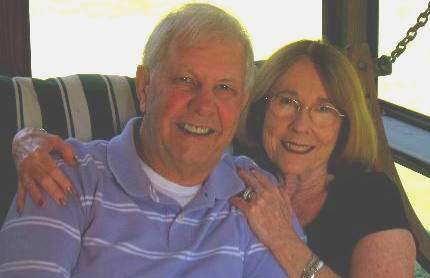 Mike & Joyce Hendrix who we are
We hope you liked this page. If you do you might be interested in some of our other Travel Adventures:
Mike & Joyce Hendrix's home page
Travel Adventures by Year ** Travel Adventures by State ** Plants ** Marine-Boats ** Geology ** Exciting Drives ** Cute Signs ** RV Subjects ** Miscellaneous Subjects
We would love to hear from you......just put "info" in the place of "FAKE" in this address: FAKE@travellogs.us
Until next time remember how good life is.