Southernmost Point in the Continental United States
Mike & Joyce at the Southernmost Point in the Continental US
Mike & Joyce with the Southernmost Point marker in Key West.
Southernmost Point in the Continental US
You are looking at one of the biggest attractions in Key West.
It is a concrete replica of a buoy at the corner of South and Whitehead Streets in Key West that claims to be the southernmost point in the contiguous 48 states.
The city of Key West had to do something like this because the signs that used to be at this spot were stolen so often.
In "self defense", the city of Key West decided to construct this now famous monument.
The City of Key West does a wonderful job of keeping this marker brightly painted and labeled:
"SOUTHERNMOST POINT CONTINENTAL USA",
Virtually everyone who visits Key West locates this marker and has their picture taken by it. From daylight to dusk there is usually a line of people waiting their turn to get their picture made with this marker.
Southernmost Point in the Continental US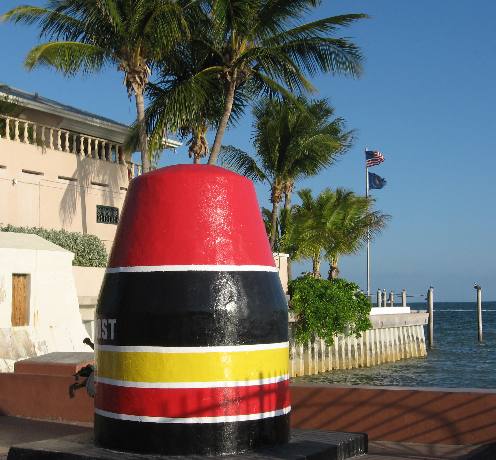 Many people realize when they are getting their picture made here that this really isn't the "exact" southernmost point in the USA
Look in this picture and even you can see some structure that is south of this marker.
Actually, there is some land on the Truman Annex property just west of the buoy is "somewhat" the true southernmost point.
The City of Key West does not have a marker there because it is U.S. Navy property and cannot be accessed by civilian tourists.

Also, as you can see the private yards directly to the east of the buoy lie further south than the marker. But it is close enough for tourist.
The fartherest-south land location a "normal-tourist" can get is on Fort Zachary Taylor Historic State Park. A normal tourist can pay an entrance fee to get into Fort Zachary Taylor State Park then walk on the beach in the state park. That is pretty much as far south as a normal tourist can get on land in the Continental U.S.

However, there is one other option for the normal tourist. At the end of White street (the south end) there is a public pier. Ahh, you guessed it. The end of the "free" White Street Pier is the furthest south you can get to.
Souvenir of the Southernmost Point in the Continental US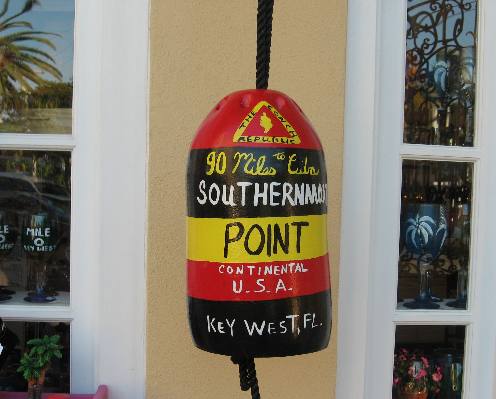 Souvenir of Southernmost Point in Continental U.S. hanging in one of the Key West souvenir shops.
These brightly painted souvenir buoys are a big seller.
Making Southernmost souvenirs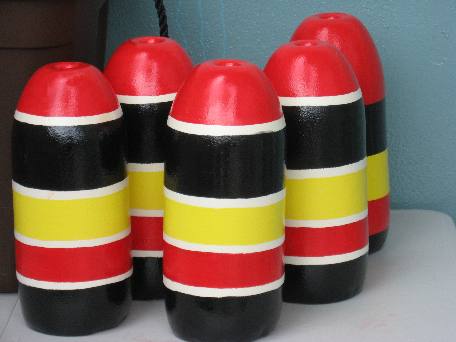 We would watch clerks in one souvenir shop paint these buoys during slow times. They use brightly colored paint and have a technique where they hold the brush steady and spin the buoy on a stationary wheel.
These "soon to be souvenirs" are drying on a table outside the shop.
Key West Southernmost Point with no tourist posing for pictures
Now this picture......with no tourist in it, is a souvenir in and of itself. VBG
This truly is a remarkable picture......It doesn't have anyone posing with the marker. Totally amazing.
Until next time remember how good life is.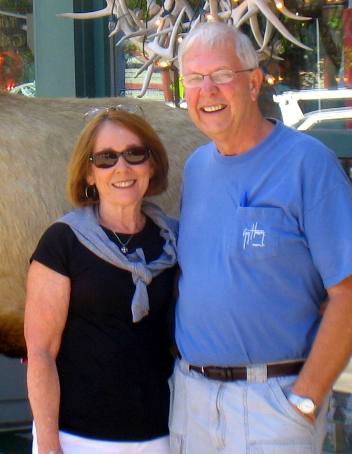 Mike & Joyce Hendrix who we are
We hope you liked this page. If you do you might be interested in some of our other Travel Adventures:
Mike & Joyce Hendrix's home page
Travel Adventures by Year ** Travel Adventures by State ** Plants ** Marine-Boats ** Geology ** Exciting Drives ** Cute Signs ** RV Subjects ** Miscellaneous Subjects
We would love to hear from you......just put "info" in the place of "FAKE" in this address: FAKE@travellogs.us
Until next time remember how good life is.