Sunset picture from Sunset Pier in Key West
No this is NOT a picture of a picture. There is an opening in the back of the entertainers stage at Sunset Pier and I snapped this picture through that opening.
I think it turned out pretty neat. VBG
Sailboat passing the "reviewing stand" on Sunset Pier in Key West
Each evening a regatta of boats pass by Sunset Pier and Mallory Square much to the delight of the crowd.
Hundreds if not thousands of tourist board one of the evening "sunset-cruises" operating out of Key West Bight Marina. To find the one of your choice just make your way to Key West Bight Marina then start walking Harbor Walk.
Birds gathering near Sunset Pier in Key West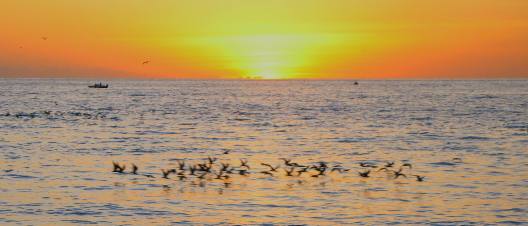 Enjoying sunsets like this one in Key West are one of our favorite activities when visiting Key West.
You can watch sunsets like this one from Mallory Square or Sunset Pier or a dozen other places in Key West.
One of the popular activities in Key West is sunset cruises. This sail boat and the one in the distance are just one of over a dozen boats operating out of Key West Bight Marina that take a load of passengers out to experience the sunset from out at sea.
It is hard to recommend one particular boat or company since they all seem to do a good job. We do not hear any complaints. Some boats leave the harbor with a band to provide music, others serve fine wine, others offer food, while some offer a sailing experience. No matter what their specialty or nook they all provide a platform for visitors to have a good time.
The best way to choose which boat is "right-for-you" is to walk Harbor Walk around Key West Bight Marina and what is available. It is fun as well as entertaining to stroll around Harbor Walk and check out the dining experiences and specialty, keep an eye in the water for the LARGE tarpon that cruise the harbor. The majority of boats offering sunset cruises operate out of Key West Bight Marina so you can see for yourself what the differences are and make up your mind which format best suites you personality.
Sunset Pier at Ocean Key Resort in Key West is packed for the evening ritual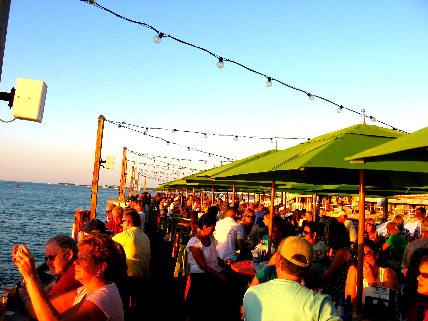 As you can see Sunset Pier draws a large crowd to experience the sunset each evening. In addition to the sunset Sunset Pier had great food and drinks plus a group of local entertainers that perform music from the 50's, 60's and 70's.
Many folks visit Sunset Pier every evening they are in town.
Sailboats, beautiful sunset and Sunset Key as seen from our seats at Sunset Pier
What more could you ask for? Here I am enjoying wonderful music, eating good food, enjoying quality time with my beautiful "bride" of 41-years, and this eye-candy to top off the moment.
That is Sunset Key in the background as viewed from Sunset Pier in Key West.