Hogfish Grill Stock Island
Joyce and one of the local cats at Hogfish Grill. Hogfish Grill would not be the same without the menagerie of cats and chickens that reside in the area.
We first learned about Smilin Bob's Smoked fish Dip when we visited the weigh-in for the Key West Harbor King Mackerel Tournament.
Participants in the tournament were donating fish and Smilin Bob's was on hand to take the fresh fish, mostly king mackerel, that would be turned into smoked fish dip in short order.
We took pictures of the king mackerel that were being collected by Smilin Bob and his crew while at the weigh-in for the King Mackerel Tournament.
It is good stuff, I can attest to that since we purchased some from a local grocery store. Obviously Hogfish Grill thinks highly of Smilin Bob's Smoked Fish Dip as well.
The dining area is under a thatched roof made of palm fronds. I was intrigued with the design and construction that seems to work very well.
Thatched roofs made of palm fronds are a construction technique that Indians still use today especially in chickees.
Havana Cuba 90-miles south of here. I love to check the direction posts to see how far places are and make sure the arrows are pointing in the right direction.
I see the sign saying Miami Beach 153 miles which reminds me that here in Key West we are closer to Cuba than we are to a Wal Mart. Yep, we are 90-miles from Cuba and 123-miles to the nearest Wal Mart in Homestead which is a bit south and west of Miami.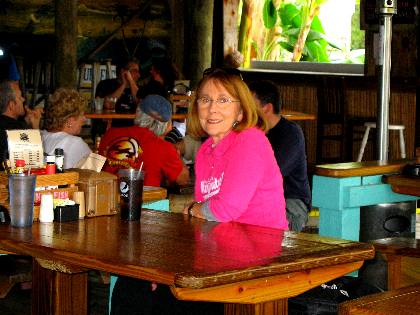 Joyce is patiently waiting on our Havana Roast Pork to be delivered.
Hogfish Grill really does a good job of that dish plus they serve more than enough to feed the both of us and still be able to take some home.
I guess that is why we keep coming back about once a week for the two months we spend in Key West each winter.
Island art on display at Hogfish Grill on Stock Island.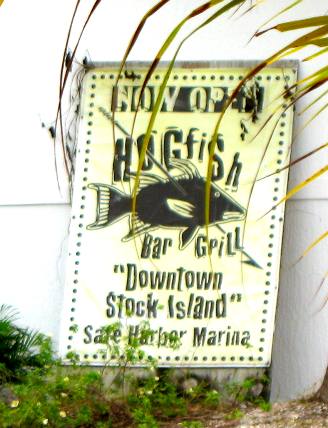 Joyce took this picture of the Hogfish Grill sign outside the restaurant on Stock Island.
Feral Chicken (rooster) looking for food scraps around the alfresco tables at
Feral chickens are a part of Hogfish Grill's ambiance.
Tourist get a kick out of feeding the free-range or feral chickens that frequent Hogfish Grill on Stock Island. In fact we look for the chickens since they are part of the ambiance at Hogfish Grill.
Hogfish Bar & Grill Dinner Menu
LOCAL DINNER SPECIALTIES

Grilled Hogfish Filet & Blackened Scallops
Served with Island Coconut Rice & Fresh Veggies $23.95

Fried Coconut Shrimp
Served with a Spicy Sweet & Sour Dipping Sauce $18.95

Our Famous Lobster Pot Pie
Just like Mom's - a Creamy Bisque loaded with Meat
& Veggies and served with a Fresh Small House Salad! $19.95

Stuffed KW Shrimp
Served with Savory Crab Cake Stuffing $20.95

Panko-Encrusted Hogfish & Shrimp Ceviche
Served with Island Rice & Veggies $23.95

Ocean City Crab Cakes
Served with Spicy Key Lime Sauce, Island Rice & Veggies $19.95

Stock Island Mixed Grill
Fresh Local Fish, Shrimp, Scallops, Calamari & Lobster
served with Island Rice & Veggies $22.95

Our World Famous BBQ Rib Platter
Slow-cooked, served with Fries, Cole Slaw & Mango BBQ Sauce $19.95

Marinated Skirt Steak & Grilled Shrimp
Smothered with Mojo Chimichuri Sauce $21.95

Havana Roast Pork
A local favorite with Rice, Black Beans & Cuban Bread $16.95
Our favorite on this menu is the Havana Roast Pork. It is to die for. Joyce and I always share one of these Havana Roast Pork dinners then split it and still carry some home. It is out of this world.
I would seriously recommend you try the Havana Roast Pork especially if you have tired of seafood.
Until next time remember how good life is.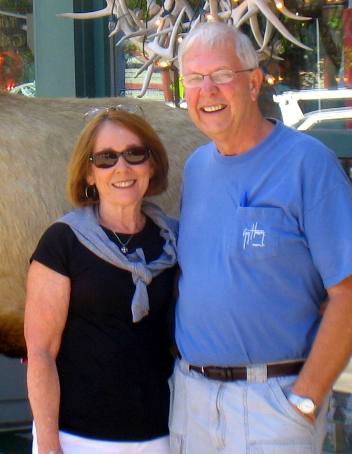 Mike & Joyce Hendrix who we are
We hope you liked this page. If you do you might be interested in some of our other Travel Adventures:
Mike & Joyce Hendrix's home page
Travel Adventures by Year ** Travel Adventures by State ** Plants ** Marine-Boats ** Geology ** Exciting Drives ** Cute Signs ** RV Subjects ** Miscellaneous Subjects
We would love to hear from you......just put "info" in the place of "FAKE" in this address: FAKE@travellogs.us
Until next time remember how good life is.