Sunset Pier Entertainment
Local talent entertaining Sunset Pier guests at Ocean Key Resorts Sunset Pier
Evenings at Ocean Key Resorts Sunset Pier are a popular activity for Key West visitors. Not only is Sunset Pier a great venue for watching the sunset it is also noted for great entertainment, food and drink.
This local fellow had a simply wonderful voice. His specialty was love songs from the 60's and 70's.
Local talent entertaining Sunset Pier guests at Ocean Key Resorts Sunset Pier
This is the stage on Sunset Pier where entertainers perform every evening. This local musician really did a great job singing a litany of 60's love songs.
Local talent entertaining Sunset Pier guests at Ocean Key Resorts Sunset Pier
You can see the sail from one of the boats "passing-in-review" for the crowds gathered at Sunset Pier and Mallory Square for the evening sunset ritual.
It is hard to see and do everything that is available.
Magnificent boats passing Sunset Pier, musicians performing wonderful music, dancing, a blazing sunset, on top of good food and drinks. Sunset Pier offers it all, what more can you ask for this early in the evening?
There is an old axiom: "If mamma ain't happy ain't no one happy". Thankfully, momma is happy. Amen!
This entertainer at Sunset Pier was so animated with his love songs
We loved this gentleman that performed nightly at Sunset Pier. He had a top notch voice with "feeling" that just dripped off his lips. He is singing a love song about "hugging" your sweetheart and tell her how much you love her. As you can see he is "hugging" his sweetheart.
He performs to a packed house at Sunset Pier every evening.
Performing for a full-house at Sunset Pier in Key West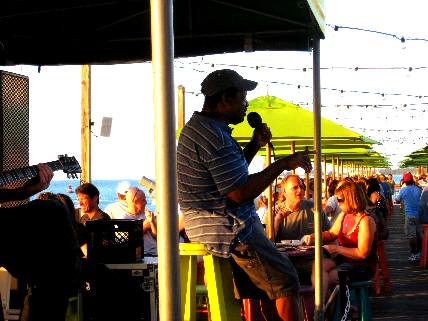 We enjoyed this gentleman's music many evenings at Sunset Pier when we stopped by to make sure the sun really did disappear into the western sky.
Sunset Pier is part of the Ocean Key Resorts complex in Key West located at the foot of Duval Street and from the northwestern corner of Mallory Square.