No Name Pub, Key Deer & No Name Key
One Saturday we headed to the No Name Pub on Big Pine Key for some pizza and to view the tiny key deer.
We are dry camping along with some 700 other RV'ers at the Navy Base here in Key West. Actually, there are two bases within the NAS Key West complex that make up the 700-plus campsites. The two locations are at Sigsby and Trumbo Point. Sigsby is located 3 to 4 miles from "Duval Street" in Key West while Trumbo Point Campground is located 6 to 8 blocks from "Duval Street". We are staying at Trumbo Point, an easy walk to Duval-Street. But remember this is Dry Camping. There is central dump station and fresh water. Generators can run from 6am to 10PM. Life is good.
Commercial Campgrounds in Key West start at $100 a night and are located about 5-miles from Duval Street. Parking in Key West starts at $13 a day and goes up. The $13 parking site is about 6 blocks from Duval Street. The closer you get to Duval Street the more expensive the parking site.
Joyce took this picture of one Key Deer. This one was a 6-point buck that may have weighed 60-pounds ---- soaking wet. We saw several 8-pointers but were not able to get good pictures. Key deer are an endangered species. They are almost all located on Big Pine Key and the nearby No Name Key. They are wild deer but for the most part "tame". They are endangered thus not harvested. In fact they are "protected". They eat foliage in people's yards. This deer is nibbling on foliage along the fence in this yard.
No Name Key "House Name" in the Florida Keys
Out west ranchers name their ranches. In the Keys they name their beach houses or cottages. We saw this sign on No Name Key last year and thought it was funny. We thought it was funny this year as well so Joyce took another picture of it.
"House Name" on No Name Key in the Florida Keys
Just down the street another neighbor has put up his sign. Ya gotta love it. VBG We are going to be looking for "Anywhere" next year.
Coconuts are normally placed on the street for trash pickup. This may be a joke or it may be a way to exchange trash for cash.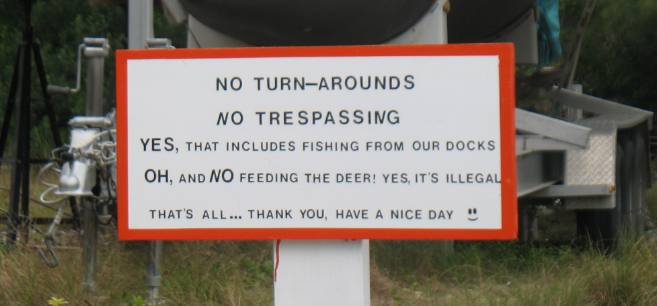 We truly love the signs we see in the Keys. This one is trying VERY hard to be nice but they have obviously had some problems.
No Name Pub on Big Pine Island near No Name Key in the Florida Keys
The No Name Pub is one of those "Bucket List" places. They have really good pizza and are noted for their grouper sandwiches. But it is the ambiance of the place that brings people back year after year. Google No Name Pub. It is located on Big Pine Key at the foot of the bridge that goes to No Name Key. No Name Key has a good population of those "endangered" Key Deer that everyone has to see when they are in the area.
On our way back to Key West we detoured on Geiger Key to find Geiger Key RV-Resort & Marina.
Geiger Key Marina & RV Park is one of the popular destinations for RV'ers in the Florida Keys not too far from Key West.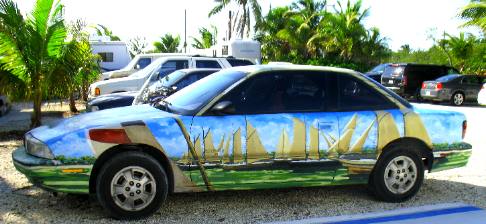 Joyce took this picture at the Geiger Key RV-Resort and Marina on Geiger Key. As I recall their rates were in the $100 range possibly less for long term and possibly more for waterfront. It seems popular with folks who have boats and are interested in fishing.
Local residents are called Conchs. Conchs, are colorful and interesting people. They like to paint their cars ------ possibly you might call it decorating their automobiles.
While on the subject of "Conchs" the local radio station comes out with some pretty good "Conch" jokes. Let me see if I can remember some of the ones I liked: You know you are in the Conch Republic when you are closer to Cuba than a Wal Mart. It takes a moment to understand this statement but a little thought puts it in perspective---- Cuba is 90-miles south of Key West while it is 120-miles to the nearest Wal Mart located in Homestead.
We also stopped by Stock Island to walk around the marina at Hog Fish Grill.
Table decoration on the table at Hog Fish Grill located on Stock Island. Hog Fish Grill is one of our favorite dining experiences in the Florida Keys.
We saw this decoration while walking the docks behind Hogfish Grill on Stock Island near Key West. Hogfish Grill is only a few blocks from Boyds --- the popular RV-Park everyone uses when visiting Key West.
Until next time remember how good life is.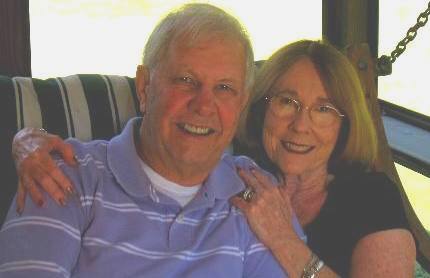 Mike & Joyce Hendrix who we are
We hope you liked this page. If you do you might be interested in some of our other Travel Adventures:
Mike & Joyce Hendrix's home page
Travel Adventures by Year ** Travel Adventures by State ** Plants ** Marine-Boats ** Geology ** Exciting Drives ** Cute Signs ** RV Subjects ** Miscellaneous Subjects
We would love to hear from you......just put "info" in the place of "FAKE" in this address: FAKE@travellogs.us
Until next time remember how good life is.