June 21: Golden, Colorado (just west of Denver).
We are in Clear Creek City Park N39° 45.197' W105° 13.193' in Golden, Colorado. The campground is located on the south side of 10th street at the end of the road. Clear Creek City Campground is one of the nicest (location wise) campgrounds you can stay in (our opinion). located on Clear Creek 3-blocks from downtown Golden. They have paved interior roads with small backin sites (mature trees are so wonderful); 50-amps, water and sewer, $28.91 per-night 303-278-1437. There is a 2-week max stay before you have to leave the park and they do not take reservations.
Loveland Pass on US-6 over the Continental Divide is an alternate route to I-70 & Eisenhower Tunnel
As we approach Eisenhower Tunnel and the Continental Divide on I-70 we exit at US-6 to visit Loveland Basin ski area and US-6 which also goes over Loveland Pass.
Loveland Basin & Loveland Ski Area is accessed via exit 216 on I-70 which is the US-6 exit.
Eisenhower Tunnel on Interstate 70 over the Continental Divide in Colorado
Passing exit 216 to US-6 we continued west on I-70 up and over the Continental Divide located somewhere in Eisenhower Tunnel.
As we exit Eisenhower Tunnel this is the view. We spot two motorhomes pulled over presumably to psyche themselves up for the steep downhill grade ahead of them.
A beautiful view like this is one of the highlights of the drive west on Interstate 70 ---- after one exits the Eisenhower Tunnel.
Cars need to downshift and diesels need to engage their exhaust brakes. This is a serious grade down the west side of the continental divide at Eisenhower Tunnel.
Steep Grade and Runawy Truck Ramp near Eisenhower Tunnel
Only a few miles from Eisenhower Tunnel on this steep grade is a big sign telling truckers that there is a "runaway truck" ramp ahead. Sure enough the runaway truck ramp came into view just around the bend.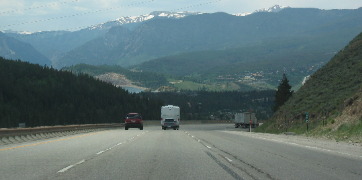 The grade continues down for 13-miles or so.
That is the small town of Frisco you see in the valley.
Here are some other Travel Adventures in this area that may interest you:
Golden, Colorado -- Kayaking Clear Creek in Golden, Colorado -- Golden Farmer's Market --
Hang Gliding on Lookout Mountain -- Buffalo Bill's Grave on Lookout Mountain -- Nature Center on Lookout Mountain
Evergreen, Colorado and Bear Creek scenic drive -- Dinosaur Ridge near Morrison, Colorado
Central City & Black Hawk, Colorado -- Mountain Goats of Mount Evans -- Clear Creek Canyon Scenic Drive
The Oh-My-God Road from Central City to Idaho Springs -- Boulder Canyon Scenic Drive -- Golden, Colorado
Evergreen, Colorado -- Kayaking fun in Clear Creek Golden, Colorado -- Mount Evans Scenic Drive -- Lookout Mountain
Summit Lake on Mount Evans ** Loveland Pass on I-70 ** Eisenhower Tunnel on I-70 ** Colorado Ski Areas
Oversize Loads on US-6 ** I-70 West of Denver ** Clear Creek Water Sports Golden, Colorado
Until next time remember how good life is.
We hope you liked this page. If you do you might be interested in some of our other Travel Adventures:
We would love to hear from you......just put "info" in the place of "FAKE" in this address: FAKE@travellogs.us
Until next time remember how good life is.