Boulder Canyon Scenic Drive
Boulder Canyon Scenic Drive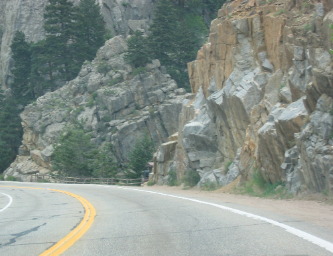 We headed west through the Boulder Canyon ,which is Scenic SR-119, toward Nederland Colorado. This drive through Boulder Canyon is magnificent as it follows Boulder Creek. Like most canyons cut by running water, through hard igneous rock, the sides are steep and spectacular. The Canyon drive was visual overload to say the least.
Boulder Canyon Scenic Drive
The scenery on these sheer canyon walls was inspiring. One of the most breathtaking sights on the Boulder Canyon Scenic Drive was Boulder Falls. Located 11 miles west of Boulder.The falls are 66ft high. I am sorry I don't have a picture of the falls to share.
Rock Climbers Boulder Canyon Scenic Drive
What are steep canyon walls without a rock climber? This climber was performing some good moves, at least we though so.
Boulder Canyon Scenic Drive,Nederland Colorado
Then Boulder Canyon emerges into an opening in the mountains where a small dam has created Baker reservoir in Nederland Colorado.
Boulder Canyon Scenic Drive to Nederland Colorado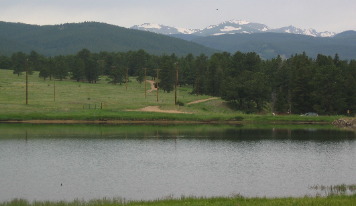 Netherland Colorado is located 17 miles Southwest of Boulder and 50 miles Northwest of Denver. The population in 2006 was 1,337. The elevaton in Nederland is 8236 Ft.
Baker Reservoir Nederland Colorado
The view across Baker Reservoir is picture perfect. A view like this is worth the drive and makes any day.
In Nederland SR-119 turns to the south toward the old mining towns of Black Hawk and Central City. Before reaching Black Hawk we decided to take SR-46 back to Golden. Somewhere along the way SR-46 turns into CR-70 also known as Golden Gate Canyon Road.

Here we are in another canyon cut through extremely hard igneous rock by water. The geology through Golden Gate Canyon is interesting to say the least.
An intrusive dike of much younger igneous rock (red in color) has been injected into cracks of older igneous rock (the darker rock). Needless to say the dike was injected into the crack while molten and under extreme pressure.
I sure would like to have a geologist riding with us.
The visible dikes in the igneous rock of Golden Gate Canyon Road intrigue me.
Keep in mind that those red vertical dikes got there when molten rock under extreme pressure was forcing its way to the surface and filling every crack in the over head rock layer.
Finally the geology plays out and we emerge onto the foothills and Golden where it is time to once again watch the kayakers practice their sport in Clear Creek Whitewater Park.
Here are some other Travel Adventures in this area that may interest you:
Golden, Colorado -- Kayaking Clear Creek in Golden, Colorado -- Golden Farmer's Market --
Hang Gliding on Lookout Mountain -- Buffalo Bill's Grave on Lookout Mountain -- Nature Center on Lookout Mountain
Evergreen, Colorado and Bear Creek scenic drive -- Dinosaur Ridge near Morrison, Colorado
Central City & Black Hawk, Colorado -- Mountain Goats of Mount Evans -- Clear Creek Canyon Scenic Drive
The Oh-My-God Road from Central City to Idaho Springs -- Boulder Canyon Scenic Drive -- Golden, Colorado
Evergreen, Colorado -- Kayaking fun in Clear Creek Golden, Colorado -- Mount Evans Scenic Drive -- Lookout Mountain
Until next time remember how good life is.
Mike & Joyce Hendrix who we are
We hope you liked this page. If you do you might be interested in some of our other Travel Adventures:
Mike & Joyce Hendrix's home page
Travel Adventures by Year ** Travel Adventures by State ** Plants ** Marine-Boats ** Geology ** Exciting Drives ** Cute Signs ** RV Subjects ** Miscellaneous Subjects
We would love to hear from you......just put "info" in the place of "FAKE" in this address: FAKE@travellogs.us
Until next time remember how good life is.