June 16th and 17th 2006 has us in Golden, Colorado (just west of Denver).
We are in Clear Creek City Park N39° 45.197' W105° 13.193'. The campground is located on the south side of 10th street at the end of the road. Clear Creek City Campground is one of the nicest (location wise) campgrounds you can stay in (our opinion). located on Clear Creek 3-blocks from downtown Golden. They have paved interior roads with small backin sites (mature trees are so wonderful); 50-amps, water and sewer, $28.91 per-night 303-278-1437. There is a 2-week max stay before you have to leave the park and they do not take reservations.
We are headed to the top of Lookout Mountain to visit Buffalo Bill's Grave and the Lookout Mountain Nature Center. The drive up Lookout Mountain from Golden, Colorado is a cool drive. It is a steady drive up a good grade with pull-outs where you can view Golden and Denver in the distance.
Lookout Moutain Road
Tiring of the Golden Farmer's Market we headed west out of Golden on the Lariat Loop a scenic drive well known in these parts.
Leaving Golden we head up Lookout Mountain Road the mountain immediately west of Golden.
These pillars mark the entrance to the Lariat Trail on Lookout Mountain.
Hang glider on currents of uplifted air above Lookout Mountain
We were able to watch this hang glider for most of our journey to the summit of Lookout Mountain.
Hang glider on currents of uplifted air above Lookout Mountain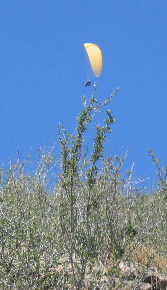 It seems as though this hang glider would pop into view every time we went around a switchback as we made our way up Lookout Mountain. He was twisting and turning on the air currents generated by these mountains. Sometimes he would fall below us then in a moment catch an updraft and be a thousand feet above us. He was having a blast and we were enjoying the show.

Joyce took this picture of Golden and between the twin tabletops is Denver.
Those table tops are covered by hard lava flow. You can see how much has eroded over the years. The hard lava has protected those two "table-tops" from erosion over the years.
Saturday night Joyce took a picture of Table Top Mountain as the sun was setting. It was a stunning picture and we included it in the Golden Farmers Market Travel Adventure.
This hang glider would swoop down close to us then move off the catch an uplift that would carry him up again. As you can see he is pretty close to us in this picture.
We got closer to the paraglider as we climbed. On one occasion they buzzed us as we took these pictures.
Here are some other Travel Adventures in this area that may interest you:
Golden, Colorado -- Kayaking Clear Creek in Golden, Colorado -- Golden Farmer's Market --
Hang Gliding on Lookout Mountain -- Buffalo Bill's Grave on Lookout Mountain -- Nature Center on Lookout Mountain
Evergreen, Colorado and Bear Creek scenic drive -- Dinosaur Ridge near Morrison, Colorado
Central City & Black Hawk, Colorado -- Mountain Goats of Mount Evans -- Clear Creek Canyon Scenic Drive
The Oh-My-God Road from Central City to Idaho Springs -- Boulder Canyon Scenic Drive -- Golden, Colorado
Evergreen, Colorado -- Kayaking fun in Clear Creek Golden, Colorado -- Mount Evans Scenic Drive -- Lookout Mountain
Until next time remember how good life is.
Mike & Joyce Hendrix who we are
We hope you liked this page. If you do you might be interested in some of our other Travel Adventures:
Mike & Joyce Hendrix's home page
Travel Adventures by Year ** Travel Adventures by State ** Plants ** Marine-Boats ** Geology ** Exciting Drives ** Cute Signs ** RV Subjects ** Miscellaneous Subjects
We would love to hear from you......just put "info" in the place of "FAKE" in this address: FAKE@travellogs.us
Until next time remember how good life is.