Dinosaur Ridge Morrison, Colorado
June 16th and 17th 2006 has us in Golden, Colorado (just west of Denver).
We are in Clear Creek City Park N39° 45.197' W105° 13.193'. The campground is located on the south side of 10th street at the end of the road. Clear Creek City Campground is one of the nicest (location wise) campgrounds you can stay in (our opinion). located on Clear Creek 3-blocks from downtown Golden. They have paved interior roads with small backin sites (mature trees are so wonderful); 50-amps, water and sewer, $28.91 per-night 303-278-1437. There is a 2-week max stay before you have to leave the park and they do not take reservations.
We took a day trip out of Golden today on the Lariat Loop. Interestingly enough Lariat Loop took us from Evergreen to Morrison on SR 74.
Red Sandstone exposed around Morrison and Dinosaur Ridge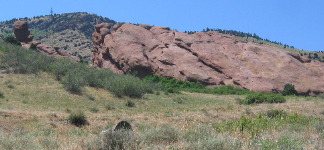 From Evergreen we followed Bear Creek to Kittredge and Idledale through a canyon cut by Bear Creek. By the time we near Morrison we began to see red sandstone formations pushed to the surface during the uplift that created the Rocky Mountains. These red rocks are hard sandstone deposited during the Pennsylvanian (325 to 280 million years ago) and Permian (280 to 240 million years ago) periods. We do not often see Pennsylvanian and or Permian formations because they are generally covered with 240 million years of sedimentary deposits. It is only in these rare places where extreme uplift has occurred that these formations are pushed to the surface.
Dakota Sandstone layers exposed on Hogback Ridge near Morrison, Colorado
Also around Morrison on Hogback Road (Hwy 26.93) is Dinosaur Ridge. This "hogback" exposes extensive layers of Dakota Sandstone laid down 100 million years ago during the Cretaceous period. These sandstone layers are tilted at a 45-degree angle. Some of them expose dinosaur tracks and tracks from other animals of that era.
Dragstrip Morrison, Colorado
From the top of the hogback I was able to look down on a huge drag racing track. I snapped this photograph as soon as I heard the noise of squealing tires. You can see smoke from the dragsters leaving the starting gate.
Exposure of Red Rock near Morrison, Colorado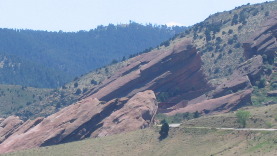 More of that red sandstone that is referred to as red rock around here. There is so much of the red rock exposed that they have a Red Rock Park near Morrison.
Dinosaur Ridge is a hogback west of Denver, between the towns of Morrison and Golden, that beautifully exposes dinosaur-bearing rocks of Jurassic and Cretaceous age.
Bones and tracks of a variety of animals from the Age of Dinosaurs are visible.
Dinosaur Tracks exposed on Dinosaur Ridge
Dinosaur Tracks exposed in the Morrison Sandstone formation on Dinosaur Ridge.
Hogback ridge once was a beach on a vast inland sea. Dinosaurs migrated along the edge of this sea, leaving footprints in the sand.
Tracks in sandstone on Morrison Ridge
These were tracks but I do not what made them. The whole hillside was covered with them.
Dinosaur tracks on Dinosaur Ridge near Morrison, Colorado
If you like dinosaur stuff Dinosaur Ridge is a must visit place.
Roadcut at exit 259 on I-70 exposing 45-million years of geologic time
At exit 259 on I-70 there is a magnificent roadcut that exposes 45-million years of geologic time. When these sedimentary layers were being deposited 140 to 95 million years ago Colorado was a warm flat place where dinosaurs roamed. Parts of it were covered by an inland sea from time to time. Then around 70 million years ago the Rocky Mountains were uplifted and the sedimentary rock layers were tilted up.
Here are some other Travel Adventures in this area that may interest you:
Golden, Colorado -- Kayaking Clear Creek in Golden, Colorado -- Golden Farmer's Market --
Hang Gliding on Lookout Mountain -- Buffalo Bill's Grave on Lookout Mountain -- Nature Center on Lookout Mountain
Evergreen, Colorado and Bear Creek scenic drive -- Dinosaur Ridge near Morrison, Colorado
Central City & Black Hawk, Colorado -- Mountain Goats of Mount Evans -- Clear Creek Canyon Scenic Drive
The Oh-My-God Road from Central City to Idaho Springs -- Boulder Canyon Scenic Drive -- Golden, Colorado
Evergreen, Colorado -- Kayaking fun in Clear Creek Golden, Colorado -- Mount Evans Scenic Drive -- Lookout Mountain
Until next time remember how good life is.
Mike & Joyce Hendrix who we are
We hope you liked this page. If you do you might be interested in some of our other Travel Adventures:
Mike & Joyce Hendrix's home page
Travel Adventures by Year ** Travel Adventures by State ** Plants ** Marine-Boats ** Geology ** Exciting Drives ** Cute Signs ** RV Subjects ** Miscellaneous Subjects
We would love to hear from you......just put "info" in the place of "FAKE" in this address: FAKE@travellogs.us
Until next time remember how good life is.