June 16th and 17th 2006 has us in Golden, Colorado (just west of Denver).
We are in Clear Creek City Park N39° 45.197' W105° 13.193'. The campground is located on the south side of 10th street at the end of the road. Clear Creek City Campground is one of the nicest (location wise) campgrounds you can stay in (our opinion). located on Clear Creek 3-blocks from downtown Golden. They have paved interior roads with small backin sites (mature trees are so wonderful); 50-amps, water and sewer, $28.91 per-night 303-278-1437. There is a 2-week max stay before you have to leave the park and they do not take reservations.
After enjoying the Saturday morning Farmers Market in Golden we headed out on the Lariat Loop Scenic Drive. As we headed out of Golden on the Lariat Loop we headed up Lookout Mountain to Buffalo Bill's Grave and Lookout Mountain Nature Center.
Leaving Golden we head up Lookout Mountain Road the mountain immediately west of Golden.
These pillars mark the entrance to the Lariat Trail on Lookout Mountain.
Lariat Loop envelopes the natural, historic and scenic features of the foothills just a few miles west of Golden.
A hang glider with a beautiful, bright yellow chute was using the uplift created by Lookout Mountain to do his thing. Click here to read and see more about this hang glider on Lookout Mountain

To the right is a picture of Golden and between the twin tabletops is Denver. Those table tops are covered by hard lava flow. You can see how much has eroded over the years. One night at sunset Joyce made a beautiful picture of Table Top Mountain the one on the left. You can see that photograph in our Farmers Market Travel Adventure.
Buffalo Bill's Grave is located on the crest of Lookout Mountain.
Born in 1846, William F. Cody experienced the Old West to its fullest.
His skill as a buffalo hunter gained him the nickname "Buffalo Bill".
Buffalo Bill's Wild West shows traveled the world leaving a lasting vision of the American West.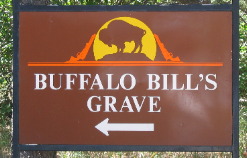 On the top of Lookout Mountain.
It was at this lofty site overlooking Golden and Denver, Colorado that the famous scout was buried when he died in 1917.
There is controversy about whether Cody wanted to be buried here or near Cody, Wyoming.
No matter where "Buffalo Bill" is actually buried this place does a great job of telling the life story of this man who played a big role in opening up the American west.
Put Buffalo Bill's Grave site on your "bucket list". Do not miss it when you are in the area.
As we drop down the western side of Lookout Mountain we can see beautiful snow capped mountains to our west and I-70 down below. After a short drive on I-70 we exited on highway 74 toward Evergreen.
Here are some other Travel Adventures in this area that may interest you:
Golden, Colorado -- Kayaking Clear Creek in Golden, Colorado -- Golden Farmer's Market --
Hang Gliding on Lookout Mountain -- Buffalo Bill's Grave on Lookout Mountain -- Nature Center on Lookout Mountain
Evergreen, Colorado and Bear Creek scenic drive -- Dinosaur Ridge near Morrison, Colorado
Central City & Black Hawk, Colorado -- Mountain Goats of Mount Evans -- Clear Creek Canyon Scenic Drive
The Oh-My-God Road from Central City to Idaho Springs -- Boulder Canyon Scenic Drive -- Golden, Colorado
Evergreen, Colorado -- Kayaking fun in Clear Creek Golden, Colorado -- Mount Evans Scenic Drive -- Lookout Mountain
Until next time remember how good life is.
Mike & Joyce Hendrix who we are
We hope you liked this page. If you do you might be interested in some of our other Travel Adventures:
Mike & Joyce Hendrix's home page
Travel Adventures by Year ** Travel Adventures by State ** Plants ** Marine-Boats ** Geology ** Exciting Drives ** Cute Signs ** RV Subjects ** Miscellaneous Subjects
We would love to hear from you......just put "info" in the place of "FAKE" in this address: FAKE@travellogs.us
Until next time remember how good life is.