June 16th and 17th 2006 has us in Golden, Colorado (just west of Denver).
We are in Clear Creek City Park N39° 45.197' W105° 13.193'. The campground is located on the south side of 10th street at the end of the road. Clear Creek City Campground is one of the nicest (location wise) campgrounds you can stay in (our opinion). located on Clear Creek 3-blocks from downtown Golden. They have paved interior roads with small backin sites (mature trees are so wonderful); 50-amps, water and sewer, $28.91 per-night 303-278-1437. There is a 2-week max stay before you have to leave the park and they do not take reservations.
Roasting Green Chili Peppers at Golden Farmers Market
They have a "Farmer's Market" next to the library in Golden every Saturday morning.
It was a fun place to visit.
This vendor was roasting peppers. That roaster is full of green chili peppers. Roasting pops them open where the seeds fall out. The pan under the roaster is catching those seeds.
Roasting Green Chili Peppers at Golden Farmers Market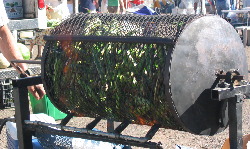 I went around back to see the business end of this roaster. Four blowtorch flames were throwing flames several feet. The vendor had to keep turning the Chile peppers to keep them from burning.
He said he wanted to scorch the outside while ridding the insides of seeds. He explained that the seeds were too hot but the roasted Chile peppers minus the seeds were a delicacy. That was a good try but I know better. Green chili peppers can be somewhat mild or so hot it will bring tears to your eyes. I do not trust folks out west when they say "oh it isn't very hot" or "it's mild". Those folks can drink battery acid and smile. I know better. VBG
Carriages Rides Golden Colorado Farmers Market
Several carriage rides were available at the Farmers Market in Golden, Colorado. We did not take one but they were popular. They may have been free.
Music Festival in Historic Park along Clear Creek in Golden, Colorado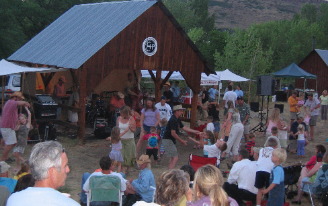 We spent Saturday evening at a music festival held in the Historic Park across the creek from the RV-Park. A number of local musical groups performed for about 5-hours.
Table Mountain located between Golden & Denver

Joyce took this picture of Table Mountain that sits between Denver and Golden as the sun was about to drop behind the Rocky Mountains to the west. While the sun was shining brightly on the hard caprock of Table Mountain in this picture a few moments later it was dark.
Look closely and you can already see the shadows at the base of this mountain. That shadow is where the sun was falling behind the Rocky Mountains behind us.
Here are some other Travel Adventures in this area that may interest you:
Golden, Colorado -- Kayaking Clear Creek in Golden, Colorado -- Golden Farmer's Market --
Hang Gliding on Lookout Mountain -- Buffalo Bill's Grave on Lookout Mountain -- Nature Center on Lookout Mountain
Evergreen, Colorado and Bear Creek scenic drive -- Dinosaur Ridge near Morrison, Colorado
Central City & Black Hawk, Colorado -- Mountain Goats of Mount Evans -- Clear Creek Canyon Scenic Drive
The Oh-My-God Road from Central City to Idaho Springs -- Boulder Canyon Scenic Drive -- Golden, Colorado
Evergreen, Colorado -- Kayaking fun in Clear Creek Golden, Colorado -- Mount Evans Scenic Drive -- Lookout Mountain
Until next time remember how good life is.
Mike & Joyce Hendrix who we are
We hope you liked this page. If you do you might be interested in some of our other Travel Adventures:
Mike & Joyce Hendrix's home page
Travel Adventures by Year ** Travel Adventures by State ** Plants ** Marine-Boats ** Geology ** Exciting Drives ** Cute Signs ** RV Subjects ** Miscellaneous Subjects
We would love to hear from you......just put "info" in the place of "FAKE" in this address: FAKE@travellogs.us
Until next time remember how good life is.