June 16th and 17th 2006 has us in Golden, Colorado (just west of Denver).
We are in Clear Creek City Park N39° 45.197' W105° 13.193'. The campground is located on the south side of 10th street at the end of the road. Clear Creek City Campground is one of the nicest (location wise) campgrounds you can stay in (our opinion). located on Clear Creek 3-blocks from downtown Golden. They have paved interior roads with small backin sites (mature trees are so wonderful); 50-amps, water and sewer, $28.91 per-night 303-278-1437. There is a 2-week max stay before you have to leave the park and they do not take reservations.
Historic Cobbleston Building in Golden Colorado: The Armory Building
This cobblestone building in downtown Golden is known as the "armory-building". It was constructed in 1913 and is purported to be the largest cobblestone in the US. The walls are 3-feet thick. It remains a good looking building today.
Historic Cottonwood Tree in Vanover Park, Golden Colorado
We found this giant cottonwood tree in Vanover Park about 4-blocks from Clear Creek RV park at the intersection of Ford and Water street on Cold Creek. The folks at the visitor center said that long ago someone was hung from that cottonwood tree and locally it is know as the hanging tree.
Joyce took these pictures of wild raspberries while on a walk along the Creek. They look so much like blackberries we are familiar with back in the southeast.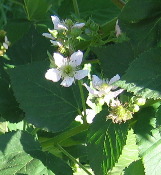 Raspberry along Clear Creek in Golden, Colorado.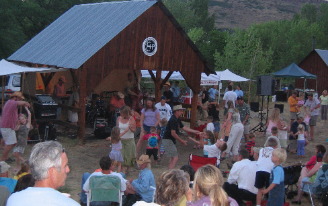 We spent Saturday evening at a music festival held in the Historic Park across the creek from the RV-Park.
A number of local musical groups performed for about 5-hours.
Table Mountain at sunset.....taken from Golden, Colorado

Joyce took this picture of Table Mountain that sits between Denver and Golden as the sun was about to drop behind the Rocky Mountains to the west. While the sun was shining brightly on the hard caprock of Table Mountain in this picture a few minutes later it was dark.
Here are some other Travel Adventures in this area that may interest you:
Golden, Colorado -- Kayaking Clear Creek in Golden, Colorado -- Golden Farmer's Market --
Hang Gliding on Lookout Mountain -- Buffalo Bill's Grave on Lookout Mountain -- Nature Center on Lookout Mountain
Evergreen, Colorado and Bear Creek scenic drive -- Dinosaur Ridge near Morrison, Colorado
Central City & Black Hawk, Colorado -- Mountain Goats of Mount Evans -- Clear Creek Canyon Scenic Drive
The Oh-My-God Road from Central City to Idaho Springs -- Boulder Canyon Scenic Drive -- Golden, Colorado
Evergreen, Colorado -- Kayaking fun in Clear Creek Golden, Colorado -- Mount Evans Scenic Drive -- Lookout Mountain
Until next time remember how good life is.
Mike & Joyce Hendrix who we are
We hope you liked this page. If you do you might be interested in some of our other Travel Adventures:
Mike & Joyce Hendrix's home page
Travel Adventures by Year ** Travel Adventures by State ** Plants ** Marine-Boats ** Geology ** Exciting Drives ** Cute Signs ** RV Subjects ** Miscellaneous Subjects
We would love to hear from you......just put "info" in the place of "FAKE" in this address: FAKE@travellogs.us
Until next time remember how good life is.