Mt Evans, Colorado Scenic Byway, an Exciting Drive
Thursday June 18: Golden, Colorado (just west of Denver). We are in Clear Creek City Park N39° 45.197' W105° 13.193'. The campground is located on the south side of 10th street at the end of the road. Clear Creek City Campground is one of the nicest (location wise) campgrounds you can stay in (our opinion). located on Clear Creek 3-blocks from downtown Golden. They have paved interior roads with small backin sites (mature trees are so wonderful); 50-amps, water and sewer, $28.91 per-night 303-278-1437. There is a 2-week max stay before you have to leave the park and they do not take reservations.
We drove out Clear Creek Canyon Road (US-6) from Golden, Colorado to Idaho, Springs on our exciting drive to the summit of Mt. Evans.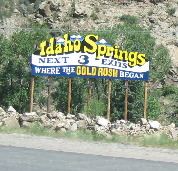 Idaho Springs is a neat mountain town 20-miles or so west of Golden.
Exit 240 off I-70 west of Denver that takes you to Mt Evans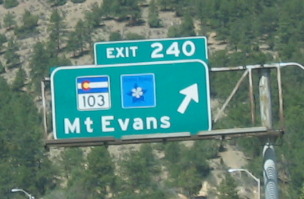 We took exit 240 off I-70 to get to Mt. Evans.
Fun sign on the highway leading to Mt Evans
We chuckled at the sign warning of steep grade and sharp curves next 6-miles and that was on the road heading to the entrance gate for Mt. Evans where the REAL steep grade began.
Echo Lake on Mt Evans Scenic Byway in Colorado
Echo Lake is a popular recreational park for the area. It is located at the intersection of SR 103 and SR 5. SR 5 is the 14 mile road that leads to the summit of Mt. Evans while SR 103 connects Idaho Springs with Bergen Park is a circuitous through the mountains.
Mt Evans entrance sign
Mt. Evans is 14-miles away at an elevation of 14,260 feet. And oh by the way this is North America's highest auto road. Somewhere I read that it was the highest paved road in North America but that is not what this sign says. Summit lake is a beautiful alpine lake nestled in an old cirque.
Entrance sign for Mt Evans Scenic Byway
Summit Lake is 9-miles from the entrance and the summit of Mt Evans is 14-miles of steep grades. Let's do it!
Climbing Mt Evans on the Scenic Byway
Mt. Evans is a National Park or National Forest or National something. Anyway, when we presented our National Park Pass with Golden Eagle seal it got us in without any further cost. Now we are on our way, only 14 more miles of chugging up a relentless grade. The picture on the left shows some of that road while we are still below the timberline.
Reservoir below the timber line on Mt Evans
As we climb higher and higher we pass a series of lakes note that this lake is below the timberline.
Snow on Mt Evans Scenic Byway
Not long after getting above the timberline snow becomes a common sight.
Then Summit Lake appears.
We cover Summit Lake in another travel log.
Summit Lake Park at Summit Lake on Mt Evans. The parking lot was full so we continued to the top remarking that we would stop and enjoy the lake on our way down.
Climb to the summit of Mt Evans
Long steady climb to the summit of Mt Evans with unsurpassed views.
Even in the summer snow covers much of Mt Evans
Steep grade & hairpin turn on Mt Evans Road
Above Summit Lake the hairpins become more exciting like this one with no guard rails that just plunge down a steep cliff.
Biker on the Mt Evans Scenic Byway
Those durn bikers were everywhere. Joyce and I can barely breathe at this altitude while these bikers pedal their bikes to the top. It is unreal that they can pedal bikes up this steep grade between 13,000 and 14,000 feet in elevation.
MM-14 on Mt Evans Scenic Byway
The sign says we are at mile 14 so we should be at the top -------- but there is more.
Hairpin turn on Mt Evans Road near summit
Here is another of those sharp turns with NO guardrail. The tall skinny marker posts you see are what keep the snow plow drivers on the road. With no guard rail the snow plow drivers can just push the snow off the steep side making the job much easier.
View from summit of Mt Evans
From the top you can see for miles and miles. The actual crown of Mt. Evans is nothing more than a pile of rocks. Once solid granite the effects of water freezing and thawing on a regular cyclic basis has created cracks that converted that once solid rock into a pile of little rocks.
View from summit of Mt Evans
At the summit we are can see motorcycles and petal bikers pushing for the final assault while this young mountain goat looks on.
Click here to see more Mt Evans Mountain Goats.
Mt Evans Road near summit
We continue to spot more mountain goats as we began our descent.
View from Mt Evans summit
Goats and awesome views, what more could you ask for? Guard rails! VBG
Other mountains in the Front Range of the Colorado Rockies as viewed from Mt Evans
Hairpin turn on Mt Evans Scenic Byway
Forget the cars in this picture look at the hairpin turn! Look hard and you can see the road falling away just to the left of the road those cars are on. At least this hairpin had a pile of rocks on the far side.
Mt Evans Scenic Byway above tree line
This is the grade, 14-miles of it, that we had to climb to get to the summit of Mt Evans.
We are back at Summit Lake where ice on the lake is still visible and snow still touches the lake in spots.
Summit Lake is an example of a geologic cirque.
Click here for more Summit Lake pictures.
View from Mt Evans Road
Further down the mountain we spot this small lake at the timberline. Note the treeline in the picture to the right. The treeline here is around 12,000 feet.
These looked like cedar or juniper trees around the 9,000-ft level on Mt Evans
We spot these trees at the 9,000 to 10,000 foot level but do not know what they are.
More about Mt Evans Mountain Goats and Summit Lake
At the bottom of Mt Evans we headed to Evergreen, Colorado where they have raised wooden sidewalks giving it an old west feel.
Here are some other Travel Adventures in this area that may interest you:
Golden, Colorado -- Kayaking Clear Creek in Golden, Colorado -- Golden Farmer's Market --
Hang Gliding on Lookout Mountain -- Buffalo Bill's Grave on Lookout Mountain -- Nature Center on Lookout Mountain
Evergreen, Colorado and Bear Creek scenic drive -- Dinosaur Ridge near Morrison, Colorado
Central City & Black Hawk, Colorado -- Mountain Goats of Mount Evans -- Clear Creek Canyon Scenic Drive
The Oh-My-God Road from Central City to Idaho Springs -- Boulder Canyon Scenic Drive -- Golden, Colorado
Evergreen, Colorado -- Kayaking fun in Clear Creek Golden, Colorado -- Mount Evans Scenic Drive -- Lookout Mountain
Until next time remember how good life is.
Mike & Joyce Hendrix who we are
We hope you liked this page. If you do you might be interested in some of our other Travel Adventures:
Mike & Joyce Hendrix's home page
Travel Adventures by Year ** Travel Adventures by State ** Plants ** Marine-Boats ** Geology ** Exciting Drives ** Cute Signs ** RV Subjects ** Miscellaneous Subjects
We would love to hear from you......just put "info" in the place of "FAKE" in this address: FAKE@travellogs.us
Until next time remember how good life is.