February, 2010
We are dry camping along with some 700 other RV'ers at the Navy Base here in Key West. Actually, there are two bases within the NAS Key West complex that make up the 700-plus campsites. The two locations are at Sigsby and Trumbo Point. Sigsby is located 3 to 4 miles from "Duval Street" in Key West while Trumbo Point Campground is located 6 to 8 blocks from "Duval Street". We are staying at Trumbo Point, an easy walk to Duval-Street. But remember this is Dry Camping. There is central dump station and fresh water. Generators can run from 6am to 10PM. Life is good.
Commercial Campgrounds in Key West start at $100 a night and are located about 5-miles from Duval Street. Parking in Key West starts at $13 a day and goes up. The $13 parking site is about 6 blocks from Duval Street. The closer you get to Duval Street the more expensive the parking site.
This is the Whale Watcher. It docks at the same dock in the Marina at Key West Bight where the Key West Express docks. It comes and goes every day ---- weather permitting.
The Whale Watcher sails from the Marco River Marina on Marco Island. The Whale Watcher is a 130' boat, powered by 5 jet drives. It is the fastest trip to Key West (from Florida's west coast) featuring climate controlled enclosed cabins, sun deck, large flat screen TV's with satellite television. During the summer months the Whale Watcher operates whale watches out of Barnstable Harbor on Cape Cod, Massachusetts.
When you visit Key West you will want to visit the Marina at Key West Bight and look for the Whale Watcher and Key West Express.
Key West dog dressed in boxers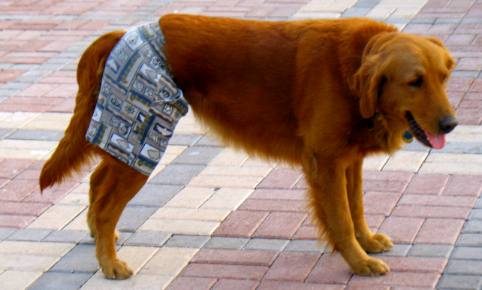 This dog belongs to a local.
Folks down here like to dress up their pets and this poor dog is no exception. He had his own set of boxers with a special hole cut for his tail. It is cute but I do not think the dog is impressed. VBG
This dinghy is used to reach "home" on someone's boat is moored at Key West Bight Marina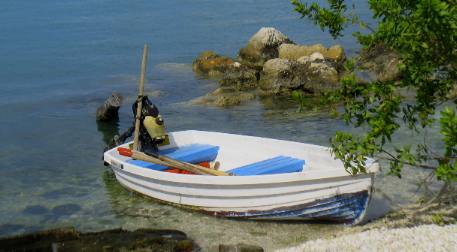 Dinghies, like this one, are a common sight in the keys since they are used by hundreds if not thousands of people to get to and from the boats they live on.
The Marina at Key West Bight has docking place for possibly 100 or so of these dinghies that are used by locals to reach the boats they live on that are anchored off Key West.
Hogs Breath Saloon is a Key West Institution
These musicians entertain several nights a week at Hogs Breath Saloon. Joyce likes to stop by and listen for a while before we mosey on to other venues.
The Key West Light House. No Island would be complete without the historical lighthouse that tells a story of the past.
Mike will not let me pass up one of these colorful cars without taking a photograph! They are all unique to say the least.
Now this is really the boss in our family. He was standing in front of the Hogfish Bar and Grill on Stock Island ready to consume some great food. I just love it when I don't have to cook!
Here we are pictured with our dear, friends Macklyn and Les dinning at the Hogfish Bar & Grill on Stock Island near Key West. Good times and good friends. Life doesn't get any better in Key West!
Les and Macklyn are old friends. They live in South Carolina on Lake Hartwell but travel extensively in their motorhome. We met up with them last summer in the Black Hills of South Dakota where we spent a week together. Les was driving us in his Jeep when we took those photographs of the back side of Crazy Horse Monument.
Click here to see that travel log: