Whitehead Street Key West Part Eight
Beautiful date palm gracing a private landscape along south Whitehead Street
Joyce spotted this beautiful date palm in a private yard on south Whitehead Street.
This is a ficus tree of some sort possibly a strangler fig located on north Whitehead Street
This huge and extremely unique shaped ficus tree is located next to the sidewalk on Whitehead Street behind the Mel Fisher Museum. If you are visiting Key West as a stop on a cruise ship this tree is within an easy walk from the cruise ship since most cruise ships dock at Mallory Square and the Mel Fisher Museum and this ficus tree less than a block away from Mallory Square. In fact it is between the cruise ship dock and Duval Street where most tourist head when they disembark.
To understand the size of this root mass that is a pallet you see on the ground in the bottom left corner of this picture.
I tried to determine what this root mass was growing on since it takes on a square shape and the roots of a strangler fig often take on the shape of whatever is "hosting" the strangler fig. Strangler figs are members of the fig family as are ficus trees and banyan trees.
All three ficus, strangler figs and banyan trees start life as an epiphyte when its seeds germinate in the cracks and crevices on a host tree (or on structures like buildings. Knowing that these ficus or strangler figs begin life as a epiphyte is what made me try to locate the "host" structure in that mass of roots. Try as I did.... I could not see anything inside that mass but more roots.
This is the cat cemetery at the Hemingway House. The cats in this cemetery are descendants of a special cat that Hemingway had when he lived in Key West.
One of the feral chickens (rooster) next to the roots of a huge kapok tree
Feral chickens like this rooster live around both the Monroe County Court House and US Post Office located on Whitehead Street.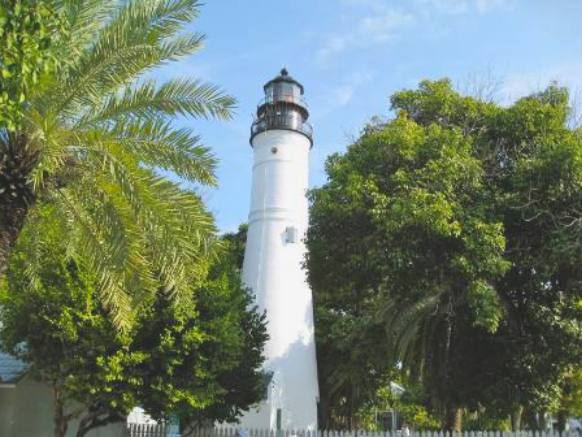 The Key West Lighthouse is one of the major tourist attractions in Key West. One day Joyce and I are going to walk the steps to the top.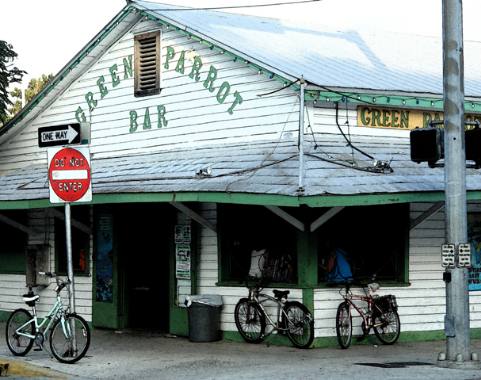 Parking is extremely limited to nonexistent in Key West. Locals mostly use bicycles or just walk. At night the sidewalk around theGreen Parrot Bar is littered with bicycles.
To say the Green Parrot Bar is a locals favorite would be an understatement. The Green Parrot Bar specializes in Jazz and Blues music.
Until next time remember how good life is.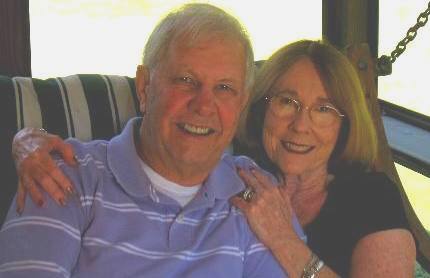 Mike & Joyce Hendrix who we are
We hope you liked this page. If you do you might be interested in some of our other Travel Adventures:
Mike & Joyce Hendrix's home page
Travel Adventures by Year ** Travel Adventures by State ** Plants ** Marine-Boats ** Geology ** Exciting Drives ** Cute Signs ** RV Subjects ** Miscellaneous Subjects
We would love to hear from you......just put "info" in the place of "FAKE" in this address: FAKE@travellogs.us
Until next time remember how good life is.