Hogfish Grill Stock Island
Ambiance is diversified at the world famous Hogfish Grill on Stock Island. This is just one piece of the eclectic ambiance.
There are marinas on both sides of the Hogfish Grill as well as the abundant wildlife and wide variety of customers.
View of the world famous Hogfish Grill from the road. The front entrance to Hogfish Grill is under that thatched roof.
Our dining table is located on the dock overlooking this marina next to Hogfish Grill.
Joyce was trying to capture the reflection those sailboats were making.
You might not find the common mynah in your bird book because some bird books do not have it listed but here it is. We have seen common mynah birds several times when in south Florida. They are a member of the starling family and are not welcome in this country.
We saw of pair of common mynah birds feeding on the ground next to our motorhome on Trumbo Point in Key West one day this winter.
And as you can see we spotted this pair of common mynahs feeding under the dining tables at Hogfish Grill.
Several brown pelicans were in the water beside our table at Hogfish Grill. Another table was throwing cracker crumbs in the water and small fish were eating the cracker crumbs. The pelican was trying to catch the small fish.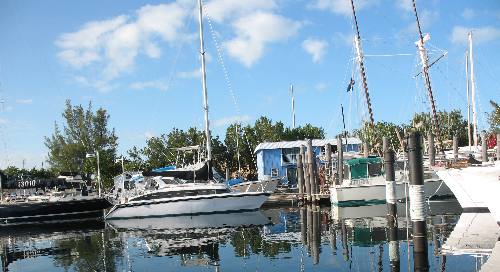 The view of the harbor in this marina is so serene. It is a pleasurable view from our dining table.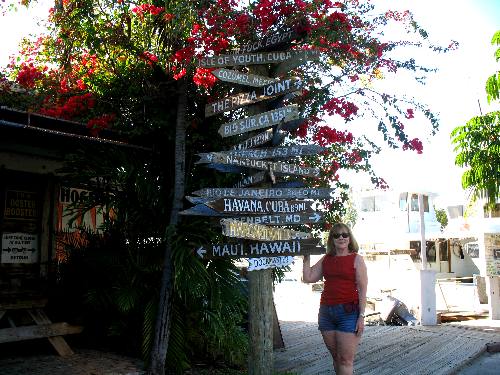 In case you are wondering that blooming flower is on a bougainvillea.
Joyce is standing beside the milepost - direction marker outside Hogfish Grill on Stock Island near Key West.
As I am sure you are aware this is only one side of the menu.
We dearly love the Havana Roast Pork but everything on the menu is wonderful.
I love the Creamy Lobster Bisque and we always share a piece of their Key Lime pie.
Everyone loves their Hogfish Sandwich.
Joyce is a happy girl. We are about to share the Havana Roast Pork dinner.
In addition to the absolutely wonderful roast pork, there is black beans and rice with plantains.
That is about as it gets in this life. VBG
Until next time remember how good life is.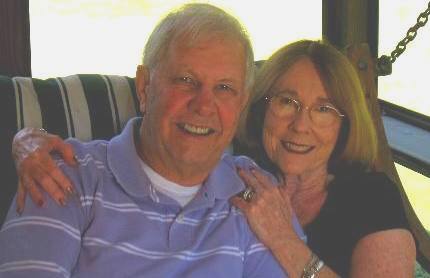 Mike & Joyce Hendrix who we are
We hope you liked this page. If you do you might be interested in some of our other Travel Adventures:
Mike & Joyce Hendrix's home page
Travel Adventures by Year ** Travel Adventures by State ** Plants ** Marine-Boats ** Geology ** Exciting Drives ** Cute Signs ** RV Subjects ** Miscellaneous Subjects
We would love to hear from you......just put "info" in the place of "FAKE" in this address: FAKE@travellogs.us
Until next time remember how good life is.