February, 2010
We visited Key West Bight marina and restaurants on many occasions. Key West Bight is one of the places where everyone visiting Key West spends time. It is where you board the boat that takes you to Dry Tortugas. It is where many of the Sunset Cruise Boats are located. It is also the dock where the Key West Express docks.
We are dry camping along with some 700 other RV'ers at the Navy Base here in Key West. Actually, there are two bases within the NAS Key West complex that make up the 700-plus campsites. The two locations are at Sigsby and Trumbo Point. Sigsby is located 3 to 4 miles from "Duval Street" in Key West while Trumbo Point Campground is located 6 to 8 blocks from "Duval Street". We are staying at Trumbo Point, an easy walk to Duval-Street. But remember this is Dry Camping. There is central dump station and fresh water. Generators can run from 6am to 10PM. Life is good.
Commercial Campgrounds in Key West start at $100 a night and are located about 5-miles from Duval Street. Parking in Key West starts at $13 a day and goes up. The $13 parking site is about 6 blocks from Duval Street. The closer you get to Duval Street the more expensive the parking site.
This is one of those poles that gives directions and distance to cities far away. The pole is located at Key West Bight (the large marina).
They were loading this dumpster transport truck on the Sunset Key Ferry boat when we were passing by today. This is the largest load we have seen on the ferry. Boats in the background are docked at Key West Bight Marina.
This is what the dumpster truck looks like when loaded on the Sunset Key vehicle ferry. The captain will be picking up that front door momentarily, as he backs off the ramp. The landing craft is transporting this truck and the trash dumpster to Sunset Key.
Notice that HUGE black private yacht at the gas dock in Key West Bight. One thing I would not want to do is fill that thing up with diesel fuel.
We took this picture from the Coast Guard Station, overlooking Key West Bight, near our campground. We obviously got a late start and did not make it to Mallory Square and had to settle for our sunset picture from here.
This is another sunset picture from the Coast Guard station, Sunset Key is in the background with Key West Bight in the foreground.
This is an old truck outside B.O's. fish Wagon. That old truck is an icon. It is one of the places tourist gather to get their pictures made. You can find it one block south of Key West Bight.
This is the Key West Express a large catamaran that runs between Ft. Myers and Key West on a daily basis. From what we can see they do a good business. It docks in the Key West Bight Marina.
Until next time remember how good life is.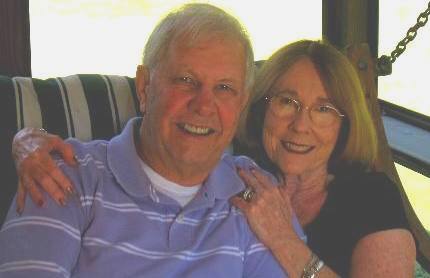 Mike & Joyce Hendrix who we are
We hope you liked this page. If you do you might be interested in some of our other Travel Adventures:
Mike & Joyce Hendrix's home page
Travel Adventures by Year ** Travel Adventures by State ** Plants ** Marine-Boats ** Geology ** Exciting Drives ** Cute Signs ** RV Subjects ** Miscellaneous Subjects
We would love to hear from you......just put "info" in the place of "FAKE" in this address: FAKE@travellogs.us
Until next time remember how good life is.