Lonestar Bike Museum Vanderpool, Texas
April 20, 2007.
We are staying in Kerrville at Kerrville Schreiner City Park that was formerly Kerrville Schreiner State Park. $15 per-night for FHU plus a $5 per-day entrance fee (but you can purchase an annual pass for $25 which we did). Kerrville Schreiner Park is located within the city limits on the Guadalupe River and has everything one could want in the way of Hill Country Ambiance. With that said there are probably 12-RV-Parks in Kerrville that are very nice plus they have good location as well. Many of these private parks are located on the Guadalupe River as well.
As lunch time approached it was time for us to head to the local place which happens to be the Lone Star Motorcycle Museum. It is owned by friends of our friends. The man who owns the museum happens to be from Australia and has a funny accent as you might expect. A real nice chap --- eh!
Ah, but I told you we were going to lunch not a motorcycle museum. Well, it seems that visitors to the museum kept wanting food so the owner's wife started a small restaurant in the back corner of the museum. They do hamburgers and such then throw in some home made soups and Ausie pies. The Ausie pies are something the Aussie gets in on. He makes the dough and she makes the fillings. They have about 6-different kinds of meat fillings. With that dough it probably wouldn't matter what you put in for a filling --------------- on the other hand it might matter. Anyway, the dough is great and the filling is great also. Too bad I only had room for one pie. If you are ever in the Vanderpool area stop in and tell the chap I sent ya. Tell them you want an Aussie meat pie.
The two girls in this picture were trying to pick up one of those burly bikers -------- too bad, they had to settle for me and Al. VBG
Bikers leaving the Lonestar Motorcycle Museum in Vanderpool, Texas
Joyce took this picture as some of the bikers left the Motorcycle Museum (and Aussie Restaurant) and continued on their scenic drive through the Hill Country. I suspect their next stop will be the Pig Pen south of Vanderpool in Leakey.
We did not tour the Motorcycle Museum but these were part of the display visible from our dining table. The bikers sure like walking through the museum. We heard many exciting comments while we ate.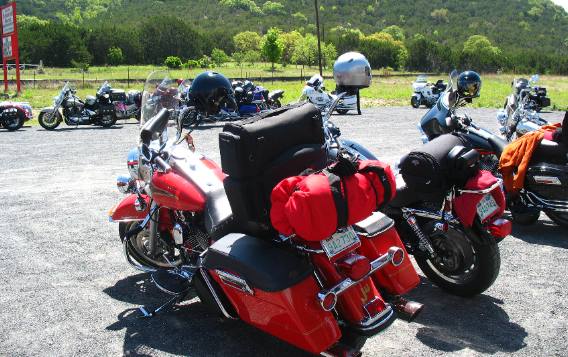 This is the parking lot at the Motorcycle Museum. Contrary to the impression in this picture all visitors aren't riding bikes.
Bikers on the Scenic Drive between Medina and Vanderpool
This is a group of bikers on the road from Medina to Vanderpool. Bikers, such as these, are a common sight as they ride through the Hill Country scenic areas . The drive between Medina through Vanderpool and over to Leakey is considered one of the better scenic drives in the Hill Country. I can't disagree. We have friends that live off this road near Vanderpool and we are driving out to their place.
These bikers are probably headed to Lonestar Bike Museum in Vanderpool for lunch and a look through the vintage motorcycles then on to the Pig Pen in Leakey for a quik sip.
Mike & Joyce Hendrix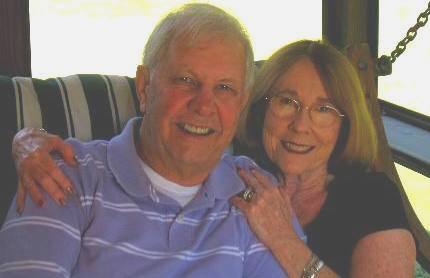 Mike & Joyce Hendrix who we are
We hope you liked this page. If you do you might be interested in some of our other Travel Adventures:
Mike & Joyce Hendrix's home page
Travel Adventures by Year ** Travel Adventures by State ** Plants ** Marine-Boats ** Geology ** Exciting Drives ** Cute Signs ** RV Subjects ** Miscellaneous Subjects
We would love to hear from you......just put "info" in the place of "FAKE" in this address: FAKE@travellogs.us
Until next time remember how good life is.