Leakey, Texas
Leakey, Texas
April 20, 2007.
We are staying in Kerrville at Kerrville Schreiner City Park that was formerly Kerrville Schreiner State Park. $15 per-night for FHU plus a $5 per-day entrance fee (but you can purchase an annual pass for $25 which we did). Kerrville Schreiner Park is located within the city limits on the Guadalupe River and has everything one could want in the way of Hill Country Ambiance. With that said there are probably 12-RV-Parks in Kerrville that are very nice plus they have good location as well. Many of these private parks are located on the Guadalupe River as well.
From Vanderpool we went sightseeing with Al driving us through the scenic backroads of the Hill Country. In Leakey, pronounced Lakey, we pulled into this place -------- no not for deer corn, we were stopping for cold drinks. It is a drive-thru beverage store but the sweet young thing will throw a 50-pound bag of deer corn in the back of your truck. Forget the trunk, not much pulls through that door other than pick up trucks, and most of them are duallies. Real men drive duallys out here. If you gotta ask what a dually is go straight to the back of the line and stand there with your golf club.
The Hog Pen Bar-B-Q in Leakey a Hill Country favorite
My my! Look what is heading to the hog pen!
Sometimes I see humor when I shouldn't. Joyce tells me that even if it is funny I should keep my mouth shut, bite my tongue, and look the other way.
Sometimes, I don't take her advice. VBG
Leakey Feedlot a popular stop in Leakey, Texas for the bikers

I absolutely love some of the signs I see here in Texas. The folks in these parts have a sense of humor that fits my style.
I do not know if it is actually 90-miles to fast food but I will guarantee it is a "far piece" as country folks might say.
Texas Historical Marker in Leakey Cemetery honoring victim of last indian raid back in Frio Canyon 1881
This Historic Marker in the Leakey Cemetery honors Catherine R. McLauren (1849-1881) a victim of the last indian raid in Frio Canyon, April 19, 1881.
She was the mother of three small children. "Kate" McLauren was home with her children and a neighbor boy, Allen Lease, when a Lipan Apache band started to plunder their house.
Though shot with a bullet, she sent her six-year old child maud, for help but died shortly after husband John's return that night.
I found the compelling story of this event on this website:
http://www.unc.edu/~ecanada/hilton5.html
Here is an exerpt from that website.... be sure and visit that website to get the full story and how this author retrieved the story. It is a great read as well.
From: http://www.unc.edu/~ecanada/hilton5.html
"The Ranch house at Buzzards Roost was uphill from the river, with the garden between. Kate McLauren and the 3 small children along with a 15 year old boy Allen Lease who lived with them, were working in the garden. It was around two in the afternoon of April 19, 1881 and Mrs. McLaurin heard a noise in the house. She thought it was their hogs. They could easily get in the house thru open doors and windows. But, It wasn't. It was Lipan Apache on a raid, plundering her home. Allen was shot investigating the noise. A wounded Kate McLauren was left for dead."
"The children were unharmed and Maud 6 years old got a pillow from the house to place under her dying mother's head. She then went for help. Her father John McLaurin was gone to court Bandera, Texas with several of his neighbors."
"Help came at sundown, Kate was barely alive, she asked for some water, which was given. She died within minutes. Allen Lease was still lying at the foor of the hill where he fell, but the hogs had eaten his face off. The bodies were taken into Leakey, A group of settlers met a John Leakey's and under the leadership of Captain J.J.H. Patterson chased the indians for 70 miles south, toward Mexico."
"From Fort Clark, the 27 Seminole Negro Scouts commanded by John Lapham Bullis were sent out in pursuit. They crossed the Rio Grande April 30 into the Sierra del Burro Mountains of Mexico. The next evening they found the Lipan Apache camp. At daybreak of May 2, they attacked killing several braves. They found a woman and a boy, as well as twenty-one animals."
"John McLauren and neighbors returned to Fort Clark to identify their property, even the clothing of Kate McLauren."
"This was the last Indian raid in Texas."
Go to: http://www.unc.edu/~ecanada/hilton5.html for even more historical information on this area and time.
I want to take this story a bit further. Fort Clark was a frontier forl located near the Texas town of Braketville just off US-90. Just to give you an idea of the distances being discussed it was over 66-miles from Leakey and the Apache Indian attack to Fort Clark. That is how far a group of settlers chased the indians.
The Sierra del Burro Mountains of Mexico are across the river from Big Bend National Park. Folks that is 300-miles west of Ft Clark. That means the 27- Seminole Negro Scouts from Fort Clark chased the raiding Apache Indians over 300 more miles when they took over the chase. It is totally amazing the things that folks did on horseback back in 1881. Go back and read the story again then imagine the distances these folks were traveling on horses.
If you enjoyed this Travel Adventure you might like some of these:
Texas Hill Country Fences & Gates
Willow Loop Scenic Drive north of Fredericksburg
Kerrville, Bandera, Hunt & Ingram; Texas
Wildlife of the Texas Hill Country
Mike & Joyce Hendrix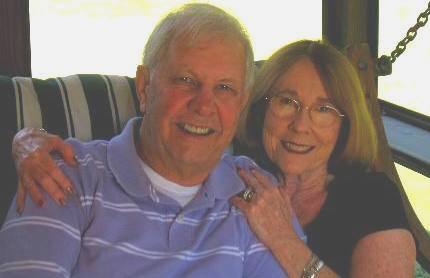 Mike & Joyce Hendrix who we are
We hope you liked this page. If you do you might be interested in some of our other Travel Adventures:
Mike & Joyce Hendrix's home page
Travel Adventures by Year ** Travel Adventures by State ** Plants ** Marine-Boats ** Geology ** Exciting Drives ** Cute Signs ** RV Subjects ** Miscellaneous Subjects
We would love to hear from you......just put "info" in the place of "FAKE" in this address: FAKE@travellogs.us
Until next time remember how good life is.