Willow Loop Texas Hill Country Scenic Drive part five
Willow Loop is a 5-mile Hill Country scenic drive located 10-miles north of Fredericksburg.
April 13, 2007.
Our motorhome is in Lady Bird Johnson City Park 3-miles south of Fredericksburg on SR-16; $20 FHU including cable with paved sites. We tend to like Lady Bird Johnson City Park when we are in Fredericksburg because the RV-sites are situated under the canopy of mature pecan trees but there are several more that are good as well. The Fredericksburg RV-Park on Highway street is another good park but it cost more and doesn't have mature trees that provide shade.
On this day we decided to do "Willow Loop", a scenic drive 10-miles north of Fredericksburg, that wanders through some spectacular Hill Country scenery. Willow Loop seems to encompass much of the diversity of the Texas Hill Country in creeks, granite and marble outcroppings in the normal limestone bedrock of the area.
This unique flower is a green-flowered milkweed. I suspect it will host monarch butterfly caterpillars later in the year. The bloom is different from any milkweed that I have seen. I don't think it opens any more that that.
More green-flowered milkweed with a lone bluebonnet.
Bluebonnets and some beautiful yellow flowers.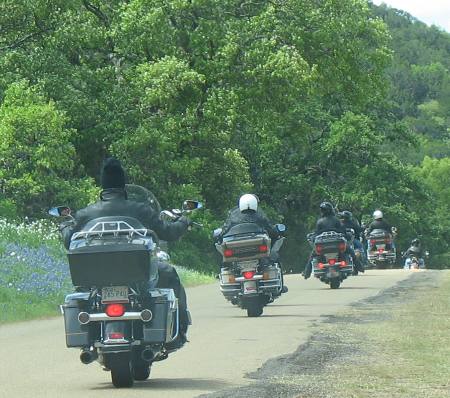 Motorcycle groups that visit Luckenbach also like to cruise Willow Loop. If you are interested in Luckenbach, Texas check out our Travel Adventure to Luckenbach: Luckenbach, Texas

Motorcycle groups travel through willow loop enjoying the scenery and not taking up nearly as much room as an automobile. I suspect that over 1,000 motorcycles rode through Willow Loop on the Saturday we enjoyed the scenic drive. Everyone was having a good time.
Most of them will visit Luckenbach at some time during the day.
In fact anyone visiting this area needs to stop by and experience Luckenbach.
Here are some links that will let you experience the ambience of Luckenbach:
Luckenbach Jam Session * Luckenbach Activities * Luckenbach Motorcycles
Luckenbach Store * Luckenbach Dance Hall * Luckenbach Ambience
Luckenbach History * Luckenbach's Music
Wildflowers along Willow Loop in Texas Hill Country near Fredericksburg
Yellow and blue makes a good mixture with just a dash of white prickly poppy thrown in for good measure.
Well, there you have it. You have just completed a quick picture tour of the famous "willow loop" north of Fredericksburg, Texas that thousands of bluebonnet aficionados experience every spring.
If you are looking for more Texas Scenic Wildflower Drives here are some links:
Wildflower Scenic Drive around Cureo, Texas part one
Wildflower Scenic Drive around Cureo, Texas part two
Wildflower Scenic Drive around Cureo, Texas part three
If you enjoyed this Travel Adventure you might like some of these:
Texas Hill Country Fences & Gates
Willow Loop Scenic Drive north of Fredericksburg
Kerrville, Bandera, Hunt & Ingram; Texas
Wildlife of the Texas Hill Country
Mike & Joyce Hendrix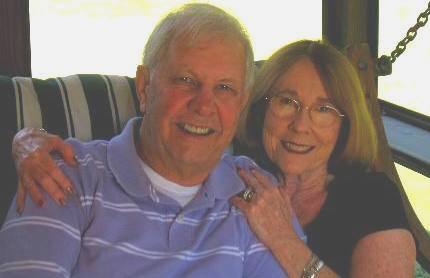 Mike & Joyce Hendrix who we are
We hope you liked this page. If you do you might be interested in some of our other Travel Adventures:
Mike & Joyce Hendrix's home page
Travel Adventures by Year ** Travel Adventures by State ** Plants ** Marine-Boats ** Geology ** Exciting Drives ** Cute Signs ** RV Subjects ** Miscellaneous Subjects
We would love to hear from you......just put "info" in the place of "FAKE" in this address: FAKE@travellogs.us
Until next time remember how good life is.