Luckenbach, Texas Motorcycles
Luckenbach, Texas the little place made famous by a country song
April 15, 2007.
We parked our motorhome at Lady Bird Johnson City Park 3-miles south of Fredericksburg on SR-16; $20 FHU including cable with paved sites. We tend to like Lady Bird Johnson City Park when we are in Fredericksburg because the RV-sites are situated under the canopy of mature pecan trees but there are several more that are good as well. The Fredericksburg RV-Park on Highway street is another good park but it cost more and doesn't have mature trees that provide shade.
Luckenbach is only a few buildings 10-miles southeast of Fredericksburg. Located on a small loop of paved road off RR-1376 the small cluster of buildings have withstood the raveges of weather and time without any noticable help in decades. Explaining Luckenbach is difficult since it is something different to each individual that visits. The facilities consist of a dance hall, a place for food (appropriately called the feed lot) and the old post office that is now a store and beer joint combined. Outside restrooms and a few out buildings make up what attracts people to Luckenbach. A few houses, probably less than 5, are scattered around the loop. One of these house is a historic residence. The other residences are not noteworthy.
The outside parking area:
Much of the ambience at Luckenbach is the outside parking area, especially for the motorcycle crowd. Parking nearest the store is more or less reserved --if only by tradition, for motorcycles.
Weekends in the Hill Country of Texas is motorcycle cruising time. Hundreds of motorcycles cruise through the areas roads. Luckenbach is a mandatory stop on any motorcycle outing. It might be that all motor cycle outings require at least two stops at Luckenbach. For the most part motorcycle riders stop by for a cool one then head out again within 30-minutes. Most of the motorcycle crowd socializes in this area where they can inspect each others cycles and attire.
This old pecan tree is one of the motorcycle gathering areas. The scenery under this old tree is continuously changing as groups gather and roar off only to be replaced by new groups.
These Bikers are hanging out under the old pecan tree in front of the old post office and store.
If you want to enjoy more Luckenbach, Texas adventures try some of these links:
Luckenbach Jam Session * Luckenbach Activities * Luckenbach Motorcycles
Luckenbach Store * Luckenbach Dance Hall * Luckenbach Ambience
Luckenbach History * Luckenbach Music
These bikers are hanging out under the oaks near the Luckenbach Dance Hall, while a constant flow of vehicles pass by on the road separating the two spots.
Motorcycles come in different pods. I don't know that I can classify all the different genre represented but the Harley owners like to let everyone hear the distinctive deep growl of their Harley. I think they compete to see who's hog has the deepest growl or possibly the loudest growl. One of the other genre are the bikes where riders have their rear end higher than their heads when moving down the highway. Biker attire seems to be as important the bike. Black leather is a must and the more of it the better.
Another tree and even more bikes. Many bikers like to park under the oak trees near the Luckenbach Dance Hall.
If you enjoyed this Travel Adventure you might like some of these:
Texas Hill Country Fences & Gates
Willow Loop Scenic Drive north of Fredericksburg
Kerrville, Bandera, Hunt & Ingram; Texas
Wildlife of the Texas Hill Country
Mike & Joyce Hendrix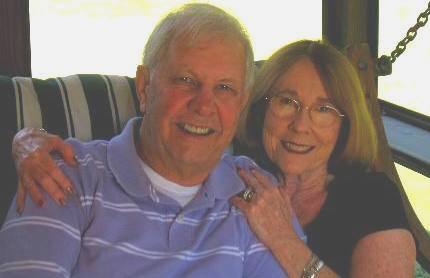 Mike & Joyce Hendrix who we are
We hope you liked this page. If you do you might be interested in some of our other Travel Adventures:
Mike & Joyce Hendrix's home page
Travel Adventures by Year ** Travel Adventures by State ** Plants ** Marine-Boats ** Geology ** Exciting Drives ** Cute Signs ** RV Subjects ** Miscellaneous Subjects
We would love to hear from you......just put "info" in the place of "FAKE" in this address: FAKE@travellogs.us
Until next time remember how good life is.