Wildflower drive-1 around Cuero, Texas
April 12, 2007.
We stayed in a small "locals" RV-Park for the one night we were in Cuero. It was clean and adequate with a 50-amp and 120V connector at the park post but no 30-amp it did have water and sewer and cable all for $15---Rivercrest RV-Park Cuero, TX 830-591-6022
Upon entering Cuero from the south on US-77A (US-183) we started looking for a roadside rest area that Texas provides along most highways. We wanted to drop the motorhome and do several wildflower loops in the Saturn. We spotted one less than 7-miles south of Cuero that was perfect for our need. Within a few minutes of pulling into this rest area we were in our Saturn and headed out to enjoy some of the areas famous wildflower drives.
This is the motorhome sitting in the rest area just south of Cuero, Texas. It was a good place to drop the motorhome while we enjoyed ourselves on the wildflower loops.
Herbertia
While this appears to be a very easy wildflower to identify we have not found it in any of our wildflower books. We spotted this flower in good numbers around Cuero. If you know what it is please let me know. Guess what? My good friend Sharry, from Vanderpool, wrote to tell me that this was a herbertia. Thanks Sharry. None of my wildflower books mention herbertia much less provide a picture of one.
Unidentified wild flower with blue flower stalk
This is another blue wildflower that we have not yet identified. It was also abundant in fields around Cuero.
Bluebonets
These are the ubiquitous bluebonets that Texas is so noted for. These actually grow better further north. We think that the area around Brenham, Texas and Willow Loop northeast of Fredericksburg, Texas have better displays of bluebonets.
Huisache daisy in field around Cuero, Texas
These colorful flowers are huisache daisies. The roadside and fields around Cuero are filled with these.
Huisache daisy in field around Cuero, Texas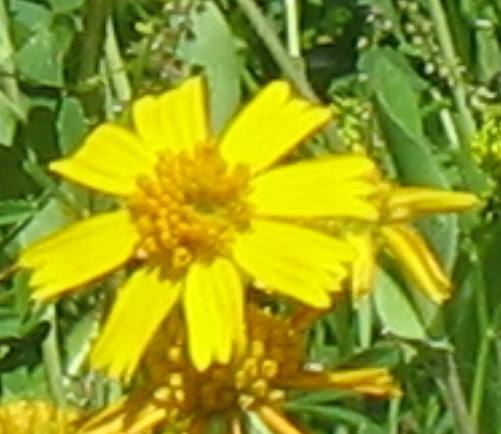 Close-up of a huisache daisy.
Yellow wildflowers in field near Cuero, Texas
Landscape filled with a variety of yellow wildflowers and a sprinkling of bluebonets.
Another Wildflower drive out of Cuero, Texas (part 2)
Another Wildflower drive out of Cuero, Texas (part 3)
Mike & Joyce Hendrix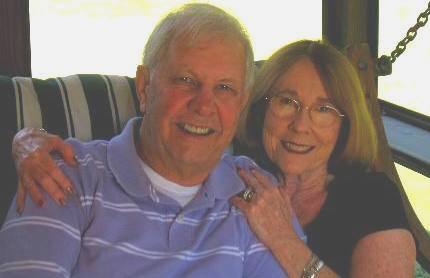 Mike & Joyce Hendrix who we are
We hope you liked this page. If you do you might be interested in some of our other Travel Adventures:
Mike & Joyce Hendrix's home page
Travel Adventures by Year ** Travel Adventures by State ** Plants ** Marine-Boats ** Geology ** Exciting Drives ** Cute Signs ** RV Subjects ** Miscellaneous Subjects
We would love to hear from you......just put "info" in the place of "FAKE" in this address: FAKE@travellogs.us
Until next time remember how good life is.