June 22, 23 & 24th: Boulder, Colorado (northwest of Denver).
We are in Clear Creek City Park N39° 45.197' W105° 13.193' Golden, Colorado. The campground is located on the south side of 10th street at the end of the road. Clear Creek City Campground is one of the nicest (location wise) campgrounds you can stay in (our opinion). located on Clear Creek 3-blocks from downtown Golden. They have paved interior roads with small backin sites (mature trees are so wonderful); 50-amps, water and sewer, $28.91 per-night 303-278-1437. There is a 2-week max stay before you have to leave the park and they do not take reservations.
On our way back to Boulder from Nederland a menacing black cloud was forming over Boulder.
That dark cloud hailed on us a few minutes later.
Road signs warned of steep grades on our trip back to Boulder from Nederland.
When the hail first started ice balls were the size of eggs and larger.
That BIG hail was plummeting our Saturn about once every 10 to 15 seconds. We thought the windshield was cracked. The sound was terrible as the frozen hail shattered upon crashing into our car.
A news paper artical said that the big hail was 2" in diameter.
That is what we had guessed. They were BIG and frightening when they hit the car.
Quarter size hail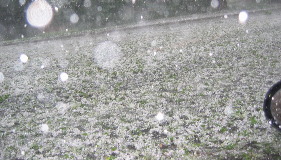 After only a few minutes of that large hail "quarter" size hail became the norm for around 30-minutes.
We took refuge in our Saturn under a large cottonwood tree that just happened to be near the road.
Within just a few minutes the windshield was covered with hail
Even under the protection of that large cottonwood tree we were getting pounded.
We could not see out the windshield. It was not safe to drive. Everyone pulled over.
The hail finally stopped
When the hail finally stopped and it was safe I rolled the window down and took this picture. We were still in shock at this time.
What do we do now?
Wow! Look at the hail covered road
Thankfully the BIG hail did not last but about 2-minutes. It was replaced by marble to golf ball size hail which continued to pound us relentlessly for the next 30-minutes.
When it was safe we got out and took pictures.
We sought safety in this parking lot located across the street.
Hail covered parking lot
This is a bank parking lot we pulled into after the storm passed. We had to move off the street because the melting hail was running down the street in torrents and the Saturn was about to be washed away.
Hail covered parking lot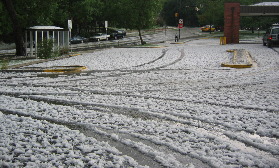 It was really HOT just before this storm hit. During the storm the temperature dropped to around freezing. Now that the storm has passed the hail is melting rapidly as the temperature rises.
We are in this parking lot because the street is literally flooding. Vehicles in the street we were on during the storm would be washed away.
Our Saturn covered with hail & debris
Our Saturn covered with hail & debris
Our Saturn was a mess. That is the back window. What you see is a mixture of green leaves and hail. Keep in mind that we were under a large tree during the storm.
Hood & front window of our Saturn
We had our windshield wipers on the entire time thus the way our front window looks.
The amount of hail is totally unbelievable
When we look around the scene is unbelievable.
As the hail melts it creates flooding on major streets. These pictures were taken an hour or more after the hail storm.
That dark cloud moved to the south east toward Denver
We were keeping an eye on that black cloud as we made our way back to Golden. Here you can see that ominous black cloud and the narrow hogback covered with lava rock that is visible just north of Golden on SR 93. At this point the cloud that did so much damage in Boulder appears to be over Denver.
Beautiful flowers in Pearl Street Mall Boulder, Colorado
Beautiful flowers at Pearl Street Mall in Boulder.
Look below to see what they looked like after this hail storm.
These are before and after pictures so pay attention. VBG
Flower garden after hail storm
We were back in Boulder and Pearl Street Mall two days after the hail storm.
The beautiful flower beds in the Pearl Street Mall area looked like someone had taken a weed eater to them.
Here are some other Travel Adventures in this area that may interest you:
Golden, Colorado -- Kayaking Clear Creek in Golden, Colorado -- Golden Farmer's Market --
Hang Gliding on Lookout Mountain -- Buffalo Bill's Grave on Lookout Mountain -- Nature Center on Lookout Mountain
Evergreen, Colorado and Bear Creek scenic drive -- Dinosaur Ridge near Morrison, Colorado
Central City & Black Hawk, Colorado -- Mountain Goats of Mount Evans -- Clear Creek Canyon Scenic Drive
The Oh-My-God Road from Central City to Idaho Springs -- Boulder Canyon Scenic Drive -- Golden, Colorado
Evergreen, Colorado -- Kayaking fun in Clear Creek Golden, Colorado -- Mount Evans Scenic Drive -- Lookout Mountain
Until next time remember how good life is.
We hope you liked this page. If you do you might be interested in some of our other Travel Adventures:
We would love to hear from you......just put "info" in the place of "FAKE" in this address: FAKE@travellogs.us
Until next time remember how good life is.