I-10 through El Paso east to Balmorhea, Texas
Places Visited:
.
Texas: Traveling I-10 through El Paso east to Balmorhea.

Wednesday, June 15: Balmorhea State Park Balmorhea, Texas I-10 exit 192 east bound and exit 209 west bound. $20 -- 50-amp & water with central dump, cable TV & free wifi; paved interior roads and sites: N30° 56.675' W103° 46.965'
This is the third day we have been out of California and each day we are realizing more things that we had become sensitized to when in California that is a drastic change from virtually everywhere else.
Rest Stop in west Texas along I-10
Rest stops along the interstate are interspersed every 80-miles or so unlike California. Rest stops are large and paved many if not most have rest rooms with running water, not porta-potties. In between Texas provides pull-offs and picnic areas where truckers and other drivers can pull off the interstate for a few winks or to stretch.
This is a Texas rest area with no facilities just east of El Paso.
Interstates have exit numbers and mile markers unlike California. Signs along the interstate inform travelers of services available at each exit. I can't help but remembering how we wanted to stop and see Santa Barbara but did not dare exit the freeway for fear of not being able to get back on or not being able to find a place to drop the motorhome so we could explore in the Saturn. I suppose if you live there and know where everything is ---- signage is just an annoyance.
Campground prices have returned to "normal". This is the fourth night we have spent in campgrounds out of California and we have paid; $14, $13.30, $13.30 and $20. And that is for 50-amps, cable TV and tonight we have free wifi. In California the state parks are charging $28 to boondock in a parking lot. The vast majority of private campgrounds & RV-parks only have 30-amp electrical connections and charge even more.
Site spaces in campgrounds are much larger outside California. There is actually room to park your car beside your motorhome and, gasp -- extend your awning. Although we seldom if ever extend our awning it is nice to have some elbow room between RV's.
Texas has good interstates and BAD interstates. I-10 through El Paso is abysmal, but then it becomes good for the next 100-miles. In Van Horn around mm-140 major work is being done to the west bound lanes. Both east & west bound traffic are now utilizing the former east bound side of I-10 so traffic is down to two lanes on a terrible section of I-10. This continues until the intersection of I-20 at mm-187. East of the intersection of I-20 interstate I-10 appears to be in good shape.
When we got to I-10 MM 139 at Las Cruces we got off I-10 to travel on SR-28 for about 50-miles. We like to take SR-28 south through La Mesilla, New Mexico and travel the old Kings Highway that connected Spanish settlements in Albuquerque and Santa Fe with the interior of Mexico. A stop in historic La Mesilla, New Mexico is almost mandatory for us as is our sightseeing drive down SR-28. We tend to follow New Mexico SR-28 until we get a few miles south of Anthony, Texas where we turn and get back on I-10 just north of El Paso. If you are interested in that area you may enjoy some of our other travel logs from there:
4. 2005 16 La Mesilla Irrigation
6. 2005 39 Las Cruces onion Harvest
7. 2005 40 La Mesilla through the Mesilla Valley south of La Mesilla on SR-28 (this is the travel log you are currently reading so I am not linking to it)
8. 2001 9 Texas to Flagstaff, Arizona
Looking at the Franklin Mountains in Texas from New Mexico along New Mexico SR-28 near Anthony, Texas
As we near the Texas border NM-28 that has been taking us south abruptly turns east where we are facing the Franklin Mountains. It is those mountains that I-10 has to get around to continue heading east.
Just south of Anthony, Texas we crossed over the Rio Grande River and made our way to I-10 at mm-6. That began our 880-mile trek across Texas on I-10. Anyway you cut & dice it ------- 880-miles is a LONG way.
Stacks at the old ASARCO smelter in West-Central El Paso
When passing through El Paso on I-10 one sight that everyone sees is these twin stacks with the letters ASARCO. They are stacks from a smelter that has been shut down. However, they were as much a part of the El Paso landscape as the Mountains in the picture that are in Mexico. Operations at this smelting plant in El Paso, Texas were suspended in 1999. At that time it was producing 1 billion pounds of anodes each year. The larger stack is 828' tall as tall as a 70-story building. The smelter was processing ore containing lead and copper. The stacks are no longer visible because they were demolished in 2013.
The Rio Grande River flows from right to left between us and those mountains. The mountains in this picture are in Mexico. Not only does the Rio Grande River flow through this break in the mountain chain but so does I-10. This break in the mountains is why El Paso is called El Paso, it is THE pass that allows traffic to flow east and west.
I-10 in El Paso as it goes past the southern end of the Franklin Mountains
This picture is in El Paso along I-10 as it passes south of the Franklin Mountains. The Rio Grande River and Mexico are are less than a mile to the right. The mountains and houses on the right side of the picture on the right are in Mexico while the remnant of rock on the left is in the US.
I-10 in El Paso as it goes past the southern end of the Franklin Mountains
Joyce took the picture to the left showing the southern tip of the Franklin Mountains as I-0 squeezes around them. Note that I-10 sweeps around the tip then heads north again and away from the Mexican border.
As we rounded the southern tip of the Franklin Mountains in El Paso Joyce noted that our elevation was around 3,660' indicating we had dropped about 200' in elevation from Las Cruces. As we head east I-10 gradually climbs until an elevation of 4,480 as we reach the small town of Plateau. Is there any wonder how it got that name? That is just 102' less than the elevation where I-10 crosses the Continental Divide in New Mexico.
There is not much to say about traveling across West Texas except there is a lot of desert and not many towns, buildings or activity other than wind. Traffic was fairly heavy though El Paso but it thins out by mm-37. Although traffic through El Paso was heavy it continued moving at around 60-mph.
Border Patrol checkpoint east of El Paso on I-10
Not far east of El Paso on I-10 the border patrol has a station where they are checking all east bound traffic. This morning they are funneling all east bound traffic into one lane that eventually passed through the check point pictured below.
Border Patrol checkpoint east of El Paso on I-10
We were waved through as were most vehicles. I can only wonder about what Latino's must endure when traveling through these checkpoints but that is another subject.
Between El Paso and Balmorhea, Texas topography shows a variety of different faces. There is still a limestone base as in the Hill Country but this area has been intruded in many places with volcanic activity. Ancient mountain ranges trending north and south seem to dot the landscape.
I-10 roadcut east of El Paso, Texas
While some roadcuts are through exposed limestone others are through much harder igneous formations. This roadcut is obviously through limestone a sedimentary rock with layers that are easily recognizable.
I-10 roadcut east of El Paso, Texas
In these pics there appears to be combinations of sedimentary limestone deposits in some areas with intruded igneous rock in others.
I-10 roadcut east of El Paso, Texas
Because of the size of this picture it is hard to make out details but the roadcut in the center of the picture is limestone while the crumbled rocks in the roadcut nearest to us appear to be some form of marble --- where extremely hot molten lava comes into contact with limestone under tremendous pressure --- thus changing the limestone to marble or other similar metamorphic rocks.
It would be so educational to ride through this area with trained geologists to discuss and explain what we are seeing.
We stopped for the night in Balmorhea State Park. Balmorhea is one of our favorite stopping places when passing through this area. The State Park Campground has 50-amp connections with cable TV and free wifi for $20 plus the huge spring/pool.
Swimming pool and springs at Balmorhea State Park in Balmorhea, Texas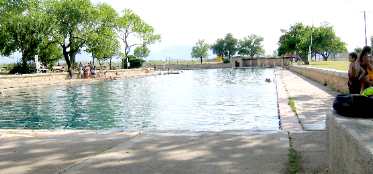 We always enjoy sitting under the trees near the pool/spring where we can watch the abundant bird life. We were treated to a number of orioles, black phoebes, western kingbirds, numerous hummingbirds, vermillion flycatchers, night hawks, barn swallows, cave swallows, Eurasian collared doves, Gambel's quail & white wing doves. We normally see a roadrunner or two but didn't see one today.
This picture is only one half of the pool. At the far end this pool dog legs to the left exposing another section of pool as large as the one in the photograph. This end is the deep end while the other is more shallow. The deep end of this pool
Until next time remember how good life is.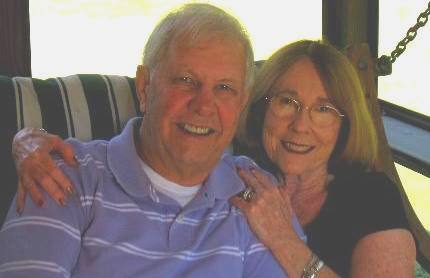 Mike & Joyce Hendrix who we are
We hope you liked this page. If you do you might be interested in some of our other Travel Adventures:
Mike & Joyce Hendrix's home page
Travel Adventures by Year ** Travel Adventures by State ** Plants ** Marine-Boats ** Geology ** Exciting Drives ** Cute Signs ** RV Subjects ** Miscellaneous Subjects
We would love to hear from you......just put "info" in the place of "FAKE" in this address: FAKE@travellogs.us
Until next time remember how good life is.