West Texas
West Texas
April 25 and 26, 2007.
We are staying in Balmorhea State Park. Water & 50-amps $14 with cable TV $17 plus $5 each for park entry fee. Located a few miles south of I-10 exit 206 if you are east bound and exit 209 if you are west bound. We like to stay here for the wildlife and birding. Balmorhea State Park boast the worlds largest swimming pool that is created by San Solomon Springs.
On Wednesday April 25 we continued our journey west on I-10. Traveling I-10 west from Junction to Balmorhea State Park is a rather lonely drive. There are great expanses of limestone roadcuts punctuated by thousands of acres of cedar. Really, there is a lot of that but as we travel west it is obvious that the landscape is becoming dryer.
Deep roadcuts through thousands of years of limestone deposits are just part of the landscape traveling I-10.
West of Fort Stockton is really dry and flat. Joyce took this picture at a rest stop west of Fort Stockton to emphasize that plants are not growing more than 4 to 5 feet tall. One yucca plant is taller than 5-feet.
Mesquite in bloom a common sight in west Texas
Our motorhome at that rest area. You can see for miles and miles but you aren't going to see any trees, only bushes.
Pecan orchard at Balmorhea, exit on I-10
On the outskirts of Balmorhea there is this pecan orchard that looks like it may be around 100 acres. San Solomon Springs at Balmorhea State Park feeds not only the swimming pool but is providing water to make this orchard possible.
The desert is "blooming" with the supply of water from the spring in Balmorhea State Park a few miles from here.
Bute visible from I-10
This looks like a butte to me since buttes are isolated, small, flat-topped hills, usually an erosional remnant carved from flat-lying rocks. This looks like it fits that definition.
Until next time remember how good life is.

Mike & Joyce Hendrix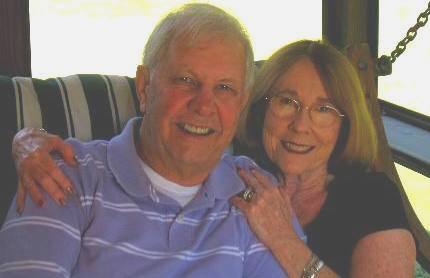 Mike & Joyce Hendrix who we are
We hope you liked this page. If you do you might be interested in some of our other Travel Adventures:
Mike & Joyce Hendrix's home page
Travel Adventures by Year ** Travel Adventures by State ** Plants ** Marine-Boats ** Geology ** Exciting Drives ** Cute Signs ** RV Subjects ** Miscellaneous Subjects
We would love to hear from you......just put "info" in the place of "FAKE" in this address: FAKE@travellogs.us
Until next time remember how good life is.