La Mesilla, New Mexico Irrigation
Sunday, April 10 Coachlight Inn & RV-Park Las Cruces, New Mexico -------- $13. 30 with PPA Gravel interior streets and pads N32° 17.514' W106° 48.401'.
Irrigation ditch from the Rio Grande River in New Mexico
Irrigation in this area is accomplished by flooding fields with several inches of water supplied via aquinas or ditches. More water is flowing in these irrigation ditches than flows in the Rio Grande through this area.
Gate valve to irrigate this pecan orchard near La Mesilla, New Mexico
When water is flowing in the aquina or irrigation ditch this gate/valve allows the water to flow into the pecan orchard.
Rio Grande River near La Mesilla, New Mexico
The Rio Grande is a joke. On the other hand irrigation ditches aren't lacking for water. Some of the irrigation water comes from the Rio Grande while other water is supplied by very deep wells.
This is a pic of the Rio Grande very near the New Mexico Texas border just north of El Paso.
SR-28 is the old Oñate Trail the El Camino Real, and the Chihuahua Trail depending on who you are talking to and the time frame being referred to. The El Camino Real or Kings Highway is the oldest historical road in the United States. To put that in perspective or said another way the El Camino Real or Royal Road - Kings Highway was the first and for a while the longest European road in North America. It runs over 2,000 miles from Mexico City to Taos, New Mexico. Parts of the Camino Real were used by Spanish Explorers in the 1580's but it was formally established in 1598 by Juan de Oñate, New Mexico's first Colonizer and Governor. Oñate came up this road with his colonizing expedition in May 1598. Along the way from deep in Mexico he designated official campsites on the Camino Real that were used by expeditions that followed. Oñate's colonizing caravan which included 129 men, with their livestock families and servants.
Later the Camino Real was referred to as the Chihuahua Trail with Chihuahua referring to Chihuahua, Mexico.
Historic old adobe block building along SR-28 south of La Mesilla, New Mexico
As we travel SR-28 today many old historical adobe block buildings are visible from the highway. This is the only way for us to travel ------ the interstate is out of the question when such a historical and scenic route is possible.
Note how this old adobe building has been "modernized" with a traditional roof, and electric meter.
Stahmann Pecan Farm near La Mesilla, New Mexico being irrigated
One of the pecan orchards along SR-28 is the Stahmann Farms with over 180,000 pecan trees producing 10 million pounds of pecans annually. We drove through mile after mile of these pecan orchards that stretch as far as the eye can see on both sides of SR-28. Freshly plowed fields await the planting of cotton, chile and sweet onions.
Until next time remember how good life is.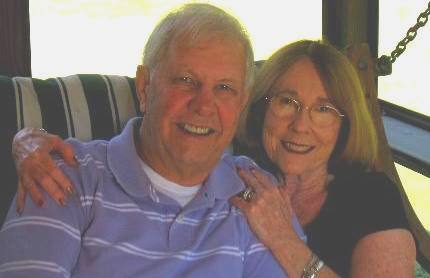 Mike & Joyce Hendrix who we are
We hope you liked this page. If you do you might be interested in some of our other Travel Adventures:
Mike & Joyce Hendrix's home page
Travel Adventures by Year ** Travel Adventures by State ** Plants ** Marine-Boats ** Geology ** Exciting Drives ** Cute Signs ** RV Subjects ** Miscellaneous Subjects
We would love to hear from you......just put "info" in the place of "FAKE" in this address: FAKE@travellogs.us
Until next time remember how good life is.