Places Visited:

New Mexico: Las Cruces
Tuesday, June 14: Coachlight Inn Motel & RV-Park Las Cruces, New Mexico I-10 exit 139. $13.30 with PPA 50-amp FHU gravel interior roads & spots within 2-miles of historic La Mesilla: N32° 17.489' W106° 48.441'
We took a day to chill. This is a good RV-Park and we like the area.
View of Las Cruces, New Mexico and the Rio Grande Valley with Organ Mountans in the background
As we near Las Cruces we began to see the huge irrigated pecan orchards Las Cruces is famous for. Then we get this view of Las Cruces. Las Cruces is spread out along the Rio Grande Valley with the Organ Mountains providing the backdrop.
We always stay at the Coachlight Inn and RV-Park when in this area. There is nothing special about the place but it has 50-amps (a must in the summer) and is located about one-mile from historic La Mesilla.
Bags of onions in fiels around Las Cruces, New Mexico
We watched workers bagging onions in a field. They were filling what appeared to be 50-pound croaker sacks.
Workers and machinery bagging onions in Las Cruces, New Mexico onion field
Las Cruces onions flowing down a conver belt toward workers who sacked them
Later we stopped in Las Cruces to watch another type of bagging operation. In this operation trucks were coming in from the fields loaded with big white onions. These trucks would drive on to a ramp that would tilt the trailer full of onions to about a 25-degree angle then they opened special doors and onions came tumbling out those side doors and down a chute to a conveyor belt that transported them back to the packing house.
Las Cruces onions flowing down a conver belt toward workers who sacked them
In the packing house was around a hundred workers. Young men and women most of them with a Latino look were performing myriad jobs at breakneck speed. That conveyor belt had a mechanism that sized the onions sending one size down one conveyor and another size down another and yet another. The conveyor belts all ended in a sacking operation. I was intrigued by this sacking operation. It consisted of a carousel about 8' in diameter that was about the height of a normal counter top. Workers circled the table/carousel that had a slightly conical shaped top. Around the perimeter of this carousel were mechanisms that would hold an onion bag open while onions were placed into it. There were about 8 individuals gathered around this carousel. Four young women were on one side. Their job was to load a new bag as the carousel went by their station headed around to the loading chute. As the onions fell off the conveyor belt they were rolling down that conical top of the carousel into the open/loaded onion bags. Men were grabbing those loaded bags and sitting them one position or 4' away from the conveyor belt. Another man then grabbed the draw-strings on the bag and tied it shut then placed it on a pallet. As you might imagine there were 3 or 4 men manning the stations around that carousel where the full sacks of onions were being removed. There was also a large group of workers involved in tying the sacks and loading them on the pallets.
Pallets were moved back in the warehouse while a big 18-wheeler at the back door was being loaded.
Onions were being sacked for a variety of buyers. Each with their own brand and bag. The floor manager did not like the 25-pound bags because it was slower than the normal 50-pound bags. I can see why! The workers had to process twice as many bags. They were moving like a room full of one armed paper hangers.

We are headed to Texas tomorrow.
Until next time remember how good life is.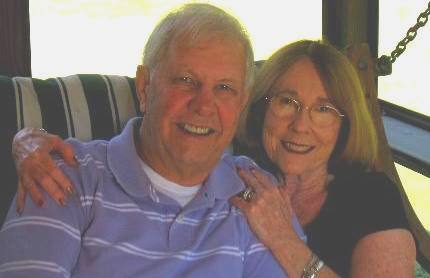 Mike & Joyce Hendrix who we are
We hope you liked this page. If you do you might be interested in some of our other Travel Adventures:
Mike & Joyce Hendrix's home page
Travel Adventures by Year ** Travel Adventures by State ** Plants ** Marine-Boats ** Geology ** Exciting Drives ** Cute Signs ** RV Subjects ** Miscellaneous Subjects
We would love to hear from you......just put "info" in the place of "FAKE" in this address: FAKE@travellogs.us
Until next time remember how good life is.