El Paso Part one
April 28 and 29, 2007.
We are staying in our motorhome at the SAEM (Spanish American Evangelistic Ministries) facilities in east El Paso. Our friends, Harry & Sue, are volunteers at the mission and got us the RV-site. The mission has 6 or 8 FHU spots for volunteers.
Century plants (agave) sending up bloom stalks in El Paso
Century plants sending up their blooming stalk. The plants do this only once then die.
Joyce took this picture of mature century plants, a type of agave, that were sending up their once in a lifetime bloom stalk. They were planted along the back side of a mom & pop hotel east of downtown El Paso off Alameda Avenue (SR-20).
Agave bloom high atop that bloom stalk
Joyce took this picture of an agave bloom one winter in Key West. It was growing in a flower garden around the marina where we like to eat at Hog Fish Grill. When dining there we like to meander around the adjacent marinas. We are just sharing this picture so you will know what the bloom will look like on that century plant in the picture above.
Overpass connecting Juarez, Mexico with El Paso, Texas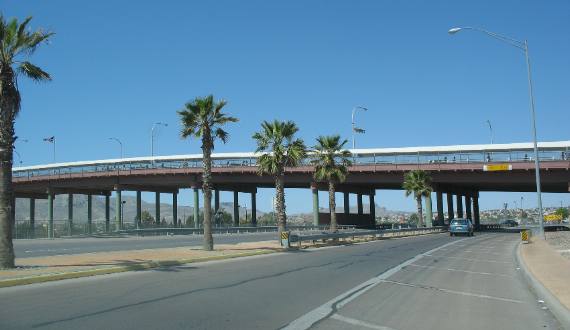 This was taken in the downtown area of El Paso very near the border with Juarez, Mexico. The overpass is one of the connecting links between El Paso and Juarez. Many people walk across the border on this bridge daily.
Rosa's Cantina made famous by Marty Robbins' song from the late 1950's
Everyone has heard the country ballad Rosa's Cantina. Well, this is the Rosa's Cantina made famous by that song. It is located in northwest El Paso a bit north of the abandoned copper smelting operations with those huge smoke stacks. This is the place that inspired Marty Robbins to write his tale of love, and the gun fight--- all for the sake of Felina, a charming senorita. Marty Robbins wrote and sang the song and took it to the top of Billboard Charts in the late 1950's.
If you still can't place the song see if this will help:
Out in the west Texas town of El Paso
I fell in love with a Mexican girl
Nighttime would find me in Rosa's Cantina
Music would play and Felina would whirl
Blacker than night were the eyes of Felina
Wicked and evil while casting a spell
My love was deep for this Mexican maiden
I was in love, but in vain I could tell
One night a wild young cowboy came in
Wild as the West Texas wind
Dashing and daring, a drink he was sharing
With wicked Felina, the girl that I loved
So in anger I challenged his right
for the love of this maiden
Down went his hand for the gun that he wore
My challenge was answered in less than a heartbeat
The handsome young stranger lay dead on the floor
Just for a moment I stood there in silence
Shocked by the foul evil deed I had done
Many thoughts raced
through my mind as I stood there
I had but one chance and that was to run
Out through the back door of Rosa's I ran
Out where the horses were tied
I caught a good one, it looked like it could run
Up on its back and away I did ride
Just as fast as I could from the
West Texas town of El Paso
Out to the badlands of New Mexico.
---------------- There is more, much more but you should get it by now. VBG
Rio Grande River north of down town El Paso
This is the Rio Grande River a few miles north of down town El Paso looking south toward El Paso. New Mexico is on the other side of the Rio Grande.
View of Rio Grande Valley from Franklin Mountains
This picture taken from the west side of the Franklin Mountains looking west into New Mexico. The Texas-New Mexico border is the Rio Grande River seen in the center of this picture. (Texas is nearest us while New Mexico is on the other side of the river. I-10 is the straight line you see running from the left to right about 1/3 of the way up the picture. Along this stretch I-10 is running north and south (from El Paso to Las Cruces.
The dark green patches you see are pecan orchards.
Mike & Joyce Hendrix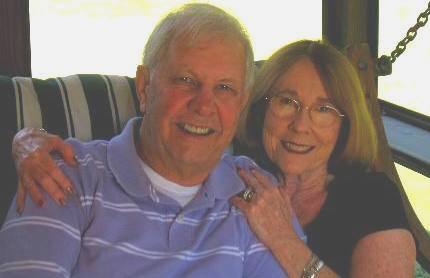 Mike & Joyce Hendrix who we are
We hope you liked this page. If you do you might be interested in some of our other Travel Adventures:
Mike & Joyce Hendrix's home page
Travel Adventures by Year ** Travel Adventures by State ** Plants ** Marine-Boats ** Geology ** Exciting Drives ** Cute Signs ** RV Subjects ** Miscellaneous Subjects
We would love to hear from you......just put "info" in the place of "FAKE" in this address: FAKE@travellogs.us
Until next time remember how good life is.