El Paso Part two
April 28 and 29, 2007.
We are staying with friends at the SAEM (Spanish American Evangelistic Ministries) facilities in east El Paso. Our friends, Harry & Sue, are volunteers at the mission. The mission has 6 or 8 FHU spots for volunteers.
Harry & Sue, took us to view Missions on the Mission Trail east of downtown El Paso. But we ventured into El Paso to experience some other things on this day.
Tilted Fault Blocking evident in this Franklin Mountains roadcut
This piece of geology was in a road cut on SR-375/Woodrow Bean Transmountain Drive somewhere near the summit of the Franklin Mountains a few miles north of El Paso.
It appears to be igneous intrusions (dikes) into marble.
Tilted Fault Blocking evident in this Franklin Mountains roadcut
This is another picture of that same interesting roadcut on SR-375 near the summit of the Franklin Mountains.
This looks like sedimentary rock with igneous intrusions (dikes) for those interested. I am thinking that the light material is breccia. Brecca is a rock composed of broken fragments of rocks that can be from a variety of origins then the conglomerate is cememted together by finer grained materials.
We like the way El Paso landscapes with flowering desert plants.
Octillo bloom
For those of you that are interested this is a closeup of an octillo bloom like the one on the octillo featured in the previous picture.
I-10 in El Paso, Texas as I-10 goes through the "pass"
El Paso gets its name because it is the pass that gets travelers by the Franklin Mountains the southern tip of which you see here. I-10 literally curves around the mountains and abruptly heads north along the western edge of those mountains.
From I-10 to the south it is a very short distance to the Rio Grande River and Juarez, Mexico.
The large smokestack you see is a familiar landmark in western El Paso. It once was a copper smelting facility that closed when copper prices fell. There is some talk about reopening the plant now that copper is fetching a good price.
I-10 squeezes through downtown El Paso and makes for an exciting drive in the motorhome. Thankfully, it is not rush hour.
Mike & Joyce Hendrix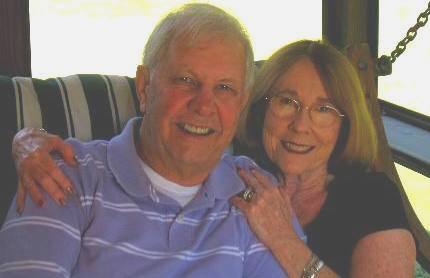 Mike & Joyce Hendrix who we are
We hope you liked this page. If you do you might be interested in some of our other Travel Adventures:
Mike & Joyce Hendrix's home page
Travel Adventures by Year ** Travel Adventures by State ** Plants ** Marine-Boats ** Geology ** Exciting Drives ** Cute Signs ** RV Subjects ** Miscellaneous Subjects
We would love to hear from you......just put "info" in the place of "FAKE" in this address: FAKE@travellogs.us
Until next time remember how good life is.