New Mexico: Las Cruces & Old Mesilla
Sunday, April 10 Coachlight Inn & RV-Park Las Cruces, New Mexico -------- $13. 30 with PPA Gravel interior streets and pads N32° 17.514' W106° 48.401'.
Today is the day we are going to make it out of Texas. We rolled out of Balmorhea by 9AM, an early start for us. We are headed to Las Cruces, New Mexico 235 miles west on I-10. West Texas on I-10 is booooring.
West Texas around Van Horn
The geography gets flatter except for several mountain ranges. Between the junction of I-10 / I-20 and Van Horn we cross over a topographically low desert area or salt flats. Salt flats are a basin hemmed in by mountains on the east and west. The Delaware-Apache Mountains form the uplifted eastern side of the Salt Flats while the Baylor, Beach, and Sierra Diablo mountains make up the western flank. To the south are the Wylie Mountains. During wetter times water leached minerals out of the soil and formed shallow lakes on the current salt flats where the water evaporated leaving behind these salt flats.
I-10 east of El Paso, Texas
The almost non existent traffic picks up once I-20 merges with I-10. 18-wheelers become thick as flies heading west. I-10 is horrible for 20 or so miles west of where I-20 merges with it then it becomes concrete and is a fine interstate until nearing El Paso where it returns to terrible.
New Mexico border with Texas on I-10 north of El Paso
While this pic was taken from the New Mexico welcome center about 10-miles north of El Paso it shows the mountain chain that funnels travelers through "El Paso"
Do you ever wonder why El Paso was named that? If you have ever traveled west you would know why. El Paso is located at the southern end of a range of mountains. Travelers heading west have been forced, since the beginning of recorded history, to find a way around this mountain range. El Paso is that "PASS" thus, the name El Paso. Now you know the rest of the story. Travelers between San Antonio, Texas and San Diego, California went through the pass at El Paso. The Rio Grande River also makes its way through this pass and is the international border between Texas and Mexico. El Paso is a big, important "border-town".
As soon as we reached the New Mexico state line we exited I-10 and traveled west about 4-miles where we connected with SR-28 that parallels I-10 into Las Cruces. SR-28 takes us through the farming area that borders the Rio Grande valley. Huge pecan orchards appear to be the predominant agricultural item although many fields have been plowed and stand ready for planting with some containing onions in various stages of development. Some sweet onion fields contained mid-cycle onions while other fields were mature & in bloom.
Irrigation ditch from the Rio Grande River in New Mexico
Irrigation in this area is accomplished by flooding fields with several inches of water supplied via aquinas or ditches. More water is flowing in these irrigation ditches than flows in the Rio Grande through this area.
Gate valve to irrigate this pecan orchard near La Mesilla, New Mexioc
When water is flowing in the aquina or irrigation ditch this gate/valve allows the water to flow into the pecan orchard.
Rio Grande River near La Mesilla, New Mexico
The Rio Grande is a joke. On the other hand irrigation ditches aren't lacking for water. Some of the irrigation water comes from the Rio Grande while other water is supplied by very deep wells.
This is a pic of the Rio Grande very near the New Mexico Texas border just north of El Paso.
SR-28 is the old Oñate Trail the El Camino Real, and the Chihuahua Trail depending on who you are talking to and the time frame being referred to. The El Camino Real or Kings Highway is the oldest historical road in the United States. To put that in perspective or said another way the El Camino Real or Royal Road - Kings Highway was the first and for a while the longest European road in North America. It runs over 2,000 miles from Mexico City to Taos, New Mexico. Parts of the Camino Real were used by Spanish Explorers in the 1580's but it was formally established in 1598 by Juan de Oñate, New Mexico's first Colonizer and Governor. Oñate came up this road with his colonizing expedition in May 1598. Along the way from deep in Mexico he designated official campsites on the Camino Real that were used by expeditions that followed. Oñate's colonizing caravan which included 129 men, with their livestock families and servants.
Later the Camino Real was referred to as the Chihuahua Trail with Chihuahua referring to Chihuahua, Mexico.
Historic old adobe block building along SR-28 south of La Mesilla, New Mexico
As we travel SR-28 today many old historical adobe block buildings are visible from the highway. This is the only way for us to travel ------ the interstate is out of the question when such a historical and scenic route is possible.
Note how this old adobe building has been "modernized" with a traditional roof, and electric meter.
Stahmann Pecan Farm near La Mesilla, New Mexico being irrigated
One of the pecan orchards along SR-28 is the Stahmann Farms with over 180,000 pecan trees producing 10 million pounds of pecans annually. We drove through mile after mile of these pecan orchards that stretch as far as the eye can see on both sides of SR-28. Freshly plowed fields await the planting of cotton, chile and sweet onions.
La Mesilla or Old Mesilla, New Mexico near Las Cruces
And finally we pass historic Old Mesilla where Billy the Kid was tried and sentenced to hang in 1881. Many of Old Mesilla's buildings date to the mid-1800's. In 1854, the Gadsden Purchase, signed in the Plaza, officially made Mesilla a part of the United States. The Butterfield Overland Mail and Stage Coach Company had their regional headquarters here in Old Mesilla. They operated in the late 1850's. Mesilla was a place of respite for travelers along the trail between San Antonio and San Diego.
Monday, April 11 Coachlight Inn & RV-Park Las Cruces, New Mexico -------- $13-30 with PPA Gravel interior streets and pads N32° 17.514' W106° 48.401'.
We got the Saturn serviced this morning then spent the afternoon in Old Mesilla. This small town has been a part of much American history. It was settled by Europeans (Spanish) in the late 1500's when the Spanish colonized Albuquerque, Santa Fe and the Taos area of what is now New Mexico. Colonies grew up along the entire length (over 2,000-miles) of the El Camino Real that stretched from Taos, New Mexico in the north to Mexico City in the south. The treaty of Guadalupe Hidalgo that ended the Mexican American War was signed in the city square (plaza) here in Mesilla in 1848. That treaty made the formerly Mexican city of Mesilla the new American City of Mesilla. Can you imagine being a Mexican living in Mesilla when the Mexicans signed that treaty? They would either become American citizens or leave their homes, farms and businesses and move to Mexico. Some moved some became Americans.
Courthouse in La Mesilla, New Mexico where Billy the Kidd was tried
At one time Mesilla was the Capitol of the Arizona and New Mexico Territories. During that time--around 1880 Billy the Kidd was tried in the Courthouse located on the SE corner of the plaza and sentenced to hang.
The building in that picture was the Capitol of the Arizona/New Mexico Territories before they became states. It also served as the Territory Courthouse. And this old adobe building is still there only as a gift shop today.
Old building in La Mesilla, New Mexico
Some of the buildings around the square were constructed in the 1850's. The first brick building in New Mexico is on the southwest corner of the town square. It was constructed by a man of French descent in 1860 using bricks fired in his own kiln.
Old office of the Butterfield Overland Mail & Stage Coach line in La Mesilla, New Mexico
Also occupying a part of the SE corner of the plaza is the equally old stage coach office, hotel, restaurant and livery stable that serviced the Butterfield Overland Mail & Stage Coach line as well as the Pony Express. That old hotel housed such personalities as Billy the Kid, Kit Carson, General Douglas McArthur and Poncho Villa.
San Albino Church in La Mesilla, New Mexico
The plaza and connecting streets frame San Albino Church, built in 1908 (Catholic of course). It is one of New Mexico's most beautiful churches. San Albino is the heart of community life, now as in the past.
The Butterfield Overland Mail & Stage Coach Line and Pony Express that operated from St. Louis, Missouri to San Francisco had to come through both El Paso and Mesilla especially during winter months when snow blocked northern passes.
Tuesday, April 12 Gas City Travel Center (dry-camping/boondocking) Benson, Arizona--- $Free Paved truck stop parking lot N31° 57.622' W110° 20.609'.
We headed west today stopping in Benson, Arizona about 23-miles north of historic Tombstone, Arizona.
New Mexico desert west of Deming, New Mexico
The drive took us west on I-10 across dry western desert. West of Deming, New Mexico we crossed over the continental divide---the continent's "backbone" that separates streams that flow west to the Pacific (in this case via the Gila and the Colorado rivers to the Gulf of California) from those that flow east to the Atlantic (via the Rio Grande to the Gulf of Mexico). The divide is scarcely discernable along here. I-10 along here is almost flat, almost being the operative word. We were climbing a slight incline, almost imperceptible, until reaching the magical divide at 4,500 feet then we started descending on a very slight slope. All this takes place in about 20-miles along I-10. There are no streams of running water to actually see which way they flow as they will when the area does get rain.
New Mexico desert west of Deming, New Mexico
Around the New Mexico Arizona border along I-10
As we near the Arizona border the topography starts a long gradual descent into a large playa or flat-floored dry lake bottom in an undrained desert basin. Along both sides of I-10 we can see deposits of salt and other evaporate minerals that now cover the area. Water has accumulated in shallow indentions on both sides of I-10. Like many other desert areas water flowing into this basin does not drain. Water entering it flows toward its lowest spot where it remains, slowly evaporating, leaving its dissolved minerals-salt, gypsum, sodium carbonate, and other compounds----behind on the playa surface.
In Arizona we have to fumble with our watches and clocks. Arizona does not recognize daylight savings time so we have to turn our watches and clocks back one hour making us on "California" time or 3-hours behind the east coast and 2-hours behind the folks back in Pensacola on Central time.
Pecan grove around Wilcox, Arizona
Around Wilcox, Arizona we started seeing pecan groves and what looked like apple orchards. We are totally amazed to see such large pecan groves out here. Water is obviously available from somewhere, presumably from deep wells. We even saw a large vineyard.
Our motorhome under repair in Benson, Arizona
There is a big/long grade in Benson. Somewhere on that long grade the temperature on the MH started to rise so I pulled off into the parking lot of a large truck stop that was handy. I was leaking coolant out the weep hole of my water pump. I called a repair shop that sent out a mechanic. It was a big job entailing more than just removing and replacing the water pump because in order to get to the water pump the mechanic had to remove the radiators (engine water, engine oil and transmission). Three hours later he had removed the water pump. The radiators needed to be cleaned so the mechanic carted them off to a radiator shop. The oil leak that I had been plagued with before leaving Pensacola had spread oil on the radiator that had attracted dirt and grime. The combination of oil, dirt and grime had clogged up much of the radiator. It was after 5PM when the mechanic returned to his shop with the radiator and water pump. We are spending the night in the truck stop. Hopefully, they can get a radiator shop to steam clean and pressure check the radiator tomorrow morning then he can start installing the water pump. We may or may not spend the night in the truck stop tomorrow night. It all depends.

Until next time remember how good life is.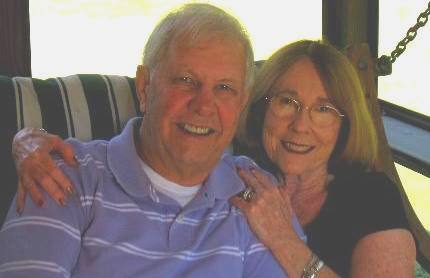 Mike & Joyce Hendrix who we are
We hope you liked this page. If you do you might be interested in some of our other Travel Adventures:
Mike & Joyce Hendrix's home page
Travel Adventures by Year ** Travel Adventures by State ** Plants ** Marine-Boats ** Geology ** Exciting Drives ** Cute Signs ** RV Subjects ** Miscellaneous Subjects
We would love to hear from you......just put "info" in the place of "FAKE" in this address: FAKE@travellogs.us
Until next time remember how good life is.