Exploring the Mesilla Valley in New Mexico
Today we traveled New Mexico SR 28 from El Passo, Texas to La Mesilla near Los Cruces New Mexico.
May 1, 2007.
It was time to move on or we will not make Idaho this summer. We have a lunch date with friends Max & Tonie on the west side of El Paso so we packed up the motorhome this morning and said good bye to our friends Harry and Sue that we had been staying with. We were staying near exit 37 on I-10, which is located a good bit east of downtown El Paso, while the restaurant where we were meeting Max and Tonie was off exit-13 on the west side of El Paso. The ride through El Paso is always exciting in the motorhome but it wasn't all that bad at 10:00 in the morning.
We were Meeting Max & Tonie at the State Line BBQ on west Sunland Park Drive. We pulled the motorhome into the Casino down the street from State Line BBQ. Then we unhooked the Saturn and drove it to State Line BBQ where we met Max & Tonie.
It is always wonderful to visit with good people. Max and I both enjoy an online RV-newsgroup. We have communicated virtually but we finally got to put faces with the virtual person on the news group.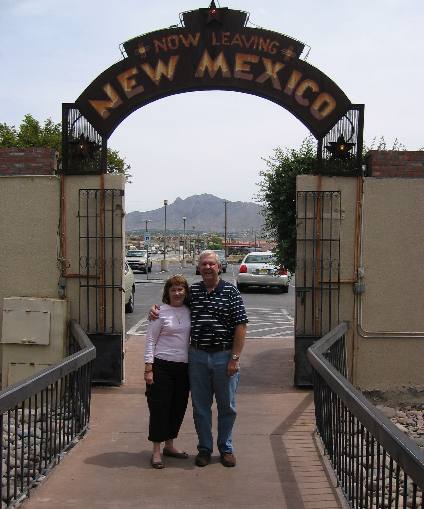 Max took this picture of Joyce and I walking through the gate of State Line BBQ. The gate, under the sign, is the Texas/New Mexico border. The parking lot is in Texas while we are a few feet inside New Mexico. The Restaurant is also in New Mexico.
If you are in the area and looking for BBQ, State Line BBQ is the place.
After lunch we connected the Saturn to the motorhome and headed north generally on New Mexico 28 toward Las Cruces. From Las Cruces we continued north on New Mexico 185 to Hatch then New Mexico 187 north to I-25 exit 59 where we got on I-25 and continued north to Socorro.
We were trying to avoid traveling on I-10 and I-25. By traveling back roads we are able to experience the real countryside. You just can't see or experience the essence of a place from the interstate.
Cabbage in Mesilla Valley south of La Mesilla, New Mexico
Not far north of El Paso we see fields of cabbage like this one. These fields are irrigated with water from the Rio Grande River.
Mesilla Valley Pecan orchard
Pecan fields like this one dot the landscape of the Mesilla Valley, all watered by the Rio Grande River.
Pecan orchards are common in the Mesilla Valley of New Mexcio
Pecan orchards and irrigation canals are common sights along New Mexico 28 in the Mesilla Valley..
Oregon Mountains viewed from Mesilla Valley of New Mexico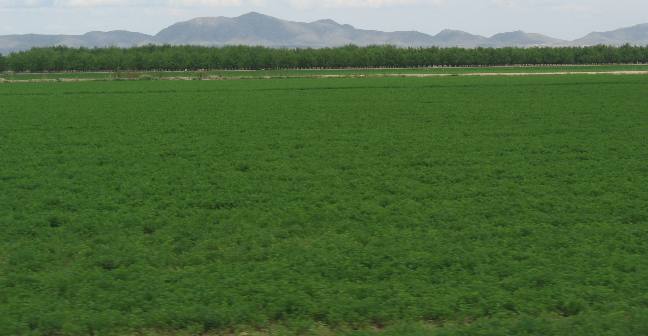 This is alfalfa with an onion field and pecan orchard in the distance. In the far distance is either the Organ Mountains or the northern reaches of the Franklin Mountains. I can not determine where one range ends and the other starts. The two mountain ranges look like one long range from where we are viewing it in the valley.
Old Building in San Miguel in the Mesilla Valley of New Mexico
These adobe buildings were in one of the small communities, San Miguel I think, along New Mexico 28 south of Las Cruces. This is an old community.
Mesilla Valley cabbage
Cabbage, onions and pecans along New Mexico 28 south of Las Cruces.
Irrigation canal in Mesilla Valley
Pecan orchard, irrigation canal and the Organ Mountains. Note that this pecan orchard extends to the horizon. If you ever wonder where those expensive pecans come from you should probably think of the Rio Grande Valley of southern New Mexico and western Texas east of El Paso, which is also in the large valley created by the Rio Grande River.
Stahmann's Pecan grove in Mesilla Valley of New Mexico
Stahmann's pecan grove is one of the largest pecan orchards anywhere. This scene goes on for miles. Stahmann's pecan groves are located a few miles south of La Mesilla on New Mexico 28.
We love visiting and driving through the Mesilla Valley between El Passo, Texas and La Mesilla, New Mexico. The next time you are traveling I-10 think about getting off the interstate for a few miles and enjoy this beautiful drive on New Mexico 28.
Mike & Joyce Hendrix
Mike & Joyce Hendrix who we are
We hope you liked this page. If you do you might be interested in some of our other Travel Adventures:
Mike & Joyce Hendrix's home page
Travel Adventures by Year ** Travel Adventures by State ** Plants ** Marine-Boats ** Geology ** Exciting Drives ** Cute Signs ** RV Subjects ** Miscellaneous Subjects
We would love to hear from you......just put "info" in the place of "FAKE" in this address: FAKE@travellogs.us
Until next time remember how good life is.