Old Town Albuquerque, New Mexico
May 7-8, 2007.
We parked the motorhome at Enchanted Trails, a PPA park on the western side of Albuquerque. Enchanted Trails is an OK park, especially with the PPA discount. FHU dirt/gravel interior roads & Sites (normal for NM) 30-amps: $13.78.
For those of you that are not familiar with PPA (Pass Port America) it is an organization you can join for less than $50 per-year. Campgrounds that belong to PPA offer 1/2 price discounts. That kind of savings can quickly add up. While participating PPA parks generally have some restrictions on dates the PPA offer is valid, or possibly days of the week the discount is valid, or perhaps the number of days that the PPA discount will be honored the discount is genuine. Many times PPA campgrounds are new campgrounds that need help in getting established. Other times PPA campgrounds may be on the outskirts of town instead of in the "prime" location thus they need to provide an incentive for campers to stay with them. Whatever the reason PPA campgrounds generally provide a much cheaper option. PPA is the only campground organization that I think is worth the cost. PPA does not have a gimic. What you see is what you get. Once you join they send you a directory listing all participating campgrounds. The PPA directory is the FIRST directory we check when trying to locate a place to spend the night. You can join PPA by calling 228-452-9972. If you decide to join PPA, it would be nice if you gave them my number "R-0156251" as the PPA member that told you about PPA. In return PPA will give me a years membership free. I will thank you in advance for that kindness. Thank you.
We made a monumental (at least to us) decision while in Grants the past few days. The 6.5-liter GM diesel in our motorhome had given me one-too-many "Service Engine Soon" lights. Chevrolet's service staff from coast to coast has not been able to solve the problem-(they tell me not to worry) it is nothing big. Chevrolet tells me "It isn't a BIG concern until the yellow light turns red." And that word is from corporate "you know----the guys local Chevy mechanics call when they ain't got a clue". Anyway, we just decided we didn't want to see that yellow "Service Engine Soon" light and or the friendly Chevy service center personnel any more. It was time to trade this motorhome on one that had another set of problems. VBG
That decision led us to make the next decision and that was to backtrack 60-miles to Albuquerque where some RV-dealers were likely to be located. We planned to spend a few days looking at what was available. It turns out that the second dealer we visited had a competent sales staff. We ended up with the owner's son who was both conversant and knowledgeable of his product (something that is extremely hard to find in an RV-salesman). We ended up agreeing to trade our Trek for a 2000 Winnebago Adventure 35-foot with two slides. The slides are something we do not need or want BUT--manufacturers no longer make Class A Motorhomes without slides. Well, I guess it might be possible to special order a new motorhome without slides but we aren't into ordering a new coach.
Now you know why we backtracked 60-miles to Albuquerque. However, shopping for a motorhome only took a few hours before we found what we wanted. From that time we were free to reacquaint ourselves with Albuquerque.
Old Route 66
On the way from Grants to Albuquerque we exited I-40 at exit-140 to get on old Route 66 which we followed to Enchanted Trails RV-Park.
Rio Puerco Bridge
Somewhere near exit-140 on old Route 66 we spotted this old bridge. No this bridge is not used today. A new bridge crosses the draw a few feet north of this old bridge.
As it turns out, this is a historic bridge on old Route 66. It is the Rio Puerco Bridge. This is a Parker Through Truss bridge built in 1933. It was fabricated by the Kansas City Structural Steel Company. Its 250-foot length is one of the longest in New Mexico. Repairs and remodeling were completed in 1957 then it was replaced in 1999. The Rio Puerco Bridge is being preserved by the New Mexico State Highway and Transportation Department.
I don't know about you but I enjoyed inspecting this old relic from bygone days.
Rio Puerco Bridge
I think we can all remember steel truss bridges like this but they are rapidly becoming a thing of the past. How would you like to be driving your RV across this bridge with an 18-wheeler coming at you in the other lane?
I-40 as seen from the Rio Puerco Bridge
In addition to the bridge New Mexico has preserved this section of old Route 66. That is I-40 you where you see the traffic. Old Route 66 (the road we are traveling on to Enchanted Trails RV-Park) is on the left side of the interstate, except it doesn't have any traffic on it.
Our Safari Trek motorhome
Joyce snapped this picture of our current motorhome while we were stopped to view the bridge. This will probably be one of the last pictures of the rig we have been traveling in the past 6-years. We are attached to this motorhome but it is history, if we can find a replacement.
We purchased a replacement in Albuquerque, it is a 2000 Winnebago Adventurer 35' with two slides and Triton V-10 engine.
Old town Albuquerque
Old town in Albuquerque is one of the "must-do" things when in Albuquerque. There is a lot of history in this part of New Mexico and Old Town is a place where you can walk in and view some of that history. Textbooks tend to skip over Spanish accomplishments in New Mexico in favor of events in the eastern United States where the English, French and Spanish were establishing a foothold in the "New World".
San Felipe De Neri Catholic Church Old Town Albuquerque, New Mexico
Spain and Catholicism influenced written history in this region. Catholic Churches and Missions are the most notable visible reminders of this early life. San Felipe De Neri Catholic Church in Old Town is the oldest church in Albuquerque.
This Catholic Church has been in this spot, on the square, in Old Town, Albuquerque since 1706.
It is so easy to just throw out a date like 1706 then skip over it with no further thought. But a date such as 1706, on a building such as this, needs to be put into perspective. Can you think of other things that were going on in the U.S. during this period?
Well, the answer is not a lot. But here are a few reminders:
In 1658 French traders become the first Europeans to make contact with tribes of the northern Plains when they ventured west and south of Lake Superior in search of furs.
Then in 1674 Louis Joliet and Jesuit Father Jacques Marquette become the first Europeans to journey down the Mississippi.
In this area of North America 1675 was a time of unrest between the Spanish and the Native Indians. Under pressure from Catholic missionaries in the territory, New Mexican Governor Juan Francisco de Treviño begins a campaign against Pueblo religious practices, hanging four Indians in the plaza at Santa Fe on accusations of witchcraft. In addition he held public whippings of 43 others. Among those whipped is Popé, an Indian from the Ohke Pueblo who has long resisted Spanish authority and who now begins encouraging rebellion. The hardships of a near-decade long drought, coupled with increasing demands of the Spanish, help Popé win a receptive audience in the many pueblos throughout New Mexico.
In 1680 Popé leads the Pueblo Revolt against the Spanish in New Mexico. In a coordinated uprising at more than two dozen Indian settlements, separated by hundreds of miles and six different languages, the Indians killed more than 400 Spaniards, including 21 of the province's 33 missionaries, and sack or destroy every building and church.
Those Spanish who survive flee to Santa Fe, where they are surrounded by a combined force of 2,500 warriors who burn the town and mock their persecutors, now barricaded in the Governor's Palace. After a skirmish which temporarily drives the Indians back, the Spanish retreat to El Paso on the Rio Grande, establishing a secular community around the mission founded there in 1659. ------- If you are following our travelogues you will recall these Missions from the El Paso travelogues of several weeks ago.
The Pueblo people (Native Indian population) watched this retreat from the hills overlooking Santa Fe, content simply to have their homeland back again.
They have carried out what will stand as the most successful Indian revolt in North American history. But even with the Spanish gone, the life of the Pueblos still bears the scars of their influence. All signs of the Christian religion are eradicated.
Back in the eastern part of the US 1682 finds Robert Cavelier, Sieur de La Salle, and Henri de Tonti completing a four-month voyage to the mouth of the Mississippi, claiming the entire Mississippi Valley for France and naming it Louisiana.
1692 finds Spaniard , Diego de Vargas leading a band of 200 soldiers from El Paso to Santa Fe, where he surrounds the town before dawn and then calls on the Indians to surrender, pledging clemency if they will swear allegiance to the King and return to the Christian faith. After a decade in which many have been forced to abandon their pueblos to escape Apache raiders, the Indians gathered in Santa Fe agree to peace. Vargas keeps his word, and over the next few months extends the same offer throughout the region. By year's end, he has accomplished his mission and reimposed Spanish rule over New Mexico almost without bloodshed. Bear in mind that there has been an absence of Spanish influence in New Mexico for 12-years when Diego de Vargas set out on his expedition to reclaim New Mexico for Spain.
This church was constructed (1706) on the square in present day Old Town, Albuquerque.
French explorer and fur trader Etienne Veniard ventures up the Missouri River to the Platte in 1714. French traders explore the length of the Mississippi and its tributaries during these decades.
In 1718 the Spanish establish San Antonio at the junction of the San Antonio and San Pedro Rivers in present day Texas, midway between Mexico and Spain's settlements on the Sabine River along the border with French Louisiana. Nearby, the mission of San Antonio de Valero, later known as "The Alamo" is established.
New Orleans is established by the French in 1718.
And finally in 1738 French fur trader Pierre de la Verendrye arrives among the Mandans of the upper Missouri River, becoming the first European to enter North Dakota.
That should put the 1706 date on this church in historical perspective. I wonder how many buildings remain in the east from 1706?
San Felipe De Neri Catholic Church Old Town Albuquerque, New Mexico
By now I hope you can appreciate the significance of a church dating from 1706. Totally awesome. Can you think of anything in your state that dates from 1706? Much less a church that has been continuously operating since that date.
Albuquerque Historic Marker in Old Town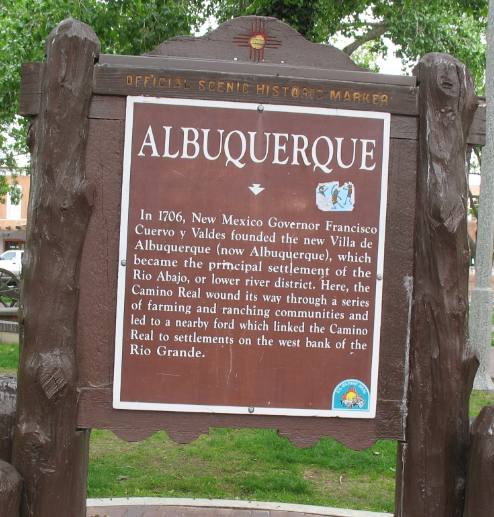 Old Town Square Albuquerque New Mexico
This is one of the adobe markets surrounding Old Town Square. If you look closely you can see Native Indian vendors who are displaying their goods (generally turquoise & silver jewelry) on blankets under the shade on the sidewalk.
Vendors in Old Town Square Albuquerque New Mexico
This is a closer view of the sidewalk and vendors.
Roses in Old Town Albuquerque, New Mexico
Roses do exceptionally well in this climate.
In addition to the roses pay attention to the vigas on this well maintained adobe building. Vigas are the log ceiling beams.
Market in Old Town Albuquerque, New Mexico
This is another market in Old Town.
Casa de Armijo Old Town Albuquerque
Like the Catholic Church this building dates to 1706. It is also being well maintained.
Ristras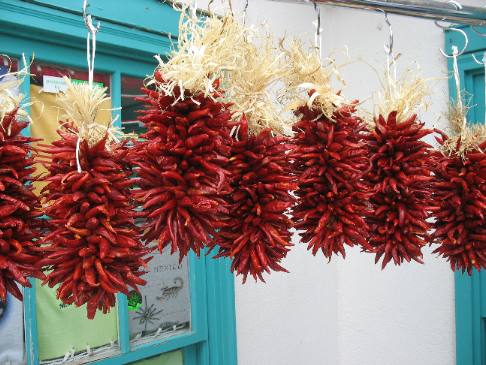 Colorful ristras are as much a part of New Mexico culture as sea food is to Florida. It seems that every respectable New Mexican displays at least one ristra.
Ristras on display in Old Town Albuquerque
Businesses also display ristras like these on a shoppe in Old Town.
Old Town Albuquerque, New Mexico
Old buildings such as this add to the ambiance of Old Town Albuquerque.
Segway cop on patrol in Albuquerque
In the midst of all this history where locals have made an effort to preserve history one of Albuquerque's finest is on patrol, riding his Segway. Talk about ancient meeting high tech!
Fashion Police needed
I snapped this picture while patiently sitting on one of the many benches situated throughout Old Town. Anytime you are in a public place like Old Town you can expect to see a variety of individuals that eschew the norm. These two dudes were perusing Old Town Shoppes like other couples. It has been years since I have seen anyone sporting a Mohawk hairdo, his boy friend with the snow white legs, shorts, black socks and shoes was being pursued by the "Fashion Police". Not really, but the fashion police surely should have intervened. VBG
Old Town merchandise on display
Old town offers many eclectic items in the myriad shoppes. I thought this was one of the nicer and more interesting items.
By-the-way, we stopped by Old Town on our way back to the motorhome after making a decision to purchase that Winnebago Adventure. This was kind of a stress reliever.
Mike & Joyce Hendrix
Mike & Joyce Hendrix who we are
We hope you liked this page. If you do you might be interested in some of our other Travel Adventures:
Mike & Joyce Hendrix's home page
Travel Adventures by Year ** Travel Adventures by State ** Plants ** Marine-Boats ** Geology ** Exciting Drives ** Cute Signs ** RV Subjects ** Miscellaneous Subjects
We would love to hear from you......just put "info" in the place of "FAKE" in this address: FAKE@travellogs.us
Until next time remember how good life is.