Las Cruces & La Mesilla New Mexico
Tucson, Flagstaff, Williams Arizona Oatman & Kingman Nevada
Places visited:
New Mexico: Las Cruces & La Mesilla
Arizona: Tucson, Flagstaff, Williams Oatman & Kingman Nevada: Las Vegas
Thursday, May 24, 2001
Coachlight Inn, Las Cruces, NM. I-10 exit #139 it is located on south east side of intersection. It is a very nice park and less than 2 miles to La Mesilla.
We slept late then moved the motorhome 333 miles west to Las Cruces, NM. Pulling into Las Cruces around 6:00 was hot as blue blazes. We had planned to boondock at the Wal-Mart superstore. That idea was nixed in favor of an RV-Park with 50-amp service where both air conditioners could simultaneously "go get it"! As soon as possible after arriving we headed to La Mesilla for dinner at the La Posta Restaurant. We had not eaten since breakfast and were famished. Both of us were looking forward to eating in "Old Mesilla" New Mexico. Frankly, the food was better in the little place in Mexico where we ate several days ago. As far as taste goes I prefer Taco Bell, however, Taco Bell has ZERO ambience. We had ambience at the La Posta. The La Posta is located in the original Butterfield Stage building used in the late 1850's as a stopover on the road west. La Mesilla has changed little since the days when Billy the Kid, and Kit Carson roamed its streets. Thick-walled adobe buildings erected in the 1800's still comprise the streets around the city park. La Mesilla was a Mexican town until 1854 when the United States "Purchased" via the famous Gadsden Purchase Treaty, a swath of land from El Paso to California along the southern border of the existing country. One day these people were Mexicans the next they were Americans. Most of La Mesilla's 2000 or so residents did not speak English and were not happy about being "sold". The actual signing of the Gadsden Purchase Treaty was under a giant cottonwood tree in the plaza catty-corner to the La Posta restaurant. Billy the Kid was lodged in the La Mesilla jail and tried for murder in La Mesilla. The better part of La Mesilla has been preserved and is now a quaint little shopping place with artist, restaurants, bars, and curio shops occupying and preserving the adobe buildings. One thing that was not preserved was the cottonwood tree that Kit Carson carved his name in. It was cut down and used as firewood by a thoughtless resident.
We are heading to Las Vegas where our Son and Daughter-in-Law are flying in to join us on the 30th. Joyce commented just this morning that we have been enjoying Texas for nearly two months. My how time fly's when you are having fun. From where we were in Big Bend National Park it was 1200 miles to Las Vegas and they are going to be there in 6 days. The motorhome has got to head west fast.
Advice for today-You should never say anything to a woman that even remotely suggests you think she's pregnant unless you can see an actual baby emerging from her at that moment.
Friday, May 25, 2001 Voyager RV-Resort. Tucson, AZ - I-10 exit 270. Located ½ mile to the south
The Saturn needed to see a Saturn dealer for the 30,000-mile oil change and warranty work so we got up bright and early to be the first customer in line. Saturn is one of the few businesses that truly practice customer satisfaction. Saturn completed the required maintenance items and we were on the road and headed to Tucson by 10:30. The temperature was approaching 100 degrees as we pulled out.
Las Cruces grows a lot of pecan trees. One farm has over 4,000 acres of pecan groves all irrigated by the Rio Grande.
The ride west from Las Cruces to Tucson is uneventful. Thankfully, Deming and Benson are located strategically between the two. Just west of Benson is a steep long grade on I-10. This is the first grade that has reduced the motorhome speed to 35 mph. Most of the grade was negotiated at 45 mph but one steep climb did slow us considerably. Being from Florida I am a bit apprehensive about how the motorhome will handle the steep mountain passes, so far so good. I am keeping an eye on the temperature gauge and backing off the throttle when the temperature increases. The transmission temperature, a concern back in Florida, is no longer a concern as it has not gotten over 160 degrees yet.
In the middle of what appeared to me to be a flat plane was an official road sign proclaiming that we had just crossed the continental divide elevation 4,500 feet. For the next few miles the billboards proclaimed Continental Divide this and that. The Continental Divide in this location caught me by surprise as I expected it to be at the summit of a mountain range. We quickly started paying attention to the altitude on the GPS and as one would suspect we were losing altitude as we headed west. I later looked on a map and sure enough the Continental Divide crosses I-10 on the flat open plains.
For all of you ex-NADEP'ers and other Navy types the RV-Park we were staying in was on the same road as Davis Mountain AFB. All good Naval Air types know that Davis Mountain is where all Navy planes go at the end of their life. Actually, it is probably as important part of Naval Aviation as any Navy base since without it Navy planes would probably cease flying. For those of you that may not know Davis Mountain's inventory of mothballed aircraft are constantly robbed of parts needed to keep the fleet flying. Parts shortages were so egregious that the Depot actually had a "permanent" employee who stayed in Tucson near Davis Mountain AFB on "TAD" who's job it was to rob parts for the Depot. For those of you who have not seen Davis Mountain AFB there are literally miles and miles of vintage military aircraft parked side by side on both sides of the road. The dry desert conditions make Davis Mountain AFB an ideal place to mothball military aircraft. The only damage to aircraft parts that I can remember was deterioration of rubber. The rubber cracks and dries up like your lips.
Thought for the day: There comes a time when you should stop expecting other people to make a big deal about your birthday. That time is age 11.
Saturday, May 26, 2001 Woody Mountain Campground, Flagstaff, AZ (7,300')
Wow what a climb from Phoenix to Flagstaff. Phoenix is around 1200' while Flagstaff is over 7,000. Many vehicles along I-17 had power to spare. A good many that had power to spare did not have a cooling system that would adequately cool all that power. Those automobiles, trucks, RV's etc., were literally strewn along the climb. The temperature was in excess of 110 degrees when we transited Phoenix. That had a lot to do with the carnage along the way. Mike watched the engine and transmission temperature like a hawk. The engine temperature was our limiting factor. On some of the long steep grades we had to reduce our speed to 20mph in order not to overheat. Other than a slow go we made it just fine. The next time we plan to negotiate a climb like that we may try it early in the morning when the temperature is more conducive to dissipating the engines heat.
Once in Flagstaff we got one of the last spots in Woody Mountain Campground. The Memorial Day crowd had been showing up all day. According to the NOAA weather radio out of Flagstaff the normal temperature for this time of year is mid-80's for a high and 36 for the low. The campground staff told us when we arrived that the temperature would drop into the low 40's tonight. By the time it got dark we needed long pants and sweatshirts when outside.
A free thought from Mike: A person, who is nice to you, but rude to the waiter, is not a nice person.
Sunday, May 27, 2001 Woody Mountain Campground, Flagstaff, AZ (7,300')
We attended Church at The First Southern Baptist Church in Flagstaff, AZ. They were an extremely friendly congregation with a good pastor. The lead instrument was a guitar played by the pastor. There were several other guitars, a piano and a violin for instruments. They also used castanets and other rhythm makers on the snappier praise songs. The pastor delivered a good message dealing with the church having a vision and turning that vision into a plan then getting on with the plan. Seeking Gods will for the church would most likely mean change. As always change is something to be resisted. He got the change point across in a joke poking fun at Southern Baptist. The joke was a take off on the old how many "fill in the blank" does it take to change a light bulb joke. The punch line was how many Southern Baptist does it take to change a light bulb? CHANGE? --------- You may not get the joke if you are not Southern Baptist.
Once the Southern Baptist Convention hierarchy learns that they are conducting services with guitars instead of an organ they will probably be banished to Disney World status.
On the way to church we noticed a grove of aspens their leaves trembling in the slight breeze. We have always heard about how beautiful the quaking aspens are in the fall. Now we are getting to see them tremble. It is almost magical the way the light bounces off the quaking leaves creating shadows rippling along their slender white trunks.
The remainder of our day was spent reading and relaxing.
Another thought from Mike: You should not confuse your job with your LIFE.
Monday, May 28, 2001 Memorial Day Woody Mountain Campground, Flagstaff, AZ (7,300')
Joyce spotted a flat tire on the Saturn as we came back from our morning walk. I put the air pump on the tire but the hole was large enough that it would not hold air long enough to drive it to town. I changed it and put on the dinky little spare tire. Pep Boys was the only place open on Memorial Day and they were overwhelmed. Upon looking at my Firestone tire we discovered a "cut" in the tread. Since there is a good chance this may be covered under warranty we decide to wait until Tuesday when a Firestone dealer may be open. We headed downtown and window-shopped for a while before heading back to the motorhome.
Advice: Never lick a steak knife.
Tuesday, May 29, 2001 Woody Mountain Campground, Flagstaff, AZ (7,300')
The tire store was open today. We spent the morning taking care of that. The Firestone Dealer saw me coming. Of course the problem was not under warranty. A new Firestone tire to match the rest of my tires cost $98.00 with his 10% discount. If we were back home I could have replaced this tire for around $50.00. That is all right. For the rest of my life I will avoid Firestone products. Firestone and Delta are at the top of my "avoid like the plague" list.
Wednesday, May 30, 2001 The motorhome was in Woody Mountain Campground, Flagstaff, AZ (7,300') We stayed in Las Vegas at the Tropicana Hotel & Casino complex.
This is our day to drive to Las Vegas to pick up our son and Daughter-in-Law (Jeff & Kathryn) who are flying in from Pensacola, on a Delta 11:00PM flight. Those of you familiar with flying know that Delta is legendary for last minute broken planes and cancelled flights so everyone is on pins and needles until they actually get on the ground in Las Vegas.
The temperature was in the low 40's last night and in the 70's as we put Flagstaff in our rear view mirror. As we head west on I-40 we start losing altitude and gaining temperature. Above 5,800 feet road signs warn of elk in the road. We decided to exit in Williams and take historic route 66. Williams is a quaint tourist town nestled in the world's largest stand of ponderosa pine trees with nifty restaurants and home to the Grand Canyon Rail Road. This town of less than 3000 residents maintains the charm of an early 19th century western town, with a diverse cultural influence including mountain men, American Indians, cattle ranchers and railroad laborers. Now Williams is where shoppers can peruse goodies in 19th century storefronts and revel in the nostalgic sound of the train whistle. The only traffic light I remember in Williams is best remembered as the LAST stop light on route 66 between St. Louis and Los Angeles. Some people have difficulty with that statement but as the interstate system came into being it created longer and longer stretches of "interstate highway" with no traffic lights. Obviously the last section of interstate highway between St. Louis and Los Angeles to be completed was the section bypassing Williams, Arizona. The ambiance of those long ago days can be relived in the soda fountains, actual restaurants, shops, galleries and motels from the glory days of old route 66.
Two miles west of Williams we find ourselves back on I-40 until we get to Ashfork. Approximately, 35 miles west of Flagstaff and 10 miles west of Williams we have dropped from 7,000 feet to around 5,500 and leave the ponderosa pine forest. Ashfork has five stone quarries, and ships Arizona Flagstone nationwide. Now I know where the pallets of flagstone I see in Lowe's and Home Depot come from. The town has staging areas on both sides of the road (old route 66) filled with flagstone loaded on pallets. Acres and acres of flagstone pallets stand ready to be loaded on flat bed trucks and delivered around the country. Joyce and I decide this is something we have to show Jeff and Kathryn on the return trip. It is approximately 94 miles to Kingman.
Just west of Ashfork we get back on old route 66 and travel to Seligman. Seligman is the quintessential "tourist trap". It is a SMALL town on historic route 66 and many merchants pander to the nostalgia of historic route 66. There is a Barbershop, the Snow Cap Drive-In and a General Store. All are must-sees if you are into nostalgia shops. While we were there not less than 4 tour busses unloaded and old folks poured out on to the street to wander through these establishments. One of the shops had an old edsil (sp) parked outside along with some other vintage automobiles. There was an Elvis manikin and other funny stuff that can only be viewed in a truly tacky tourist stop. The busiest place in town was the ice-cream counter in the Snow Cap drive-in. By now the temperature is in the mid ninety's and heading higher. It is around 73 miles to Kingman.
The other towns on historic route 66 Peach Springs, Triton, Valentine, Hackberry and Valle Vista were non-descript. Once in Kingman we ate lunch before heading to Oatman. Normally to get to Las Vegas we would head north on highway 93. However, friends on RV-Talk and others have told us about the historic gold mining town of Oatman, Arizona located in the mountains to the southwest of Kingman, Arizona. It was out of our way but an exciting scenic drive full of switchbacks on canyon walls. In Oatman we fed the wild burros the town is famous for. The burros cooperated with 12 or more roaming the streets looking for handouts. Oatman is an authentic western mining camp. They take pride in keeping the town as authentic as possible, giving visitors a good look back into history, showing the wild-west as it really was. Filmmakers chose the area for making films such as "How the West was won," "Edge of Eternity," "Universal Soldier" and "Foxfire". Back in the old route 66 days Oatman was the last stop in Arizona before entering the dreaded Mojave Desert in Southern California.
By now the temperature exceeds 100 degrees with no noticeable breeze. Having a cold bottle of water in your possession is essential. Public rest rooms are not necessary. Did I mention that it was HOT!
If you are driving a Motorhome or pulling an RV I would not advise driving the road between Oatman and Kingman. There are many switchbacks not designed for larger vehicles and many of the grades were considerably in excess of 6%. I would advise leaving your Motorhome or RV somewhere in Kingman and take the scenic drive in your toad or pull vehicle. If you do decide to take your RV over this stretch would you do me a favor and make a recording of the conversation between you and your spouse. I'll pay good money for that tape.
Heading west out of Oatman was a constant downhill grade for 10 or more miles until we intersected with 95 and headed north to Laughlin and Bullhead City. We were told that we should travel to Searchlight, Nevada and take 164 over to I-15 because this was a scenic route. It was scenic miles and miles of Mohave Desert and Joshua trees. Now we can say we have been there and done that.
We stayed in the Tropicana on the strip in Las Vegas but ate the buffet across the street at the MGM Grand casino complex. We did not do the buffet at the Tropicana because their gigantic lighted marquee outside the complex advertised their buffet at $11.99 but they were charging $14.95 "because it was Wednesday night". DAH! If it is $14.95 on Wednesday nights then put $14.95 on the marquee. We took our business elsewhere based on principle.
Jeff and Kathryn arrived as scheduled but Delta had cancelled their flight several times in New Orleans before finally putting them on the flight and fulfilling their obligation. They dislike Delta as much as we do. It is our experience that flying with Delta is as chancy as flying with the Wright Brothers. After a particularly egregious experience with Delta on a return trip from Alaska a few years ago they became a company we wanted to avoid if at all possible. Now Jeff and Kathryn have relegated them to the same status.
When Jeff and Kathryn arrived they were still pumped from the Delta ordeal and were ready to see some of the larger Casino's so we toured the MGM Grand and watched their lions. Then we went across the street to the Excalibur Hotel and Casino then the Luxor complex. By this time it was really late and we were ready for bed.
Thursday, May 31, 2001 Woody Mountain Campground, Flagstaff, AZ (7,300')
We got up early but it was still HOT. The temperature was in excess of 100 and it was still mid morning. With Jeff driving, we headed for Flagstaff by way of Hoover Dam. We took the regular tour of Hover Dam and were very impressed. Our tour guide invited us to take a Dam picture. How cute! Our tour guide told us "the dam was not built to produce electricity but to control flooding downstream and provide a constant source of water to southern California". Power generation was a distant third on their list of priorities. Everyone has seen the documentary films on building the Hoover Dam that run frequently on the Discovery channel. Even though each of us have watched that documentary many times it was an exciting tour especially where they took us down to view the turbines. Standing on the spillway as water exits the turbines is another awe-inspiring experience. The Hoover Dam tour is a "must see" tourist attraction if you are in the area.
>From Hoover Dam we headed to Kingman, Arizona. Large trucks were using the road between Kingman, Arizona and Las Vegas as were a variety of RV's. Many RV'ers warn others NOT to take their RV's over this route. After three trips over this route I am going to agree with that advice. Since 18-wheeler's negotiate this route the problem is not with switchbacks that are abundant on both sides of the dam but with extremely steep grades over long distances. If you have plenty of power and moxie go for it. If not you are in for more excitement than you and your spouse want. On our last trip back to Flagstaff I counted more RV's on the side of the road than I did moving. This would be another good place to make a tape recording of the conversation in the cab of your RV if you should decide to negotiate the route.
We stopped in Kingman for a quick lunch. I got a large milkshake to take on the ride to Oatman. While drinking the milkshake I noticed that there was NO moisture on the outside of the cup. It is so dry that there is absolutely NO moisture. In Florida there would be a puddle of water under the cup and the sides would be dripping wet. While on the subject of humidity our lips are in constant need of Chap Stick. I wake up at night with dry lips and have to apply Chap Stick before returning to bed. The air is so dry Kathryn has a small nosebleed at night. It is DRY and we are not used to it. It is in excess of 100 degrees today.
>From Kingman Jeff drove us to Oatman where we decided to do a gold mine tour after feeding the burros. We drove a mile out of town to the gold mine where a miner took us into the operational gold mine. Gold prices are down at this time and the mining operation has been suspended until the price increases. While waiting on prices to increase this mine started taking tourist on tours. What an incredible experience. Gold in this particular mine is trapped in a vein of quartz. The vein of quarts runs almost perpendicular, (78 degrees) to the surface. The vein runs from the surface to over 1200 feet in the earth. Miners are paid by the ton of quartz oar they are able to load on the oar carts. Since miners are paid by the ton of quartz their tunnels are only as wide as the vein of quartz. The tunnels follow the vein of quarts leaving granite on either side. Most of the tunnels are narrow and only wide enough for the oar carts. In the early 1900's mules pulled the loaded oar carts from the mine. The tunnel we were in followed the quartz vein for 7 miles. Ever so often there would be a particularly "rich" section of gold in the quartz. When the miners got to one of these places the mine would go up creating a shaft. This shaft would go up as far as the rich vein lasted or it could go all the way to the surface. From that shaft another tunnel would be started about 8 feet above the existing tunnel. The miners did not have wooden ceilings or other bracing. Their ceiling and floor is the vein of quartz. The miners leave 8-foot sections of quartz between each horizontal tunnel. Our miner smiled and said, "you can't get too greedy". The gold in this vein of quartz was not in nuggets. To extract the gold the mine has to pulverize the quartz then treat it with a cyanide bath solution. By the end of our tour we had a good understanding of this particular gold mining system. In our opinion this gold mine tour is a "must see" if you are in the area.
The rest of our day was spent on the road to Flagstaff where the temperature decreased as we increased our altitude. By the time we reached Flagstaff and 7,000 feet it was actually chilly. By morning the temperature had dropped into the low-40's. That is good sleeping weather.
Friday, June 1, 2001 Woody Mountain Campground, Flagstaff, AZ (7,300')
This morning Jeff drove us to the Grand Canyon. Just outside of the National Park entrance we experienced the I-Max theatre and it's film of the Grand Canyon. I think this film was one of the most exciting things we did today. The film footage taken from a plane threading it's way through the canyon is totally awesome. At the canyon rim it was HOT. We talked with a ranger who said that it was as hot today as it gets. We drove from one awesome vista to another then took a break to eat lunch in the Lodge. This is another lodge constructed by the CCC during the great depression. There were good displays of large animal heads especially elk, mule deer, and moose racks. To finish off the day we drove out to the east where we wanted to see where our friends Buddy & Suzie Kisner had been working. They were working at the Desert View Gift Shop earlier in the year before heading to Yellowstone. We found someone in one of the Gift Shops that remembered them. At Desert View the CCC had constructed a lookout tower that was a special treat to climb. Climbing stairs at 7'000 feet is an experience that will humble you. By the time we reached the top everyone was trying to find oxygen. Joyce and I have been taking walks in the RV-park back in Flagstaff and it is at 7,300 feet. These walks have not been noticeably affecting us. Was climbing stairs at 7,000 feet the difference or was it the heat? From Desert View on the eastern edge of the Grand Canyon National Park we headed back to Flagstaff.
It was so hot when we were at the Grand Canyon it was hard to enjoy the scenery. We will have to return and do a helicopter ride, take the donkeys to the bottom or raft down the river. I do not think I would enjoy hiking at that elevation. We did not see any wildlife other than ground squirrels, a few condors and some ravens. It was dark when we finally got back to Flagstaff and as expected the temperature had dropped.
The remainder of Jeff and Kathryn's week with us will be in next weeks travelogue.
until then, see ya, mike & joyce
Mike & Joyce Hendrix
Until next time remember how good life is.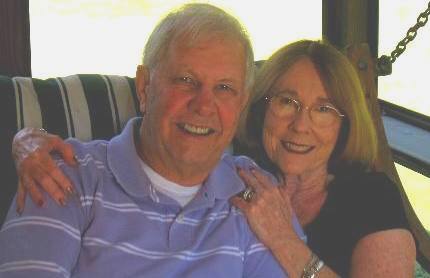 Mike & Joyce Hendrix who we are
We hope you liked this page. If you do you might be interested in some of our other Travel Adventures:
Mike & Joyce Hendrix's home page
Travel Adventures by Year ** Travel Adventures by State ** Plants ** Marine-Boats ** Geology ** Exciting Drives ** Cute Signs ** RV Subjects ** Miscellaneous Subjects
We would love to hear from you......just put "info" in the place of "FAKE" in this address: FAKE@travellogs.us
Until next time remember how good life is.