Menor's Ferry Grand Teton National Park
Joyce took this picture while standing beside the Snake River near Moose Junction in Grand Teton National Park in July of 2011. I think they are waiting for the Snake River to finish the abnormally high spring run off before attempting to launch this craft into the Snake River where it is supposed to be put into use.
That is Grand Teton Peak in the Teton Range that you see over the right side of Menor's Ferry.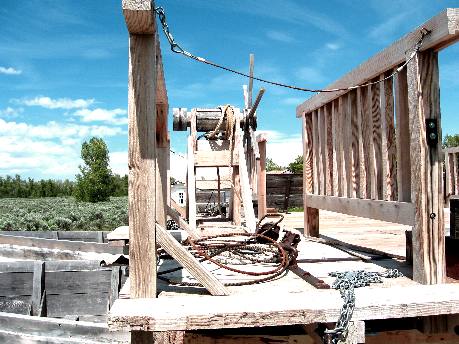 Menor's Ferry is a refurbished replica that consists of a platform deck which is set upon two pontoons for flotation. The ferry is tethered to a cable system that spans the river and operates by directing the pontoons toward the opposite riverbank, allowing the power of the current to push the craft across the river channel.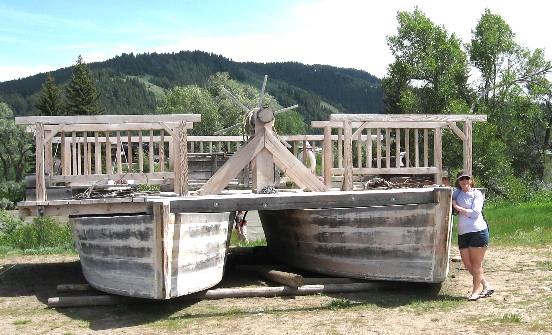 Menor's Ferry was a pontoon of two floats with a platform spanning between them. There was sufficient room for a wagon and four-horse team. The ferry uses the force of the river to propel the pontoon along a cable stretched across the river.
Menor's Ferry played a vital role in providing safe transport for passengers over the swift-flowing Snake River during the late 1800s and early 1900s. The National Park has created this replica of Menor's Ferry and will provide free ferry service across the Snake River when it is put into operation.
Prior to the ferry's existence, the Snake River was essentially impassable from Wilson to Moran, except during low water periods in the fall and winter months.
Bill Menor saw the need for a reliable way to cross the Snake River and built and operated his ferry from 1894 until 1918, when he sold it to Maud Noble.
Maud operated the ferry until 1927, when its use became obsolete after a steel truss bridge was constructed across the river, allowing for vehicles and foot traffic to cross without the assistance of a boat.
Mike walking alongside Menor's Ferry with the Teton Range in the background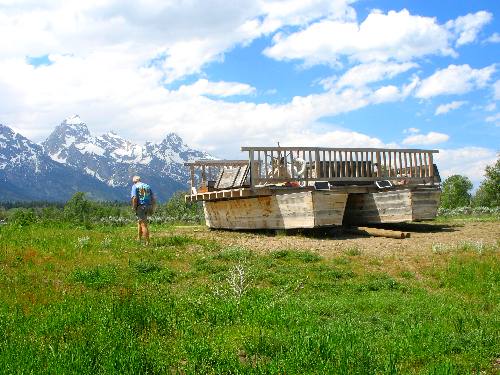 According to available information Menor's Ferry is supposed to run seasonally, from mid-July through mid-September. Park ranger naturalists offer free ferry rides between Menor's General Store and Dornan's on the east bank. Dornan's is a pasta and pizza shop, river outfitter, gas station and outdoor cookout facility on the east side of the Snake River.
Menor's Ferry serves is supposed to serve as a central feature of the old historic district and is located just north of the Grand Teton Discovery and Visitor Center at Moose Junction.
The Menor Brother's operated Menor's Ferry and General Store across the Snake River from Dornan's in Grand Teton National Park back in the late 1800's and early 1900's.
Until next time remember how good life is.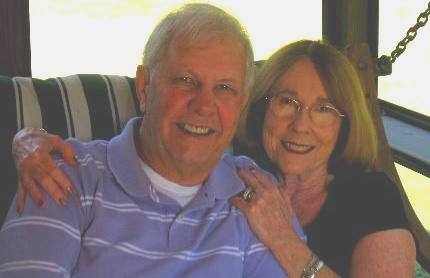 Mike & Joyce Hendrix who we are
We hope you liked this page. If you do you might be interested in some of our other Travel Adventures:
Mike & Joyce Hendrix's home page
Travel Adventures by Year ** Travel Adventures by State ** Plants ** Marine-Boats ** Geology ** Exciting Drives ** Cute Signs ** RV Subjects ** Miscellaneous Subjects
We would love to hear from you......just put "info" in the place of "FAKE" in this address: FAKE@travellogs.us
Until next time remember how good life is.