Grassy Lake Road
Joyce got some beautiful pictures of this blooming bear grass along the upper elevations on Grassy Lake Road.
We took this picture on Grassy Lake Road west of Grassy Lake. I suspect we were in Idaho but there were no signs on Grassy Lake Road that marked the border between Idaho and Wyoming.
This is the aftermath of the devastating Yellowstone fires of 1988. At least I think the fire that did this was part of the 1988 Yellowstone fires.
Marker high in pine tree so snow mobiles can follow Grassy Lake Road in the winter
Snow mobiles use these markers to follow Grassy Lake Road in the winter. This area gets a lot of snow. I hope the marker is high enough in the tree. As it is, someone had to use a ladder to install this marker.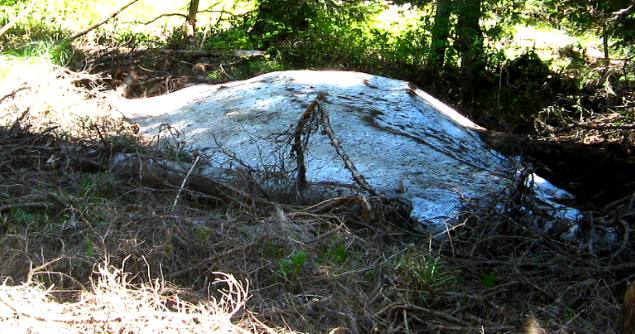 Snow is still on the ground above 7,000 feet on Grassy Lake Road in mid-July. I was surprised to see banks of snow like this but here it was. There is plenty of snow still at the 8,000 foot and above elevations.
When leaving Flagg Ranch this is the sign you will see that directs you to the highway connecting Grand Teton National Park with Yellowstone National Park or to Grassy Lake Road that will take you west on a gravel road to Ashton, Idaho.
Joyce took this picture from one of the free campsites along the Snake River on Grassy Lake Road.
This picture was taken from another one of those free camp sites along Grassy Lake Road and the Snake River. These free campsites are certainly beautiful.
Until next time remember how good life is.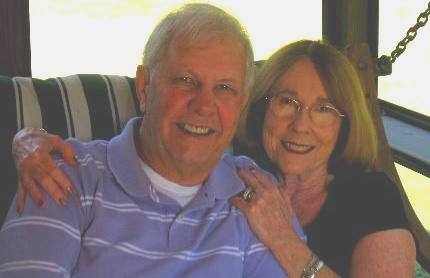 Mike & Joyce Hendrix who we are
We hope you liked this page. If you do you might be interested in some of our other Travel Adventures:
Mike & Joyce Hendrix's home page
Travel Adventures by Year ** Travel Adventures by State ** Plants ** Marine-Boats ** Geology ** Exciting Drives ** Cute Signs ** RV Subjects ** Miscellaneous Subjects
We would love to hear from you......just put "info" in the place of "FAKE" in this address: FAKE@travellogs.us
Until next time remember how good life is.