Flag Ranch
This is the sign you see for Flagg Ranch from the highway a few miles south of the south entrance to Yellowstone National Park.
Note that the same turnoff leads to both Flagg Ranch and Grassy Lake Road.
Flagg Ranch has cabins, gas, a stable full of horses, campground and a nice Lodge
Flagg Ranch has a variety of things to offer from Cabins to Campground sites. You can get gasoline there as well. That is a good thing to know since the next gasoline going north is at Old Faithful in Yellowstone National Park. Gas is available south of Flagg Ranch at Colter Bay Village in Grand Teton National Park, but that too is a good piece down the road.
Three Flags fly at the entrance to Flagg Ranch
I have no idea what the significance of these flags is. One the the Wyoming flag and one is the US Flag the other flag may be a National Park Flag.
Flagg Ranch operates a good size campground but I do not think it is FHU. There are a lot of tents in the campground.
I think the Flag Ranch Campground offers 15-amp electrical service and that is all but I am not sure of that. If you plan to stay here you need to check out what each campsite has to offer in the way of electricity, water and sewer.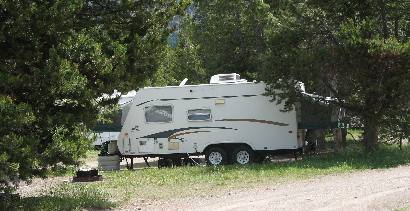 As you can see RV's are camped at Flagg Ranch as well as tents.
Flagg Ranch offers a good number of rustic cabins. This is what the cabins look like.
Until next time remember how good life is.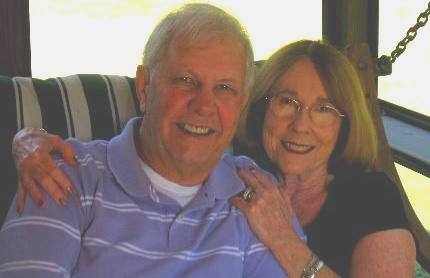 Mike & Joyce Hendrix who we are
We hope you liked this page. If you do you might be interested in some of our other Travel Adventures:
Mike & Joyce Hendrix's home page
Travel Adventures by Year ** Travel Adventures by State ** Plants ** Marine-Boats ** Geology ** Exciting Drives ** Cute Signs ** RV Subjects ** Miscellaneous Subjects
We would love to hear from you......just put "info" in the place of "FAKE" in this address: FAKE@travellogs.us
Until next time remember how good life is.