Key West
January 25th through 29th, 2009
This travellog covers several days of exploring Key West.
We are dry camping on the Navy Base at Trumbo Point in Key West. I am a retired DOD civilian and the Navy allows retired DOD civilians to camp in the Navy facilities as long as there is space available. We are paying $12 a night to dry camp on a grass field along with over 600 other RV's. All I can say is: It is wonderful.
Mallory Square crowd gathering for the nightly sunset celebration a Key West, Florida tradition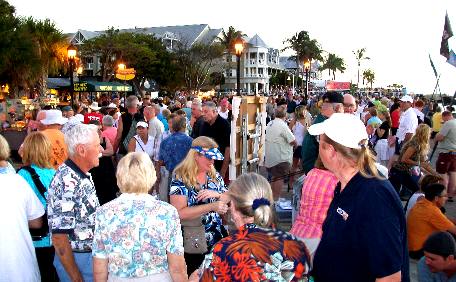 Joyce shot this picture of the crowd gathered at Mallory Square for the evening sunset ritual. There is actually three to five times this many people you just can't get them all in a single picture.
And this is the event that everyone is gathered to watch.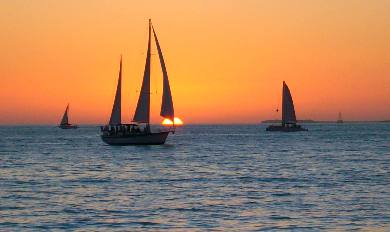 The big event only lasts a few minutes but this Key West sunset does not disappoint.
Stealth overnighting in Key West is difficult. The city has to have this policy since there isn't any room.
That is a nice royal palm tree behind the sign.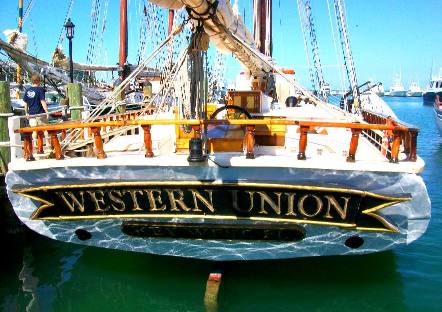 This grand old sailing ship is available for evening sunset cruises and takes passengers daily. It was built as a work boat that laid undersea cable for Western Union.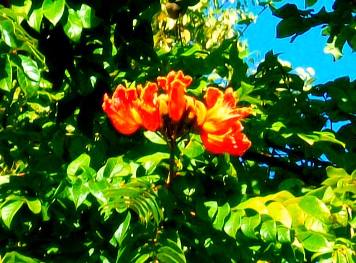 This bloom is on an African Tulip tree growing on the Earnest Hemmingway estate in Key West.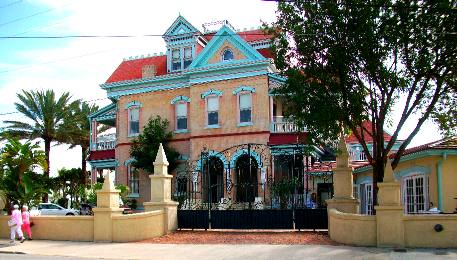 And folks this grand old house is the "Southernmost House" in the continental USA.
This is the sign outside the Southernmost House pictured above.
Island colors and palm trees on display.
Gingerbread and sherbet colors on display near the southernmost spot in the continental USA.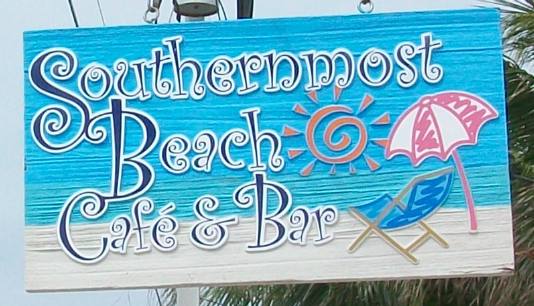 Actually the Southernmost Beach Cafe & Bar is a popular dining place and hang out. Tourist as well as local seem to enjoy the place.
It is located between the Southernmost House and the Southernmost On The Beach Hotel. in Key West.
These folks are hanging out on the Southernmost Beach in the continental United States. The white sand is imported from the Bahamas.
And here you have it this is the welcoming sign for the Southernmost Beach in the Continental USA.
Fine example of "gingerbread" architecture in this old Key West, Florida home
Ginger bread is "Key West" --- especially on the older restored homes.
Gingerbread architecture and Island Colors displayed on this Key West, Florida house
Gingerbread and island colors are showcased on this old home.
Gulf Shrimper facing angry storm clouds as it approaches Key West, Florida
Joyce snapped this picture of a cold front moving over the Gulf of Mexico as a lone shrimp boat makes its way to port. This cold front wreaked havoc on the heartland and extended freezing temperatures deep into Florida. We have been seeing news reports on this front as it made its way south, now it has finally reached us. We were in the mid-80's this morning with high humidity. By evening we were in the 60's and the wind was blowing a gale that continued all night. This front emptied the swimming pools. Halter tops and short shorts were quickly replaced with long sleeves and jeans. This picture shows the leading edge of that cold front. It was a bad boy. Kentucky got hit especially hard when it rolled through there.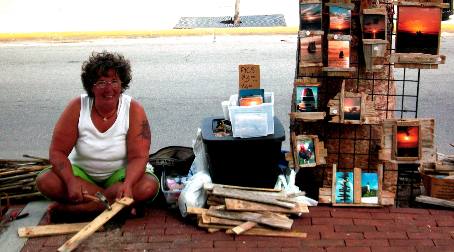 While strolling around exploring lower Duval Street we ran across Lee Anne McCarthy who is a multitalented artist currently residing in Key West. Not only does she take excellent photographs she makes unique frames. This picture does not do justice to her frames. However, Lee Anne actually makes her frames out of old crab and lobster traps. She doe not use a saw as you can see. She breaks the wood that is not already broken then uses the pieces to form unique frames that accentuate her fabulous Key West pictures.
Lee Anne does her "side walk" art on South Duval Street during the day then moves to Mallory Square before sunset to catch the evening sunset crowd. Look her up when you visit Key West if you are looking for some unique art to remember your Key West visit.
Sea birds flying past Mallory Square in Key West, Florida
We enjoyed watching this large congregation of sea birds that massed around a parking lot near our campground in front of a cold front that moved through this morning. Note how the sky is overcast now that the front has moved through.
Seabirds milling around Mallory Square prior to the evening sunset celebration in Key West, Florida

Several thousand of these birds milled in the area mostly resting on the parking lot but would take to the air on occasion then settle down just as quick.
When you visit Key West you just have to take a walking tour of Truman Annex (a large, upscale) residential complex and Harry Truman's"Little White House".
Reported to be Kenny Chesney's Key West "cottage"
Kenny Chesney's new "cottage" in Key West. This is one of Kenny's "secret" hideaways it just happens to be in Margaritaville. Virtually no one knows Kenny has a house on Key West (he only recently purchased it). We only found out because we met the owner of one of the hottest nightspots on Duval Street, it was late, and the libations were working, and we were interested listeners. We had been discussing musical talent in Nashville and how he wished he could attract some of that level talent to his place.
If you are really interested contact me and I will give you an address.
We learned several years later that Kenny may never have purchased the house or if he did he quickly turned it. Rumor has it that he has a place on Sunset Key. Having a place on Sunset Key makes more since than this residence only two houses off Duval Street in Old Town Key West makes more sense.
Until next time remember how good life is.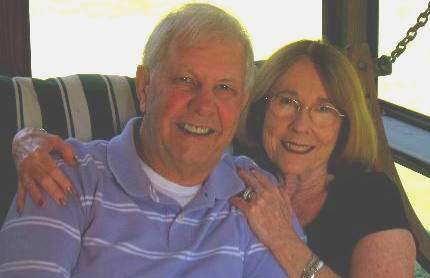 Mike & Joyce Hendrix who we are
We hope you liked this page. If you do you might be interested in some of our other Travel Adventures:
Mike & Joyce Hendrix's home page
Travel Adventures by Year ** Travel Adventures by State ** Plants ** Marine-Boats ** Geology ** Exciting Drives ** Cute Signs ** RV Subjects ** Miscellaneous Subjects
We would love to hear from you......just put "info" in the place of "FAKE" in this address: FAKE@travellogs.us
Until next time remember how good life is.