Mallory Square Sunset Celebration
Cruise ships that visit Key West almost daily usually leave just before sunset. If they didn't leave they would block the view from sunset viewing venues like Mallory Square.
I suspect the cruise ships have to pay a very high penalty if they are actually in port and blocking the sunset view.
The timing of cruise ships leaving Key West appears to be synchronized with the sunset since watching the cruise ships leave the dock is part of the excitement and wonder experienced at Mallory Square.
Sunset celebration crowd at Mallory Square in Key West
This is part of the crowd that gathers every evening at Mallory Square to take part in the sunset celebration.
Others are enjoying the event at places like Sunset Pier, a short walk along the boardwalk, to the north of Mallory Square.
While gathering to celebrate the sunset visitors watch street acts and wander through the various vendors that have set up temporary booths.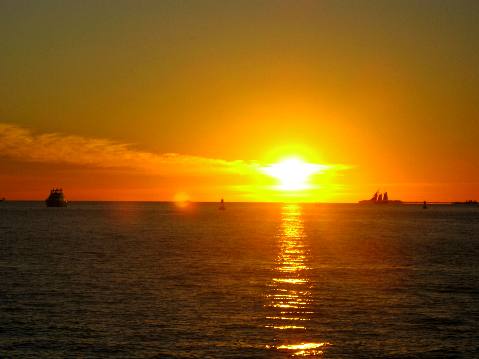 The sailing ships you see in the distance operate out of Key West Bight Marina in Old Town Key West. There must be 10 to 15 different options for sunset cruises.
To book one of these sunset cruises you need to traipse on down to Key West Bight Marina and stroll along "Harbor Walk" which is the boardwalk that meanders around Key West Bight Marina.
The vast majority of sunset cruise boats operate out of Key West Bight Marina so you will be able to select the one that best suites your fancy since they all offer a little something different.
While strolling around Harbor Walk check out the seafood restaurants and quaint island shoppes. And do not forget to keep an eye in the water along Harbor Walk for those huge tarpon that hang out in Key West Bight Marina.
The large sail boats in this picture are "sunset cruise" boats operating out of Key West Bight Marina.
Hundreds if not thousands board these boats each evening to watch the sunset from the water off Key West.
Almost like clockwork, the cruise ships that have been in port all day load up passengers and, pull away from the pier about 30-minutes before sunset.
By the time the sun sets this cruise ship will be about two miles out in the Atlantic where they will be enjoying the same sunset.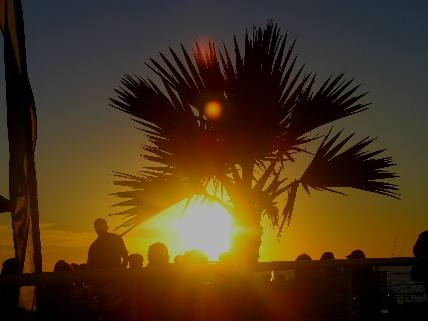 Admittedly, most pictures of sunsets from Mallory Square are going to concentrate on the ocean and sailboats.
I decided to back away and get this shot showing people and a palm tree.
Yea, I know it is different. VBG
How is this, we are back to normal with our sunset pictures from Mallory Square. Here we have the ocean, a buoy and several boats out enjoying this beautiful sunset.
Like I have said before, many people opt to take a sunset cruise on one of these boats that operate out of Key West Bight Marina here in Key West.
To find the right "sunset cruise" boat for you and your family head on down to Key West Bight Marina and stroll along Harbor Walk until you locate the sunset cruise boat that is offering the amenities you are looking for. While strolling along Harbor Walk keep an eye in on the water looking for those large tarpon that hang out in the marina.
Until next time remember how good life is.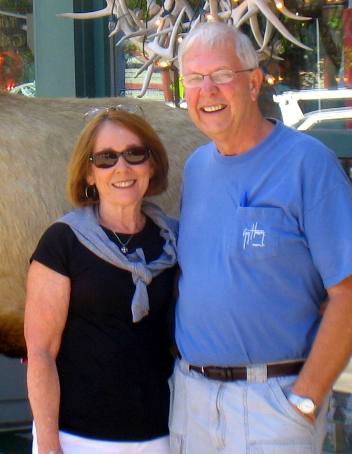 Mike & Joyce Hendrix who we are
We hope you liked this page. If you do you might be interested in some of our other Travel Adventures:
Mike & Joyce Hendrix's home page
Travel Adventures by Year ** Travel Adventures by State ** Plants ** Marine-Boats ** Geology ** Exciting Drives ** Cute Signs ** RV Subjects ** Miscellaneous Subjects
We would love to hear from you......just put "info" in the place of "FAKE" in this address: FAKE@travellogs.us
Until next time remember how good life is.