Duval Street in Key West
The Southernmost House in the U.S. was originally constructed by a wealthy Cuban. The Southernmost House is now operated as a posh Bed and Breakfast.
The Southernmost House is located on Duval Street as Duval Street ends in the Atlantic Ocean.
I love this picture of a rooster and chicken heading up the front steps to a restaurant in Key West. Of course the restaurant features al fresco dining so the chickens were heading up to the dining area to have lunch on the scraps diners conveniently deposit on the ground.
Where else can you dine with feral chickens?
Key West is the only place I can think of. VBG
Joyce spotted this feral chicken with several small chicks hiding under a giant crinum lily along south Duval Street.
For those of you that do not know these feral chickens are protected in Key West. The chickens arrived in Key West with the huge Cuban migration. Since the chickens arrival in Key West laws have changed that outlaw fighting "cocks". When fighting "cocks" was outlawed residents just turned their chickens loose. Key West residents liked their colorful chickens and wrote ordinances to protect them. Now feral chickens can be seen all over Key West.
This chicken and chicks were just feet away from busy Duval Street. A thousand or more people walk along the sidewalk Joyce was standing on to take this picture. I wonder how many of those passing by saw this chicken and chicks?
Joyce snapped this picture of royal palms along south Duval Street in Key West one afternoon in late February.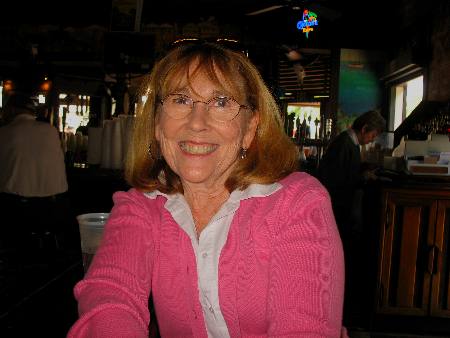 Joyce is enjoying herself in the Bull located on the corner of Caroline and Duval Street in Old Town Key West one afternoon in February of 2011.
Joyce was standing on Duval Street looking down a side street when she took this picture.
We love the beautiful royal palm trees that line most streets in this area of Key West.
Until next time remember how good life is.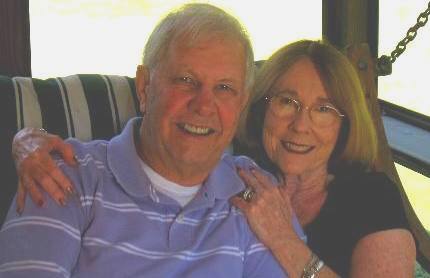 Mike & Joyce Hendrix who we are
We hope you liked this page. If you do you might be interested in some of our other Travel Adventures:
Mike & Joyce Hendrix's home page
Travel Adventures by Year ** Travel Adventures by State ** Plants ** Marine-Boats ** Geology ** Exciting Drives ** Cute Signs ** RV Subjects ** Miscellaneous Subjects
We would love to hear from you......just put "info" in the place of "FAKE" in this address: FAKE@travellogs.us
Until next time remember how good life is.