Harbor Walk along the Historic Seaport in Key West
The swimming pool at Dante's with Harbor Walk and the Conch Harbor Marina in the background
Dante's of Key West, is a fabulous restaurant located at 955 Caroline Street on the Conch Harbor Marina & Harbor Walk around Key West Bight.
Dante's is an upscale restaurant and bar with a pool for patrons to enjoy. Tourist and locals alike are encouraged to come in have some food and drinks and while you are here take a swim in the pool.

Dante's is just one of many wonderful restaurants, bars and gift shops that line the Historic Seaport Harbor in Key West.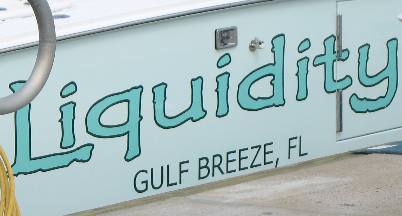 The gentleman that owns this boat moored in A&B Marina along Harbor Walk lives in Gulf Breeze, Florida and works out of Pensacola.
It must be nice to have a boat sitting in Key West waiting for you to stop by.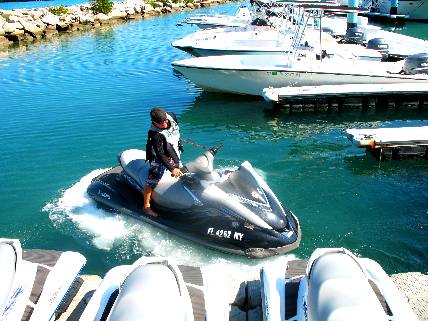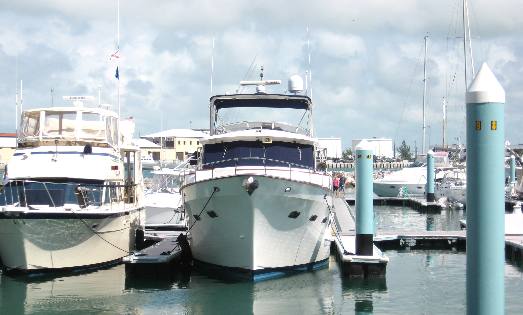 Many people arrive in Key West on their private yachts and dock them at A&B Marina in Key West Bight.
It is actually a great place to stay, if you have a yacht, because A&B Marina in Key West Bight is centrally located to everything in Old Town Key West.
This Historic Seaport Harbor was once filled with working shrimp boats. Now it is home to these luxury yachts.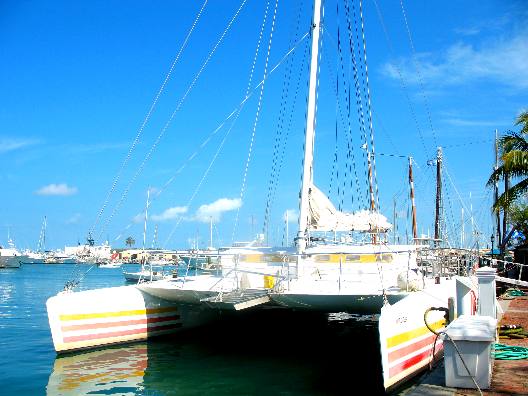 The Key West Sebago fleet of boats offers Key West travel packages for sunset cruises, dolphin charters, snorkeling adventures, weddings, kayaking, parasailing, and more.
The Sebago fleet of boats operating in Key West out of Key West Bight Marina have a variety of vacation packages including sunset cruises, snorkeling attractions, dolphin charters, weddings, fishing, scuba diving, parasailing, kayaking and touring.
I think that they also operate a fishing boat.
Google Key West Sebago and see what they have to offer. Chances are that you will be joining Sebago on one of the adventures they offer when you visit
Key West
.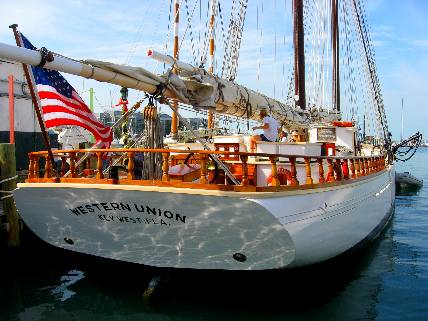 Built in 1939 to lay cable for Western Union hence its name.
The Western Union at 130' is the last example of a traditional American coasting schooner made in the U.S. and it was constructed right here in Key West back in 1939.

The Western Union is one of the oldest working wooden schooners in the United States, the official flagship of Key West and on the National Register of Historic Places.
You can book a cruise on the Western Union or just ogle it from Harbor Walk (which is what we are doing) in Key West Bight Marina.
Tarpon swimming by our position on Harbor Walk docks
Nice tarpon, like this one, cruise Key West Bight Marina and can be spotted from Harbor Walk as you are strolling around the marina.
Keep your eyes pealed for large tarpon anytime you are strolling around the Historic Seaport Harbor in Key West.
I think Joyce may be trying out for the next "Half Shell raw bar" girl. What do you think?
Set in the heart of the Historic Seaport at Key West Bight, the Half Shell Raw Bar is an authentic Key West fish house. Once a shrimp packing building, it has stayed true to its blue-collar harbor front heritage.

The Half Shell raw bar is truly a "Taste of Old Key West!"
Today it is a traditional Key West Raw Bar & great Key West seafood restaurant serving oysters, clams, shrimp, more!
A low key restaurant for casual lunch or dinner. Settle down to an informal atmosphere, local characters, great bar and waterfront dining. It's a little piece of Old Key West at the Historic Key West Seaport Harbor.
I think the Half Shell raw bar is one of the restaurants in Key West that will cook your catch for you.
Many people fly into Key West and go fishing, but have no way of taking their catch home, so they take their cleaned fish to local restaurants that prepare their fish for them.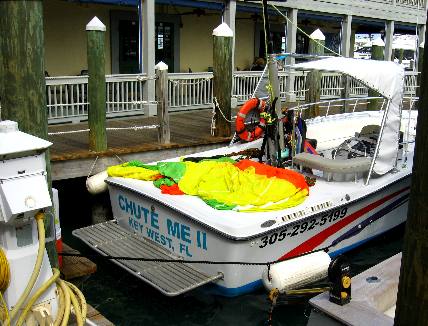 This is the Chute Me II parasail boat docked next Alonzo's Oyster Bar on Harbor Walk overlooking A&B Marina in Key West Bight.
The Chute Me II is one of the fleet of Sebago boats operating in Key West and the Historic Seaport Harbor, offering a wide range of water related opportunities such as snorkeling trips, jet ski rentals, wild dolphin trips, sunset cruises to name a few.
Google Sebago Key West to see what all they do have to offer. They also offer packages so if you are planning on visiting Key West you may get the deal you are looking for on Sebago's web site.
Two reef snorkel catamaran operating out of Key West Bight Marina
Snorkel and sunset boats such as this one are now operating out of the Historic Seaport Harbor that at point used to be home to schooners & pirate ships, then a large shrimp fleet.
I think this catamaran specializes in snorkeling trips and sunset cruises.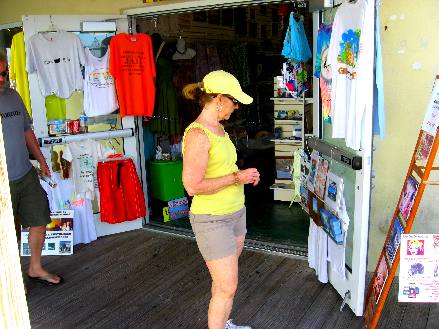 No matter where we go Joyce finds an opportunity to do some shopping. Thankfully, I have the plastic in my pocket. VBG
This shop and a dozen or so others are on Harbor Walk as we stroll around Key West Bight Marina on our daily outing.
Until next time remember how good life is.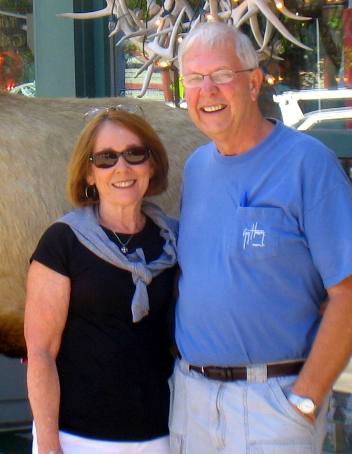 Mike & Joyce Hendrix who we are
We hope you liked this page. If you do you might be interested in some of our other Travel Adventures:
Mike & Joyce Hendrix's home page
Travel Adventures by Year ** Travel Adventures by State ** Plants ** Marine-Boats ** Geology ** Exciting Drives ** Cute Signs ** RV Subjects ** Miscellaneous Subjects
We would love to hear from you......just put "info" in the place of "FAKE" in this address: FAKE@travellogs.us
Until next time remember how good life is.