Cirque
A Cirque is a bowl-shaped depression with steep sides that forms at the head of a mountain glacier.
Glaciers shaped this valley, long noted for its spectacular setting, mild climate and abundant wildlife.
That area that looks like it was scooped out by an ice cream dipper is known as a cirque.
Cirques are created by mountain glaciers.
This picture taken while on Monarch Pass is a perfect example of a cirque. Cirques are deep, steep-walled, usually semicircular scoop in a mountain excavated by the head of a glacier.
There is water in the basin of this cirque forming an alpine lake.
Cirque on Colorado's Mt Evans
This is a cirque we spotted on Mt Evans in Colorado.
Summit Lake on Colorado's Mt Evans is a classic cirque.
We cover Summit Lake in another travel log if you are interested.
Despite its name Summit Lake is NOT at the summit. There is still a lot of mountain to climb. Joyce took this picture of Summit Lake as we headed up that long climb to the summit. Note that Summit Lake looks like it has been scooped out of the mountain with an ice cream scoop. That is classic evidence that Summit Lake is a cirque created by a mountain glacier.
Cirque on Mt Moran in Grand Teton National Park.
This is a closeup of that cirque on Mt Moran in Grand Teton National Park.
This is yet another picture of the glacial cirque on Mt Moran in Grand Teton National Park.
Note the dike sticking streight up out of the glacier. The dike is that dark streek. Dikes are intrusions of molten rock into cracks in solid rocks covering the molten rock.
Mike & Joyce Hendrix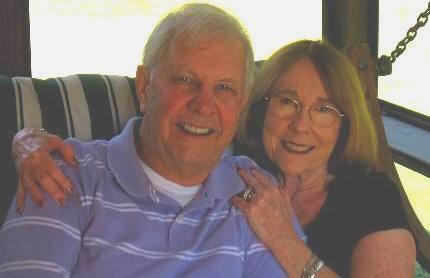 Mike & Joyce Hendrix who we are
We hope you liked this page. If you do you might be interested in some of our other Travel Adventures:
Mike & Joyce Hendrix's home page
Travel Adventures by Year ** Travel Adventures by State ** Plants ** Marine-Boats ** Geology ** Exciting Drives ** Cute Signs ** RV Subjects ** Miscellaneous Subjects
We would love to hear from you......just put "info" in the place of "FAKE" in this address: FAKE@travellogs.us
Until next time remember how good life is.