Grand Teton National Park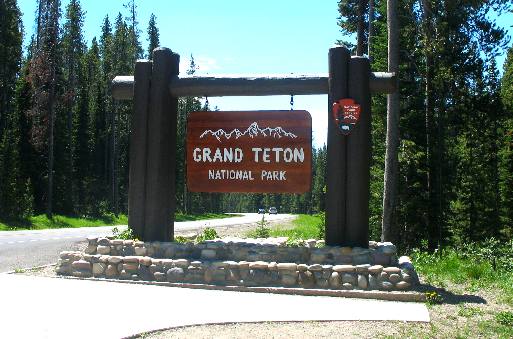 This is the northern entrance to Grand Teton National Park. Flag Ranch is a few miles north of this sign and a few miles north of Flag Ranch is the southern entrance to Yellowstone National Park.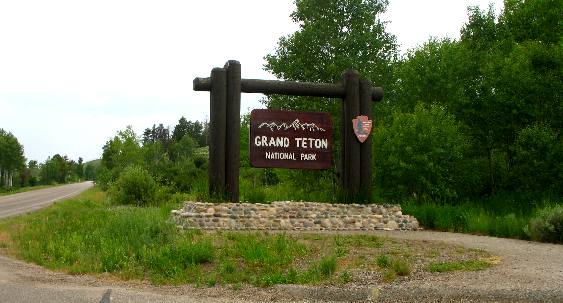 This is the east entrance to Grand Teton National Park. It is located on US-26 a few miles east of Moran Junction not far from Buffalo Valley Road. US-26 comes from Dubois, Wyoming over Togwotee Pass in the Absaroka Mountains.
This momma grizzly and two cubs made daily trips to the Snake River from Willow Flats. Actually, she was in Willow Flats for the entire trip to the Snake River. However, when she headed to the Snake River for water she and the cubs were visible and tourist in their cars would line the road leading to Jackson Lake Dam each evening to watch this event. It was a pretty predictable event that occurred each evening. This momma grizzly would take here cubs across the highway threading her way between the automobiles lining both sides of the road to watch her. Then she would disappear into the thick willows of Willow Flats with her cubs only to be intermittently spotted like in the picture above when she and the cubs would cross an opening. One evening as she crossed the road the cubs decided to "roll" in the road scratching their backs to the delight of the crowd (securely in their vehicles) watching.

Jackson Lake Dam in Grand Teton National Park is the structure that creates Jackson Lake.
The reservoir (Jackson Lake) was created by damming the outlet of the natural glacial Jackson Lake, with the additional height creating a storage pool for the Minidoka Project, which provides irrigation water from the Snake River for farmlands in Idaho.
Jackson Lake stores and releases water which is collected by Minidoka Dam and American Falls Dam more than 100 miles downstream for diversion to distribution canals.
At the time of Jackson Lake Dam's construction, Jackson Hole and the Teton Range were as yet unprotected from development. Grand Teton National Park was established in 1929, and excluded Jackson Lake. The lake was eventually incorporated into Jackson Hole National Monument when it was proclaimed by President Franklin D. Roosevelt under the Antiquities Act, and became a part of Grand Teton National Park win 1950 when the park was expanded to encompass the national monument lands.
When the dam was built there was no attempt to clear the shores of the lake of standing timber, resulting in an unsightly band of dead trees when the waters rose. This vista, and the mudflats created by drawdown of lake waters, were cited in later years in successful arguments against reservoirs in Yellowstone National Park.
Construction personnel for the dam were housed at a temporary camp that dwarfed the nearby town of Moran, Wyoming. Supplies came in from the Grassy Lake Road north of the park, which runs west into Idaho to meet the nearest railhead at Ashton, Idaho.
As a side note we drove over Grassy Lake Road on a sightseeing adventure one day when we were camping in Colter Bay Campground. Our friends Buddy and Suzie Kisner from Pensacola had a new Jeep that needed to be broken in so we went with them. Grassy Lake Road is a beautiful drive for the appropriate vehicle since Wyoming does not maintain these roads at least they do not maintain them very often. Possibly maintenance is on a 5-year rotation or something like that.
Grassy Lake Road starts on the east side at Flag Ranch between the north entrance to Grand Teton National Park and the south entrance to Yellowstone National Park. From Flag Ranch Grassy Lake Road heads west over the northern end of the Teton Range into Idaho ending in Ashton.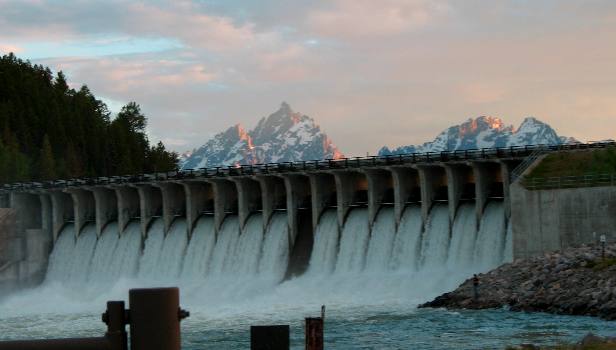 Grand Teton Peak is silhouetted above Jackson Lake Dam in Grand Teton National Park.
That is the Snake River that is formed in the tailwaters of Jackson Lake Dam.
The Teton Range forms a fitting backdrop for this elk herd on Willow Flats in Grand Teton National Park. Joyce took this picture from the road leading to Jackson Lake Dam one afternoon when we were waiting for the mother grizzly to cross the road with her cubs.
Until next time remember how good life is.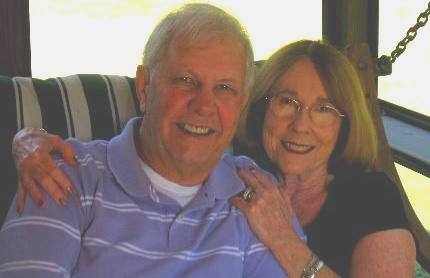 Mike & Joyce Hendrix who we are
We hope you liked this page. If you do you might be interested in some of our other Travel Adventures:
Mike & Joyce Hendrix's home page
Travel Adventures by Year ** Travel Adventures by State ** Plants ** Marine-Boats ** Geology ** Exciting Drives ** Cute Signs ** RV Subjects ** Miscellaneous Subjects
We would love to hear from you......just put "info" in the place of "FAKE" in this address: FAKE@travellogs.us
Until next time remember how good life is.