Harbor Walk Boats
Sebago Parasail boat loading up for an outing
Sebago Parasail boat in Key West Bight Marina, the Historic Seaport Harbor in Key West, loading passengers for an afternoon of parasailing.
By walking Harbor Walk around the Historic Seaport Harbor at Key West Bight you will see many opportunities for fun on the water like this parasail boat.
This is the Sebago a large catamaran operating out of Key West Bight Marina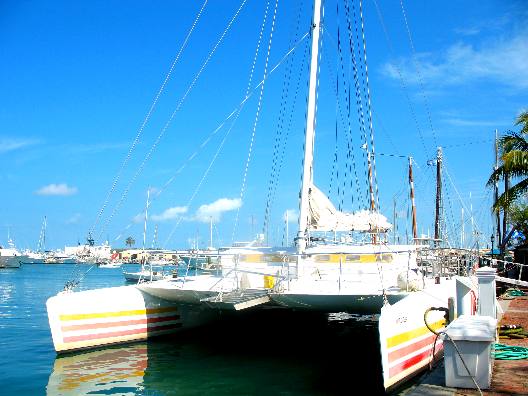 Sebago is one of the large catamarans offering sunset cruises out of Key West Bight Marina along Harbor Walk.
Sebago has a fleet of boats that provide tourist with a wide range of water related opportunities like snorkeling, kayaking, sunset cruises, jet skis fishing and others.
If it is a water related activity Sebago is the place to look.
Sebago also has vacation packages that you may be interested in. Just Google Sebago Key West to see what all they have to offer.
The Adirondack III charter sailing vessel
The Adirondack III bills itself as the most elegant vessel in the Key West schooner fleet.
When visiting Key West you will find myriad land and water based activities. However, a classic schooner sail – a day sail or sunset sail – is the quintessential Key West activity that will highlight your stay and be the lasting memory forever.
Sightseeing around here is all about getting on the water, seeing the wildlife, watching the sunset, and experiencing the adventure sailing in the great Key West breeze. A 2 hour sailboat ride is a great way to take advantage of your time in Key West and enjoy all of these things.

You can check out the Adirondack III at the Historic Seaport Harbor in Key West Bight.
A rich past, filled with hard-work, adventure and arduous weather on the high seas—the Schooner Western Union has survived and thrived through many decades of service.
Lovingly preserved and cared-for, this vintage ship is as beautiful and elegant today as she was when she was first launched on April 7, 1939.
Made of mahogany and yellow pine, the Schooner Western Union is a marvelous example of a traditional American coasting schooner.
For 35 years, the schooner served as a cable vessel for the Western Union Telegraph Company, repairing and maintaining undersea telegraph cable throughout Key West, Cuba and the Caribbean.
After retiring from Western Union, the schooner was used as a charter boat.
Today, the Schooner Western Union is operating as a maritime museum out of the same Historic Seaport Harbor that it once operated out of as a cable laying boat for Western Union.
This working museum is open to the public for sailing tours as well as dock tours.
The Schooner Western Union Maritime Museum offers guests an unforgettable sail in the Gulf of Mexico and the Atlantic. Tours include historical information about the schooner and its original purpose, the maritime lifestyle of its crew, and the historical importance of the maritime economy to the Florida Keys.
You can easily spot the Western Union when you are strolling Harbor Walk around the Historic Seaport Harbor in Key West Bight.
Chute Me II Parasail boat docked near Alonzo's Oyster House along Harbor Walk at A&B Marina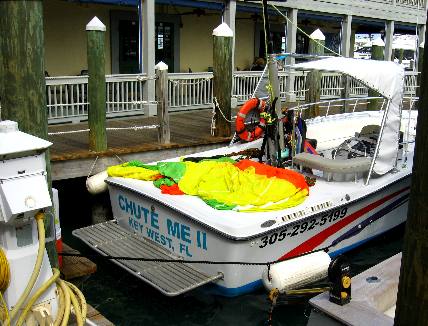 Chute Me II is one of the Sebago Fleet of boats operating in Key West. Sebago not only offers parasailing opportunities but jet skis, fishing boats, kayaks, snorkeling boats, wild dolphin cruises, sunset cruises and other water related activities.
You can Google Sebago Key West and see what all they have to offer including package deals that include rooms in Key West.
The big attraction for this boat is a "two reef snorkel" trip.
I think it also does a sunset cruise, but don't hold me to that.
This large catamaran is docked along Harbor Walk in Key West Bight Marina.
Beach Cat is one of the water activity boats operating out of Key West Bight Marina along Harbor Walk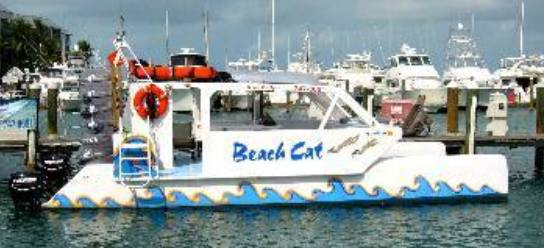 Look carefully on the back of the Beach Cat and locate the clear kayaks. Yes, in a rack on the back of Beach Cat are 6 clear kayaks for customers to use over snorkeling reefs.
How cool is that for people who might not want to snorkel?
Beach Cat docks along Harbor Walk in the Historic Seaport Harbor at Key West Bight near Conch Republic Seafood Restaurant & Bar.
This is one of the back country boats for charter along Harbor Walk
This is a back country flats boat waiting for a customer along Harbor Walk in the Historic Seaport Harbor at Key West Bight, but I want you to notice the large tarpon in the shadow of the boat.
You are only seeing the portions of that fish light is reflecting off of. That tarpon will weigh around 100-pounds and is probably 5-feet long. I know that tarpon doesn't look that big in this picture but it is just the way light is reflecting off the fish. Look at some of the tarpon in these pictures and you will see what I mean.
Possibly this picture will give you a better idea of the size of these tarpon. Look closely and you will see three tarpon in this picture. There is a head of a large tarpon in the upper right corner and the tail of another large tarpon visible in the upper middle of the picture.
It is so cool to be walking along on Harbor Walk and look down in the water and spot one of these huge fish.
When I say huge I am talking about fish that weigh in excess of 100-pounds. The fish in this picture is a good 5-feet long and well over 100-pounds. It isn't hard to spot these fish, but it is extremely difficult to get a picture of them to turn out.
Until next time remember how good life is.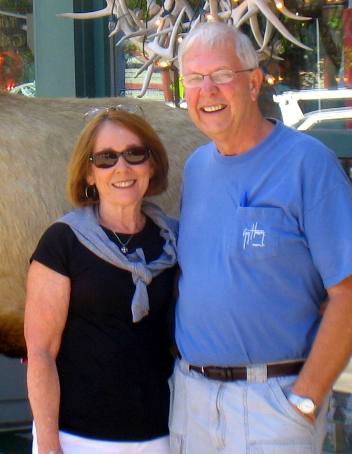 Mike & Joyce Hendrix who we are
We hope you liked this page. If you do you might be interested in some of our other Travel Adventures:
Mike & Joyce Hendrix's home page
Travel Adventures by Year ** Travel Adventures by State ** Plants ** Marine-Boats ** Geology ** Exciting Drives ** Cute Signs ** RV Subjects ** Miscellaneous Subjects
We would love to hear from you......just put "info" in the place of "FAKE" in this address: FAKE@travellogs.us
Until next time remember how good life is.