Tarpon along Harbor Walk in Key West
One of our favorite things to do when wintering in Key West is to stroll the boardwalk known as Harbor Walk that meanders around Key West Bight Marina, the Historic old Seaport Harbor.
There is so much to see; boats, people, shoppes, restaurants, open bars with live music, brown pelicans and these absolutely huge tarpon that live and cruise in the marina.
I know you can not tell how big this fish is but he is around 5-feet long and will weigh well over 100-pounds. We are looking down on this tarpon from Harbor Walk.
Tarpon, like this one, weighing over 100-pounds, cruise around Key West Harbor during the day and night.
They are easy to spot when you are strolling along Harbor Walk at Key West Bight Marina.
Huge tarpon waiting on this captain to return to the dock at Harbor Walk in
A "back country" guide docks his boat here. There are a number of back country guides docked in this area and tarpon know that when they return there is a good chance they will throw their excess live bait into the marina.
Of course this "freed" live bait hits the water and must make a mad dash for safety. Let me say, the mad dash, does not generally end in freedom.
Tarpon are lightening fast especially on a tasty morsel that is thrown to them.
This tarpon looks to be a bit under 5-feet in length so will weigh a bit under 100-pounds, still a large fish in my book.
This large tarpon is in the 6-foot range and probably upwards of 150-pounds.
Seeing these tarpon as they cruise along Harbor Walk in Key West Bight Marina is easy. Getting a picture to turn out is difficult.
This 100-pound tarpon was cruising Key West Bight Marina along Harbor Walk one afternoon. Can you see the "remora" clinging to the belly of this tarpon? Remora can be seen hitching rides on sharks, turtles, cobia and other larger fish. That remora is probably the size of a "keeper" bass or trout and will weigh around a pound.
This large tarpon was slowly cruising along under the Harbor Walk dock in Key West Bight Marina. As you can see the water is only a few feet deep, possibly 4' at the most.
Until next time remember how good life is.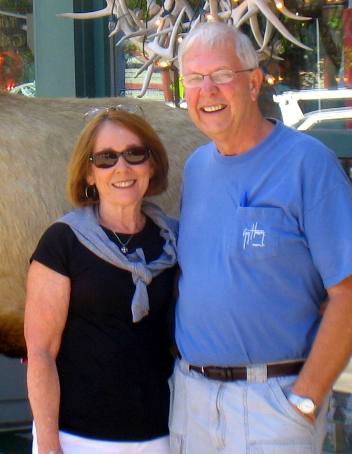 Mike & Joyce Hendrix who we are
We hope you liked this page. If you do you might be interested in some of our other Travel Adventures:
Mike & Joyce Hendrix's home page
Travel Adventures by Year ** Travel Adventures by State ** Plants ** Marine-Boats ** Geology ** Exciting Drives ** Cute Signs ** RV Subjects ** Miscellaneous Subjects
We would love to hear from you......just put "info" in the place of "FAKE" in this address: FAKE@travellogs.us
Until next time remember how good life is.