Old Sailing Craft at Key West Historic Seaport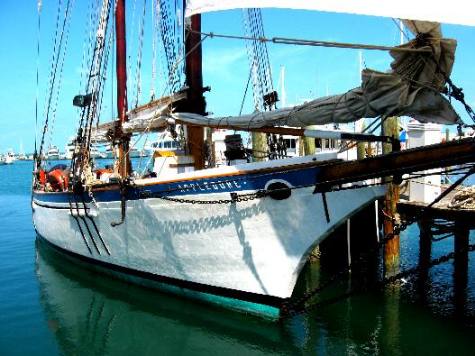 The Schooner Appledore is an 86' gaff-rigged topsail schooner built in 1978 with an 18' beam and 10' draft.
In addition to sails it has a 210 h.p. Cummins Marine Diesel.
During the winter the schooner Appledore operates out of Key West in conjunction with Key West Sebago. The Appledore offers a variety of sails, including daysails, sunset sails, and special theme sails.
For more information about the Appledore in Key West you need to Google Sebago Key West.
During the summer Appledore offers day trips out of Camden, Maine.
(207)-236-8353
1-800-233-PIER

This is the Jolly III Rover docked near Conch Republic Seafood Restaurant & Bar on Harbor Walk at Key West Bight Marina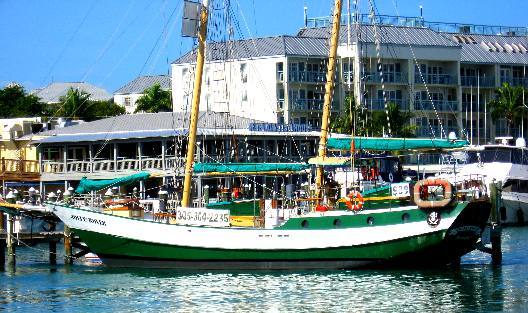 The Jolly II Rover is an 80' gaff rigged schooner, and she's the most exquisite traditional schooner one can think of. She is USCG certified to take up to 19 people for week-long trips and for up to 49 people for a day or one-half day sail. She is based in Key West and can take you from Key West to the Dry Tortugas or from Key West to Cuba.
When we visit Sunset Pier or Mallory Square for the nightly sunset celebration we always look for the distinctive red sails of the Jolly II Rover. From miles away the Jolly II Rover can be identified by those red sails.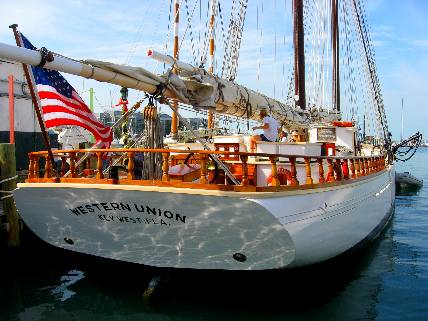 A rich past, filled with hard-work, adventure and arduous weather on the high seas—the Schooner Western Union has survived and thrived through many decades of service.
Lovingly preserved and cared-for, this vintage ship is as beautiful and elegant today as she was when she was first launched on April 7, 1939.
Constructed of mahogany and yellow pine, the Schooner Western Union is a marvelous example of a traditional American coasting schooner.
It is hard to judge the size of this fish from the picture but the fish is around 5-feet in length and weighs in excess of 100-pounds.
When strolling around Harbor Walk inspecting the old sailing ships keep your eyes peeled for these large tarpon that slowly cruise the water in the Historic Seaport Harbor.
Sail back in time aboard the Schooner Jolly II Rover. You can rediscover old world sailing on a classic 80' Caribbean coastal sailing ship — the same kind used by pirates, rum runners, and those who first sought the freedom and solitude of the Florida Keys hundreds of years ago. Jolly II Rover is the only square rigged, topsail Schooner sailing out of the Historic Seaport of Key West.
For 35 years, the schooner Western Union operated as a cable laying vessel for the Western Union Telegraph Company, repairing and maintaining undersea telegraph cable throughout Key West, Cuba and the Caribbean.
After retiring from the Western Union cable laying job, the schooner started a new career as a charter boat.
Today, the Schooner Western Union is operating as a maritime museum out of the same Historic Seaport Harbor that it once operated out of as a cable laying boat for Western Union.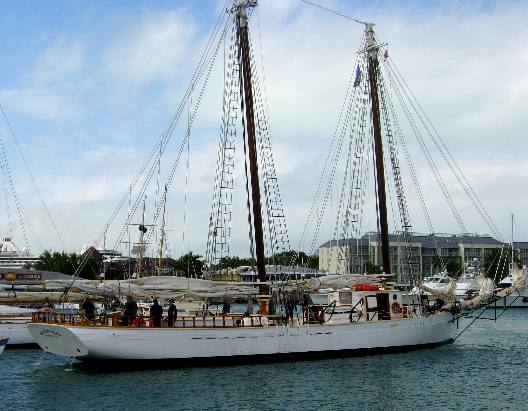 Today the schooner Western Union is operating as a "working museum".
This working museum is open to the public for sailing tours as well as dock tours.
The Schooner Western Union Maritime Museum offers guests an unforgettable sail in the Gulf of Mexico and the Atlantic.
Tours include historical information about the schooner and its original purpose, the maritime lifestyle of its crew, and the historical importance of the maritime economy to the Florida Keys.
You can easily spot the Western Union when you are strolling Harbor Walk around the Historic Seaport Harbor in Key West Bight.
Until next time remember how good life is.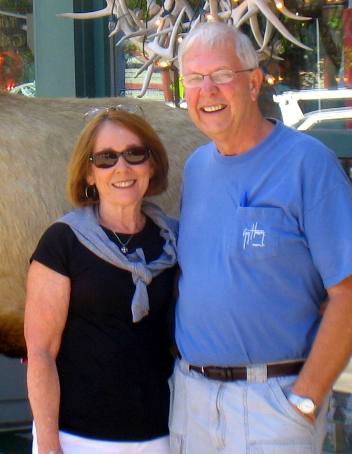 Mike & Joyce Hendrix who we are
We hope you liked this page. If you do you might be interested in some of our other Travel Adventures:
Mike & Joyce Hendrix's home page
Travel Adventures by Year ** Travel Adventures by State ** Plants ** Marine-Boats ** Geology ** Exciting Drives ** Cute Signs ** RV Subjects ** Miscellaneous Subjects
We would love to hear from you......just put "info" in the place of "FAKE" in this address: FAKE@travellogs.us
Until next time remember how good life is.