Cute Signs along Harbor Walk in Key West
Old School specializes in Skateboards, Paddleboards, and Beach Boutique.
Oldschool is a skateboard shoppe, with full service and repairs located on Harbor Walk on Key West Bight.
Oldschool Board Shoppe offers full service and repairs along with everything you need to keep your boards of all types running smoothly on the water or street.

The boutique shop carries everything you need to slip into island-style, straw hats by Tula, flip-flops by Scott Hawaii, clothing from Santa Cruz, alongside accessories by Hemp Sisters, Earth Divas, Bungalow 360 and California Leash. Sunglasses from Smith Optic
The Oldschool's motto is "keep rolling with bearings, wheels and more".
Just bring in your board and they will fix you up.
T Shirt with "Growing Old Disgracefully" displayed at a shoppe on Harbor Walk
Joyce and I both liked this T shirt. It fits me perfectly. VBG
Restless Native Charters advertises a luxury catamaran for charter
Restless Native is a 50-foot luxury sailing catamaran operating out of Key West Bight Marina.
They were out most of the time when we strolled by their slip along Harbor Walk in Key West Bight Marina.
Restless Native Charters 50' Luxury Catamaran
If you are interested here is their phone Number:
(305) 394-0600

Nice tarpon, like this one, cruise Key West Bight Marina and can be spotted from Harbor Walk as you are strolling around the marina.
Keep your eyes pealed for large tarpon anytime you are strolling around the Historic Seaport Harbor in Key West.
I think Joyce may be trying out for the next "Half Shell raw bar" girl. What do you think?
Set in the heart of the Historic Seaport at Key West Bight, the Half Shell Raw Bar is an authentic Key West fish house. Once a shrimp packing building, it has stayed true to its blue-collar harbor front heritage.

The Half Shell raw bar is truly a "Taste of Old Key West!"
Today it is a traditional Key West Raw Bar & great Key West seafood restaurant serving oysters, clams, shrimp, more!
A low key restaurant for casual lunch or dinner. Settle down to an informal atmosphere, local characters, great bar and waterfront dining. It's a little piece of Old Key West at the Historic Key West Seaport Harbor.
I think the Half Shell raw bar is one of the restaurants in Key West that will cook your catch for you, but do not hold me to this.
Beach Cat is the name of the boat pictured below.
Beach Cat is a unique catamaran sailing out of Key West Bight Marina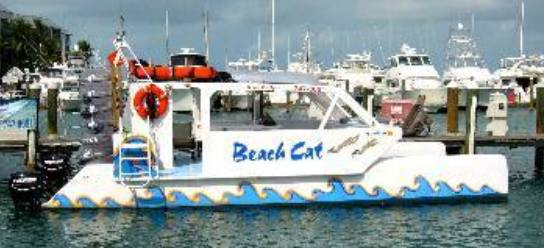 This is the Beach Cat. It is catering to customers with the 6-clear kayaks mounted on the back of the Beach Cat.
How cool would it be to paddle over reefs and coral heads in a clear kayak.
Alonzo's Oyster is located on the first floor under A&B Lobster House on the Harbor Walk surrounding the Historic Seaport Harbor at Key West Bight where it overlooks A&B Marina.
When you are in Key West you want to try Alonzo's Oyster Bar during their Happy Hour Special. Arrive after 4 PM for their happy hour. Drinks and appetizers are half price until 6PM.
Much the menu is half off, and all the drinks are too, so long as you get there between 4pm and 6pm. OK, there you have it Alonzo's happy hour is one of the best deals in Key West.
Conch Harbor Marina is one of the exclusive marinas operating in Key West Bight
Conch Harbor Marina is located near the Ferry Terminal in Key West Bight and directly behind Dantes Bar & Pool.
Conch Harbor Marina bills itself as Key West's premier full service marina
at the entrance to Key West Bight Marina the Historic Seaport Harbor in Key West.
Vessel accommodations to 185 ft, 100 amp, 3phase Annual, monthly and transient dockage available, Shower and laundry facilities, Cable TV and telephone hookups, Pumpout facilities, Valvtect Marine Fuels, "T" Head fuel dock located just inside entrance to Key West Bight, Fuel dock draft 12 ft,.
High speed diesel delivery pump and Swimming Pool at Dantes.

Phone: (305) 294-2933 Fax: (305) 294-0432 or E-mail: dockmaster@conchharbormarina.com
Monitoring Channel 16
And that should be enough information for those of you contemplating a visit on your yacht.
Turtle museum outside Turtle Kraals Restaurant and Bar on Harbor Walk
The restored Turtle Kraals museum is dedicated to educating the public about sea turtle awareness.
In the mid to late 1800s Key West was the center for turtle processing and canning. Turtle soup was considered a delicacy in parts of the United States and especially in Europe.
Turtles caught throughout the Caribbean were shipped to Key West, kept alive by cruelly placing them on their backs.
Upon arrival in Key West, they were kept caged by the docks in what were called 'kraals' until they were slaughtered.
By 1970 the turtle population had been devastated. Turtle canneries went out of business, and the turtle trade came to an end in '71 with the passage of the Endangered Species Act.
Although turtle populations have recovered, today they continue to struggle against man. Plastic and other man-made synthetic materials are being consumed by sea turtles that mistake the debris for food. Unable to digest the matter, the turtles die from starvation.
The museum is often rehabilitating a sea turtle which will be housed in a tank by the entrance. Many locals genuinely care about the well being of sea turtles and the museum does a good job of informing the public about past and present dangers.
Until next time remember how good life is.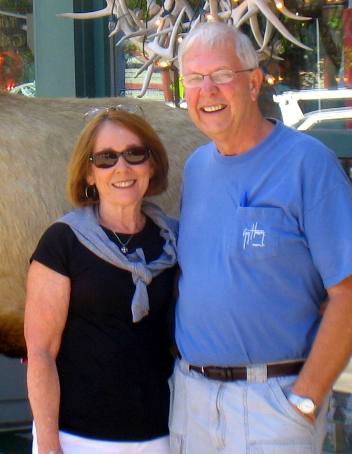 Mike & Joyce Hendrix who we are
We hope you liked this page. If you do you might be interested in some of our other Travel Adventures:
Mike & Joyce Hendrix's home page
Travel Adventures by Year ** Travel Adventures by State ** Plants ** Marine-Boats ** Geology ** Exciting Drives ** Cute Signs ** RV Subjects ** Miscellaneous Subjects
We would love to hear from you......just put "info" in the place of "FAKE" in this address: FAKE@travellogs.us
Until next time remember how good life is.