This travellog covers the second part of our two week stay on Panama City Beach camping at St. Andrews State Park $26.16 for water & 30-amps with a central dump station. The sites feature paved interior roads with sand campsites. St. Andrews State Park Campground has LOCATION and "price". The campground is situated on Grand Lagoon with many sites on the water and all others with a view of the water. In my opinion it doesn't matter if you have one of the sites on the water or not you are so close to the water that it doesn't matter.
If you can not find a great campground like the one at St Andrews State Park you need to be looking for a 1/2 price PPA Campground.
In the Fall and Winter the beaches along the Panhandle of Florida are as beautiful as any place on earth. Note how calm the water is. This picture was taken from the Gulf fishing pier located in St. Andrews State Park looking west to the row of condominiums that obliterate the skyline as far as the eye can see.
One day a storm rolled in from the Gulf with large waves and rough surf. Here you can see one of the large waves crashing onto the jetty across the pass. We were standing in St. Andrews State Park looking east across the pass to the jetty protecting Shell Island.
Large waves were breaking on the beach and surfers were out in force at St. Andrews State Park.
The above wave crashed into a froth of white water. This was once a large wave but it is now crashing in the shallow water near the beach.
Here you can see several surfers as they position themselves for the perfect wave.
That is me walking along the beach in St. Andrews State Park. We are walking along the pass and the tree line you see in the distance is actually down town Panama City about 5-miles across St. Andrews Bay.
Note how we have the beach to ourselves. Folks, Florida's State Park system is truly a jewel. Do not miss visiting Florida's State Parks. St. Andrews isn't the only State Park that is this beautiful. Try them all, they each preserve a unique niche that would not be available to anyone if the State of Florida had not had the foresight to protect places like this.
That is all there is.
Click here for more Panama City Beach Adventures
Click here for more Florida Travel Journals
Click here for Florida Panhandle Travellogs
Until next time remember how good life is.
Mike & Joyce Hendrix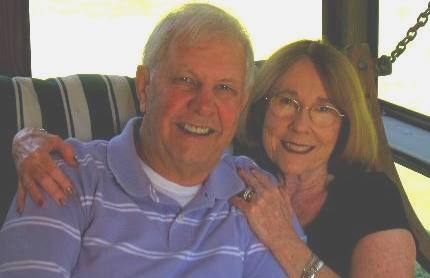 Mike & Joyce Hendrix who we are
We hope you liked this page. If you do you might be interested in some of our other Travel Adventures:
Mike & Joyce Hendrix's home page
Travel Adventures by Year ** Travel Adventures by State ** Plants ** Marine-Boats ** Geology ** Exciting Drives ** Cute Signs ** RV Subjects ** Miscellaneous Subjects
We would love to hear from you......just put "info" in the place of "FAKE" in this address: FAKE@travellogs.us
Until next time remember how good life is.