St. Andrews State Park: Trophy buck & Great egret pictures
September, 5th thru 13th
This travellog covers the first few days of our 9-day visit to Panama City Beach where we stayed in St. Andrews State Park $26.16 for water & 30-amps with a central dump station. The sites feature paved interior roads with sand campsites. St. Andrews State Park Campground has LOCATION and "price". The campground is situated on Grand Lagoon with many sites on the water and all others with a view of the water. In my opinion it doesn't matter if you have one of the sites on the water or not you are so close to the water that it doesn't matter.
Too bad there isn't one of those 1/2 Price PPA Campgrounds on Panama City Beach.
This great egret and a host of others patrol the protected waters of Grand Lagoon just outside the door of all the campers in St. Andrews State Park. This picture was taken only feet from one of the waterfront campsites.
We watched these two great egrets perform a ritualistic dance in lockstep. A drill sergeant would have been proud of the way their moves were perfectly choreographed.
This is a classic picture in my opinion. This lady is reading a book, talking on her cell phone, watching this great egret, all while lounging in her recliner in the water at St. Andrews State Park. Folks, she is doing all this after she walked from her camper in the campground. She told us she liked to sit in that spot because of all the wildlife.
Note that the great egret in this picture has just caught a small fish. Within a few seconds this bird flipped that fish in the air and swallowed it head first.
This big buck and another one almost as large were walking not far from the road in St Andrews State Park.
While I am showing this picutre of a trophy buck, there are a lot of does in the park as well.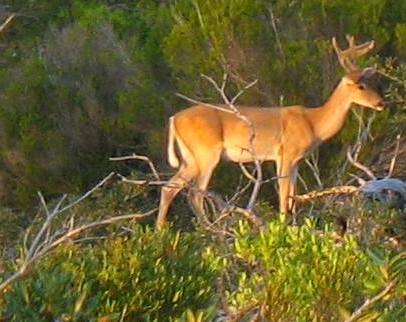 This one, also in St Andrews State Park, looks like there is still some velvet on those antlers.
Lantana in St Andrews State Park is providing food for the monarch butterfly migration
Lantana is providing food for migrating Monarchs and Gulf Fritillaries in St. Andrews State Park.
Wild sweet peas have been putting on a show for weeks in St. Andrews State Park.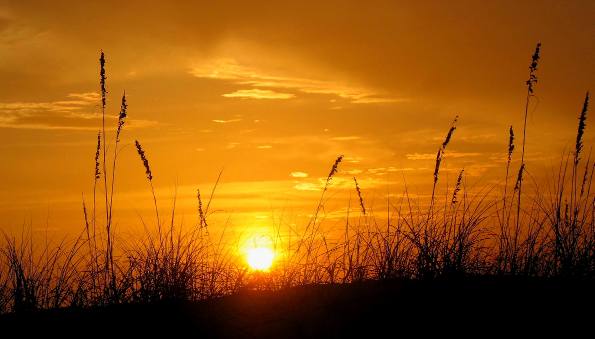 And what is time spent at the beach without at least one sunset picture?
It is a tough life, but we try to enjoy it. VBG
Click here for more Panama City Beach Adventures
Click here for more Florida Travel Journals
Click here for Florida Panhandle Travellogs
Until next time remember how good life is.
Mike & Joyce Hendrix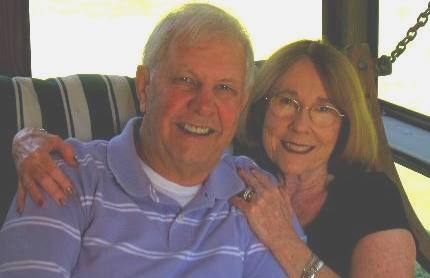 Mike & Joyce Hendrix who we are
We hope you liked this page. If you do you might be interested in some of our other Travel Adventures:
Mike & Joyce Hendrix's home page
Travel Adventures by Year ** Travel Adventures by State ** Plants ** Marine-Boats ** Geology ** Exciting Drives ** Cute Signs ** RV Subjects ** Miscellaneous Subjects
We would love to hear from you......just put "info" in the place of "FAKE" in this address: FAKE@travellogs.us
Until next time remember how good life is.